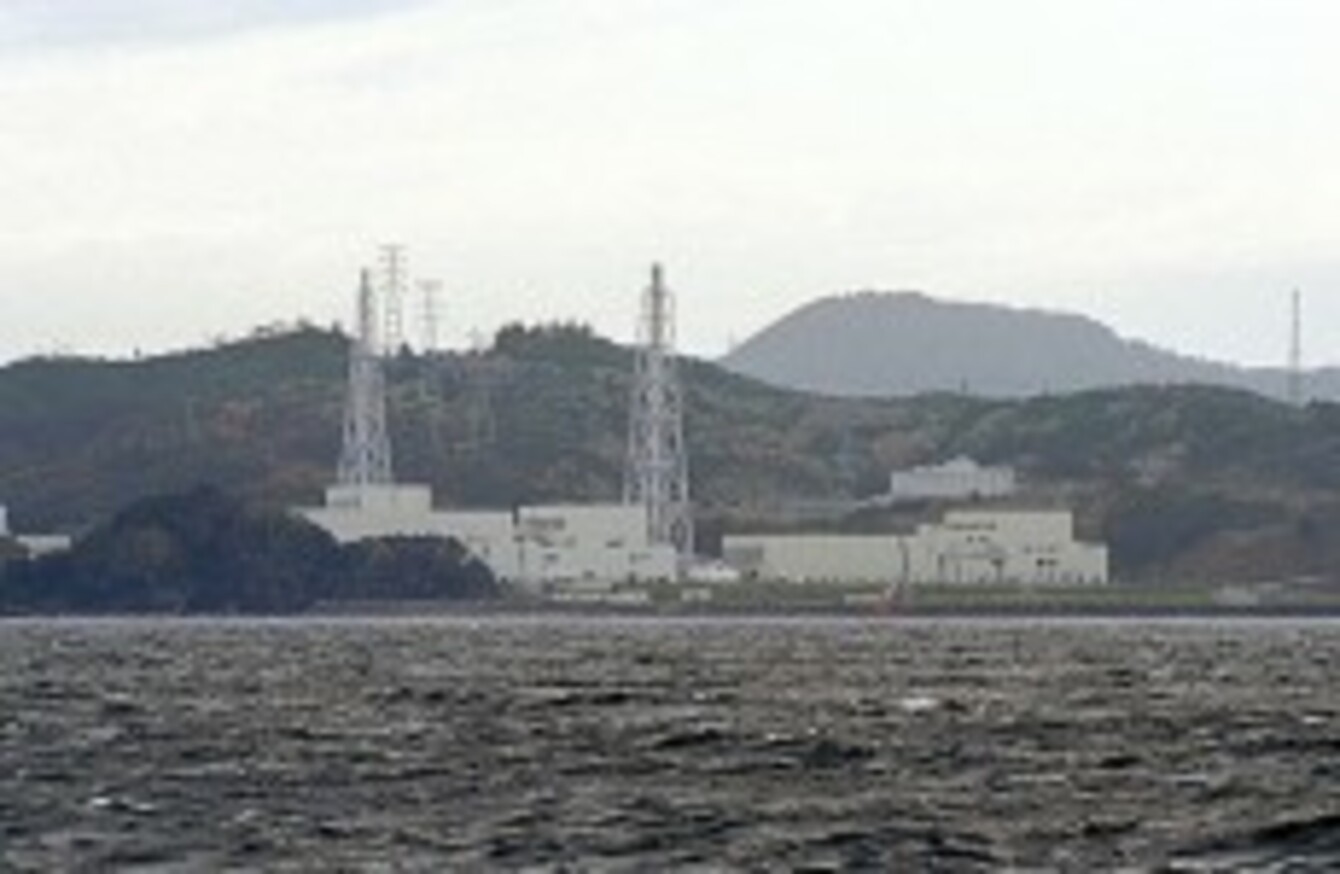 Onagawa nuclear plant
Onagawa nuclear plant
Updated 6.45pm
JAPANESE AUTHORITIES WILL release slightly radioactive vapour to ease pressure at nuclear reactor whose cooling system failed, AP reports this evening.
The failure occurred after a power outage caused by Friday's massive earthquake off northeastern Japan.
Japan's nuclear safety agency says pressure inside one of six boiling water reactors at the Fukushima Daiichi plant had risen to 1.5 times the level considered normal.
The agency said the radioactive element in the vapor that will be released would not affect the environment or human health.
Japan's trade minister has said that "a small radiation leak could occur" at the Fukushima nuclear power plant, according to AFP.
The Tokyo Electric Power Company (TEPCO) has said the pressure inside the No. 1 reactor at its Fukushima-Daiichi nuclear plant has been rising, with the risk of a radiation leak, according to the Jiji Press news agency.
TEPCO planned to take measures to release the pressure, the report added.
The reactor's cooling system began to malfunction after the earthquake and people living close to the plant were later evacuated as a precaution.
Earlier Japan's state of atomic emergency has been downgraded after the country said it had gotten potential disasters at two nuclear stations under control.
The World Nuclear Association told Reuters that water had been pumped into the cooling system at the Fukushima plant, bringing that emergency back from crisis point. The cooling system had failed after this morning's 8.9 magnitude earthquake,  and locals in a 3km radius of the plant were urged to evacuate their homes, the Kyodo News Agency reported.
Chief Cabinet Secretary Yukio Edano said the plant had developed a mechanical failure in the cooling system. Efforts had been underway to cool the reactor and there is no radiation leakage at this moment, he said.
Meanwhile, a fire that had been raging in the turbine building of Onagawa nuclear plant in Miyagi Prefecture has also been brought under control.
An administrator at the Tohoku Electric Power Co, which operates at the facility, had admitted the process to repair the cooling reactor had not been "not going as planned."
#Open journalism No news is bad news Support The Journal

Your contributions will help us continue to deliver the stories that are important to you

Support us now
At a press conference, the administrator said:
The emergency shutdown has been conducted. But the process of cooling down the reactor is not going as planned. As of 4.36pm, we received a report that the water cannot be pumped, and we are working on how to obtain enough electricity so that the water can all be sent …so we are using all the back-up systems that are available there.
The company asked people nearby to stay calm, the official TV news channel NHK reported.
The four Japanese nuclear power plants closest to the epicentre of the quake have been safely shut down, the United Nations atomic watchdog had said.
Watch the press conference in full:
Additional reporting Susan Daly and Hugh O'Connell