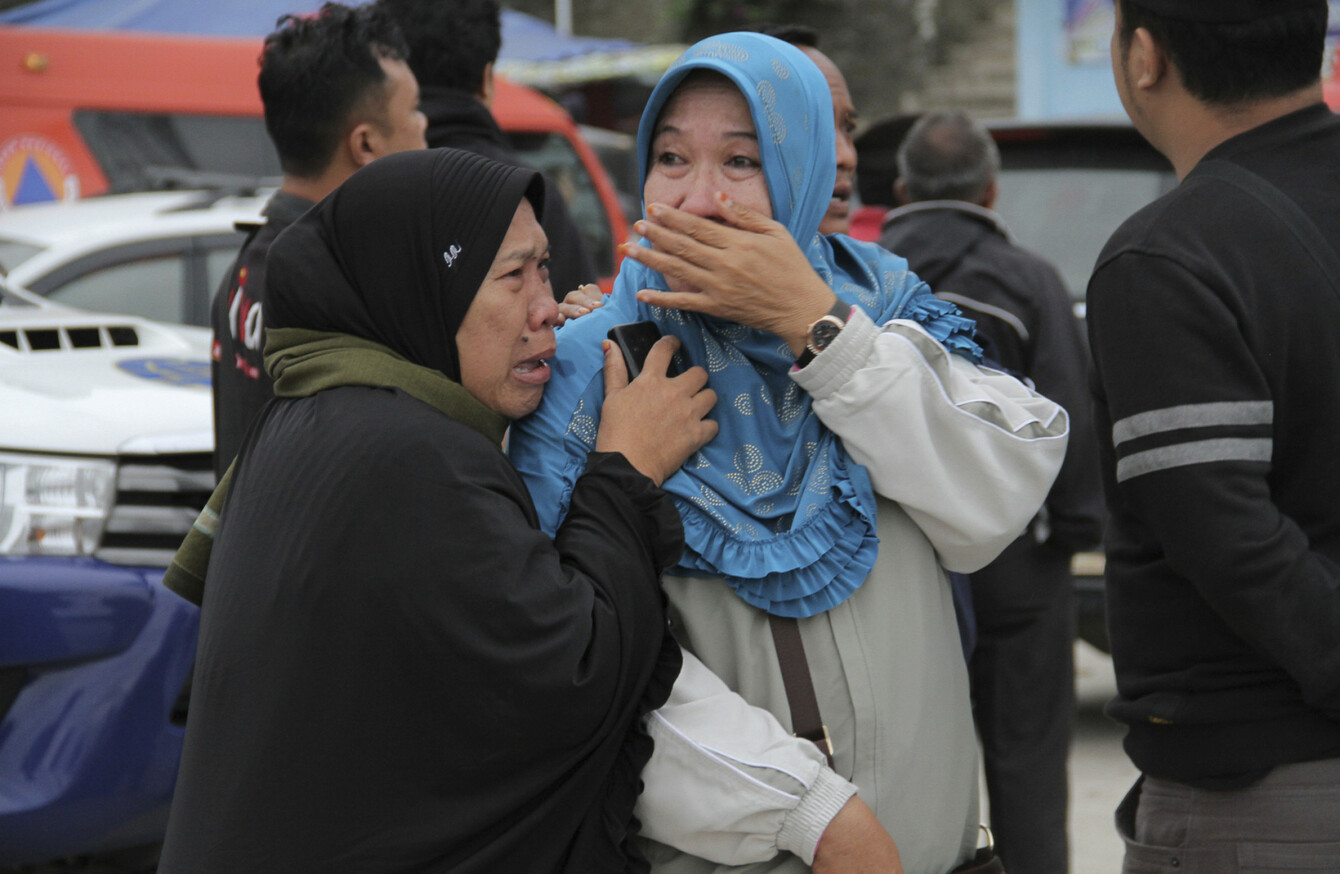 Relatives grieve after learning that their families members are among the passengers of the ferry which sank
Image: Lazuardy Fahmi via AP
Relatives grieve after learning that their families members are among the passengers of the ferry which sank
Image: Lazuardy Fahmi via AP
RESCUERS HAVE BEEN searching Indonesia's Lake Toba today for dozens of passengers still missing after a ferry capsized at the popular tourist destination.
Anguished relatives waited by the shore for news as several hundred personnel fanned out across the huge body of water on Sumatra island.
The wooden vessel sank yesterday afternoon with an estimated 80 people aboard, authorities have said, just days after more than a dozen people were killed in another maritime accident across the country.
At least one person has been found dead in the latest sinking and 18 were rescued.
Local officials said dozens more passengers are still missing a day after the accident.
About 130 people have been reported missing by relatives in the area but it was not clear if they were all on the vessel, authorities said.
"Whether they were all passengers on the boat or not, we don't know," transport ministry official Sri Hardianto told AFP.
We haven't found any new passengers today.
The ferry was believed to be operating illegally, with no manifest or passenger tickets. It was not clear if any foreigners were on board or what caused it to capsize.
Survivor Rahman Saputra said trouble started about halfway into the 40-minute trip from an island in the middle of the lake to shore.
"The waves started getting rough and the wind picked up. Then the boat started shaking," he told Kompas TV.
"Many passengers tried to get out but a lot were trapped inside the boat. Not long after that, it capsized."
Search efforts
Among the grief-stricken relatives waiting by the shore was Juwita, a survivor who lost hold of her child in the confusion.
"It happened so quickly," she told TVOne.
I wanted to grab my child but I couldn't. There were three people stacked on top of him.
The search was called off yesterday evening due to bad weather and low visibility, but it resumed this morning with about 350 personnel involved.
Hardianto said operations would continue for at least a week given the size of the search area.
#Open journalism No news is bad news Support The Journal

Your contributions will help us continue to deliver the stories that are important to you

Support us now
The enormous lake fills the crater of a supervolcano that is believed to have erupted tens of thousands of years ago.
It is one of the deepest lakes in the world and covers some 1,145 square kilometres.
Muslim-majority Indonesia has been celebrating the Islamic festival of Eid since Friday and millions go on holiday during the festivities, with Lake Toba a key tourist destination.
Maritime accidents are common in Indonesia, a 17,000-island archipelago nation where many depend on ferries and other boats to get around, despite lax safety standards.
Last week a traditional wooden boat with about 40 people capsized in the island of Sulawesi, killing more than a dozen people.
In 2015 a ferry sank near Sulawesi island and left 78 people dead.