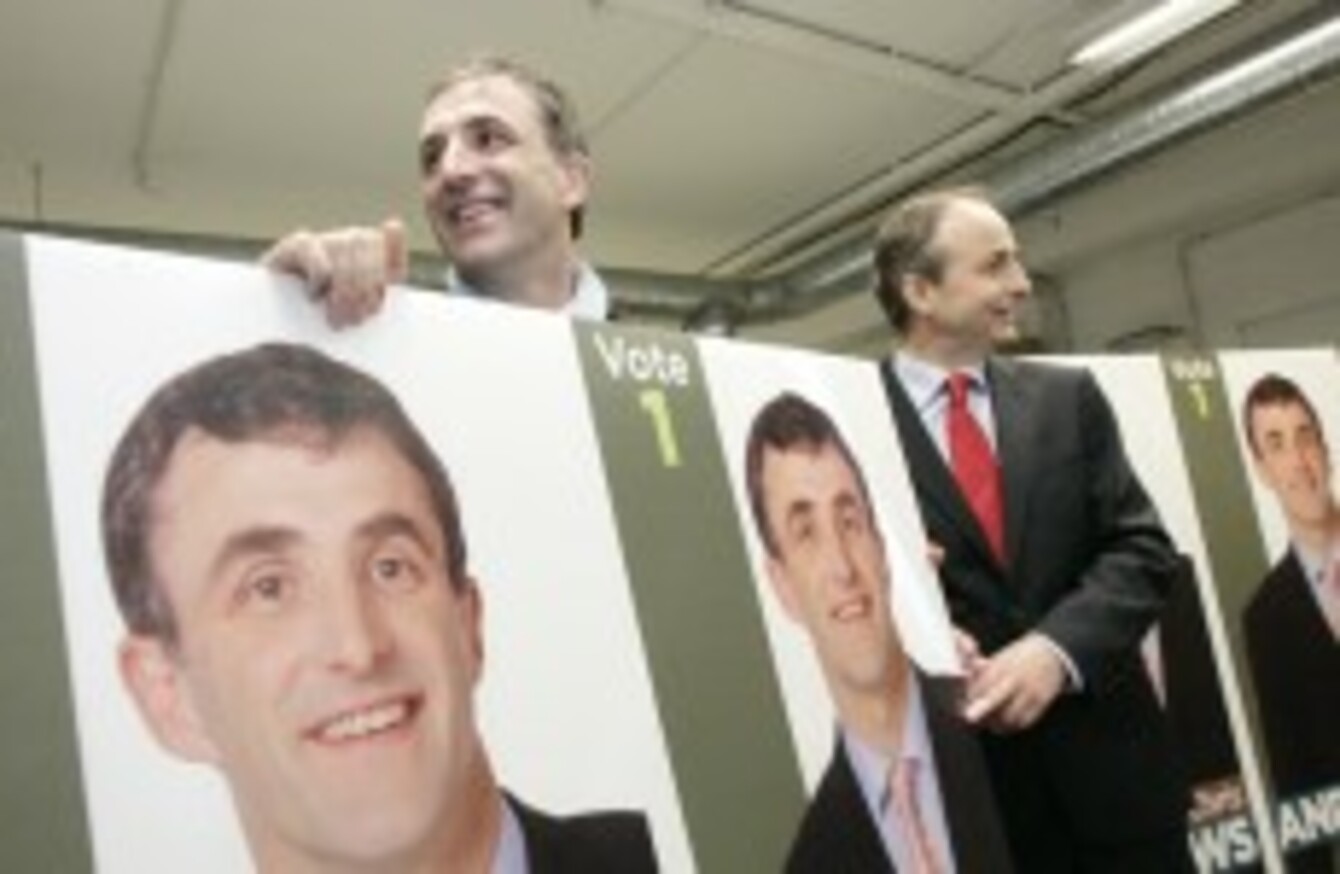 Chris Andrews will be taking himself and his posters over to Sinn Féin
Image: Mark Stedman/Photocall Ireland
Chris Andrews will be taking himself and his posters over to Sinn Féin
Image: Mark Stedman/Photocall Ireland
Updated 3.50pm
SINN FÉIN HAS announced that former Fianna Fail TD Chris Andrews has joined the party.
In a move that will surprise many the grandson of one of the Fianna Fáil founders, Todd Andrews, has been confirmed as a member of Sinn Féin following a meeting of the party's Ard Comhairle in Dublin this afternoon.
It is believed Andrews is seeking the Sinn Féin nomination to run in the local elections in Dublin South-East next year but that will be decided at a later date by the local constituency organisation.
In a statement issued today, the former Dublin South-East TD said he left Fianna Fáil last year following "a long period of disillusionment at how distant the party had become from ordinary people".
"Joining a new party was not an easy decision for me as my family has been involved in Fianna Fáil since its foundations," he said. "But it has become very clear to me that the party no longer represented the ideals or values of its founders including my grandfather."
Sinn Féin party whip Aengus Ó Snodaigh said that he has worked with Andrews previously citing the time they were shipmates on the 2008 and 2011 flotillas to Gaza. Andrews is a vocal, pro-Palestinian activist.
Twitter account
Andrews said he is "genuinely committed to pursuing the political, social and economic change that Ireland now requires".
"As someone who is advocating change I must be willing to change personally and politically," he added.
The former Dublin City Councillor was elected to the Dáil for Fianna Fáil in 2007 but lost his seat in the 2011 general election.
He became mired in controversy last year after it emerged he was behind a now deleted Twitter account – @brianformerff – which was critical of Fianna Fáil policy and the current leadership.
Not only that, as political blogger Paul Duggan points out, Andrews – using his alter ego – was heavily critical of Sinn Féin and party president Gerry Adams over his alleged IRA past.
Andrews has previously suggested that Fianna Fáil merge with Fine Gael, a notion that has been much-discussed in recent weeks.
However he will now be seeking to advance his political career with Sinn Féin, shunning a party which his family has been closely associated with for decades.
Andrews did not respond to calls with his phone directing to a voicemail box that is full.
First published 3.24pm
Like politics? Then why not 'Like' TheJournal.ie Politics on Facebook to keep up to date with all that's happening in and outside of Leinster House.