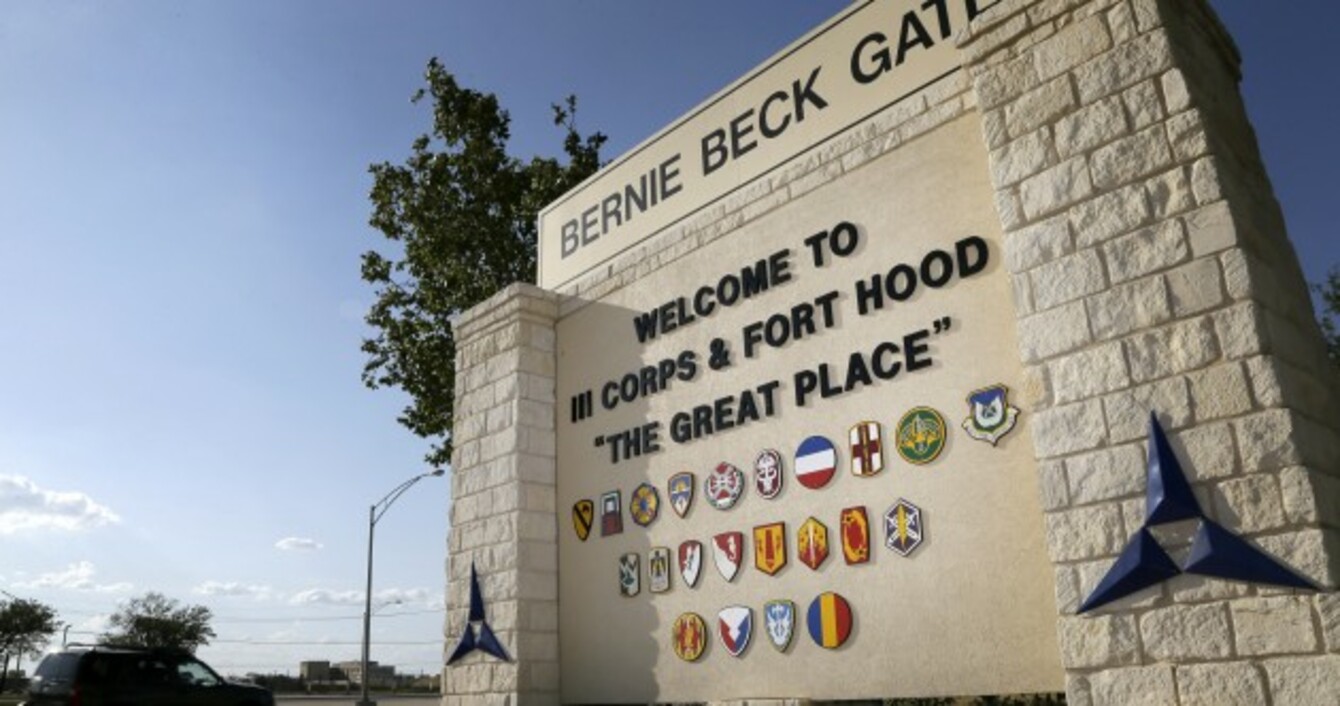 Image: AP/Press Association Images
Image: AP/Press Association Images
Updated at 01.40am
ONE PERSON HAS been killed and 14 wounded in a shooting at the Fort Hood US military base, scene of a deadly 2009 rampage, officials said.
The Texas base said a gunman was initially reported killed, but it could not confirm media reports that the shooter had taken his own life.
A US official said there was one fatality and 14 people hurt, although the casualty figures were not finalised. "I can't confirm (the) status of the shooter," said the official.
The sprawling military site remained on lockdown a couple of hours after staff were ordered to shelter in place, after emergency crews rushed to the scene.
A soldier told CNN he heard gun shots "and assumed they were blank rounds… We then heard a burst, another burst and it was clear they weren't blank rounds. They were live rounds."
The TV cable network reported that a shooter — there were reports of possibly a second gunman — had been shot, possibly by a self-inflicted gunshot wound.
In an update, the base said: "Fort Hood's Directorate of Emergency Services has an initial report that a shooter is dead but this is unconfirmed".
President Barack Obama, who was in Chicago, said investigators would "get to the bottom of what happened".
"Obviously, this reopened the pain of what happened at Fort Hood five years ago," Obama said.
Many of the people there have been on multiple tours of Iraq and Afghanistan, they served with valour, they served with distinction. At their home base they need to feel safe.
CBS News, citing unnamed sources, identified the shooter as a 34-year-old soldier.
The shooting reportedly stemmed from a disagreement between soldiers, the network said.
Obama added: "We're heartbroken something like this might have happened again".
On November 5, 2009, Major Nidal Hasan opened fire at a medical facility in the sprawling base that serves as a staging point for soldiers to deploy to combat zones.
Twelve of the 13 dead and 30 of the wounded were soldiers. Hasan was himself shot by a civilian police officer who responded to the attack and Hasan is now partially paralyzed.
A military jury last August sentenced the US-born Muslim of Palestinian descent to death.
The Pentagon said Defense Secretary Chuck Hagel would be kept up to date "as events unfold," said a spokesman.
Fort Hood is spread out over almost 900 square km, and is the largest US military base with a population of 70,000 including 42,000 military personnel.
The rest are family and civilian staff. The biggest unit stationed there is the 1st Cavalry Division with 17,000. One of its brigades is slated to be deployed in Europe this year on a rotating basis with European partner countries.