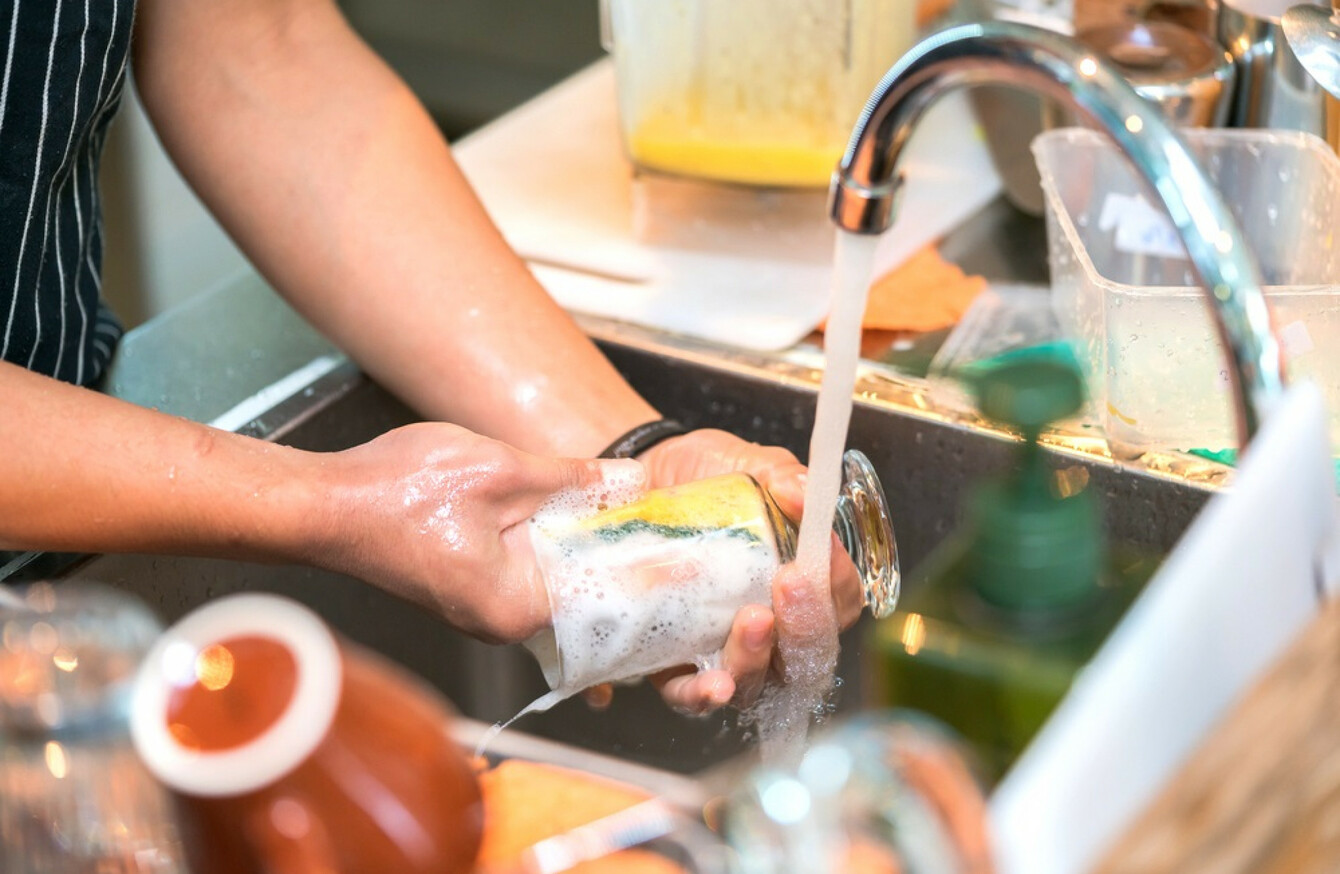 Image: Shutterstock
Image: Shutterstock
The way we live is changing fast. Every fortnight in our Future Focus series, supported by Volkswagen, we'll look at how one aspect of everyday life could change in the coming years. This week: housework.
"PEOPLE ARE SO busy, they don't want to have their weekends sabotaged by things like cleaning. We just provide a helping hand, a tool. By the time they get home they don't have time for housework."
Evan Gray believes our busy lives might no longer have space for our chores. He's the founder of Laundrie, an Irish Hailo-style app for laundry, which picks up your clothes from wherever you choose, washes them and drops them back to you.
A recent study of more than 35,000 adults in Europe and the US found that women did an average of five hours of chores per day, while men did just three. But this could all change in the near future as housework becomes robotic, app-driven and mobile.
It's been predicted that 2050 will see the end of housework as we know it, but some futurologists have also cited 2030 as being the real turning point.
Already chores are changing as our priorities and lifestyles undergo a change of pace. Evan has already seen this among his customers:
A big user base of ours is families, maybe where a partner is working late and they have a kid in creche.
Established three years ago, Laundrie allows customers to book in a load of washing on the website or through their app, and choose a times and place for pickup and dropoff. Evan says his app is often used as just one element of a customer's automated schedule:
Our customers may be using us for cleaning their clothes, and then they may be using someone from Helpling for their house cleaning, and outsourcing all the stuff they just don't have the time, energy or inclination to do.
Laundrie is well established in Dublin, but Amazon and Facebook are taking similar ideas and running with them on a broader scale. Amazon is trialling its Amazon Home Assistants programme in Seattle to take care of chores you don't have time to do yourself, while Facebook is adding cleaning and contracting services to Facebook Marketplace.
While cleaners were previously only available to the Emily Gilmores of this world, soon there'll be options for all of us. But who needs human cleaners when you have robots to do it for you?
As AI and machine learning goes from strength to strength, it's only a matter of time until robots are taking care of most of the day-to-day cleaning at home. The world's first robotic kitchen has been created by Moley and it doesn't just cook home meals at a pro level, but cleans up after itself.
Moley comes with a library of recipes ready to go, but it can also learn new ones, and its robotic hands reproduce the cooking skills of Tim Anderson, former winner of BBC Master Chef.
Due for launch later this year, the robotic kitchen is made up of appliances, robotic hands, cabinets – anything you could need to sit back and relax while dinner is taken care of. Rubber gloves and a sink full of dishes and Fairy Liquid could very well be a thing of the past.
While Moley takes care of the kitchen, Effie can look after the ironing; that is, if you haven't already outsourced it. Effie is a robotic appliance that 'pulls' the wrinkles out of clothes, and can get through a stack of 20 shirts in an hour. Never again will you have to cope with a burn mark on a white shirt.
#Open journalism No news is bad news Support The Journal

Your contributions will help us continue to deliver the stories that are important to you

Support us now
Source: Effie/YouTube
Effie won't be on the market until 2019, but in the meantime there are plenty of other robots to keep the place clean. The Neato Botvac Connected robot vacuum cleaners let you clean through the Neato mobile app, even when you're not at home.
You can control the robot through Alexa and Google Home, and if you're a bit of a neat freak, the app gives you a cleaning summary of the last 20 cleaning runs and can show exactly where the robot has vacuumed. Self-cleaning toilets like ActiClean, the lawn-mowing robot Robomow RS622, the iRobot 380t floor mopping robot, and the laundry-folding Laundroid, are either on the market now in the US or coming soon, which means it's only a matter of time before Ireland follows suit.
Even more impressive from the robotic perspective is the Aeolus Robotics prototype for a general household helper, which was previewed at CES this year. While it hasn't been fully perfected yet, Aeolus will be able to recognise thousands of items and put them back where they belong in your home.
It can grip and use a floor brush or a hoover too. While reviews of the robot at CES highlight how far Aeolus still has to go before a fully reliable working model is complete, it's a taste of what could be around the corner for our chores.
Gray believes that robots will only get bigger and better, but for now at least, they won't negate humans entirely – but we might be more likely to get a cleaner in rather than spend a weekend cleaning out the gutters ourselves:
We'll continue to rely on apps for now but there'll be more and more voice activated services, where you say 'Hey Alexa, can you book a laundry collection?' or something like that.
"There might be a move away from apps to do these things, but there'll still be a service at the end of a line to do them. It's so much more efficient than what has been done before."
Have you listened to TheJournal.ie's new podcast, Future Stories, produced in partnership with Volkswagen? Listen to the latest episode here, all about virtual reality and the future of your Friday night TV.