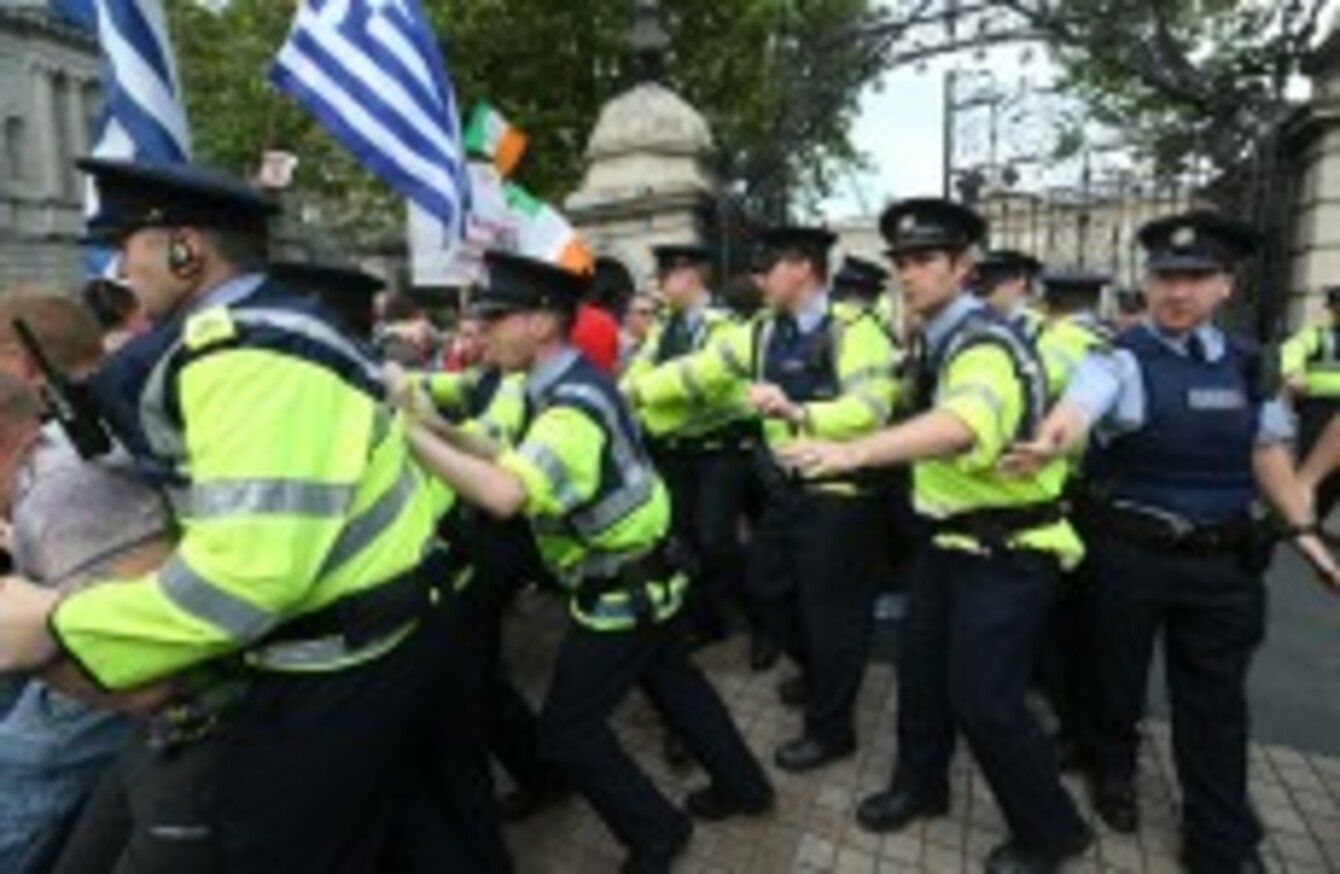 Image: Sam Boal/Photocall Ireland
Image: Sam Boal/Photocall Ireland
THE GARDA COMMISSIONER has been called before an Oireachtas committee to explain why certain procedures were not in place during a protest yesterday that saw TDs and Senators unable to leave Leinster House.
At least two politicians had to abandon their cars, including Denis Landy who told RTÉ's Morning Ireland that protesters "fired bottles and bollards and spat at my car". After being stuck in his car on Kildare Street, surrounded by gardaí and protesters who he said shouted abuse at him, he was advised by senior officers to leave his car in the street and return to Leinster House.
One of the organisers of the protest, People Before Profit councillor Bríd Smith, said she did not think any of the politicians in Leinster House should have tried to leave until after the protest was over.
She also claimed gardaí were being heavyhanded with the crowd, "pushing and shoving people in a very aggressive manner. She said this "unnecessary provocation" resulted in the scuffles witnessed yesterday evening.
A female garda was knocked unconscious when a traffic cone thrown by a protester struck her on the head. She was taken by ambulance to St James' Hospital with a suspected concussion. One protester is believed to have been injured and a man in his 30s was also arrested.
It is understood the Committee for Procedure and Privileges (CPP) discussed the protest at a meeting yesterday evening and have now formally requested that Commissioner Nóirín O'Sullivan appear before them to explain why certain procedures were not in place.
At a previous meeting committee members had asked senior gardaí to ensure that barriers are placed on Kildare Street for protests so politicians and their staff are not effectively trapped in their workplace. The commissioner will be asked why this was not done for yesterday's protest and to discuss about future policing outside Leinster House.