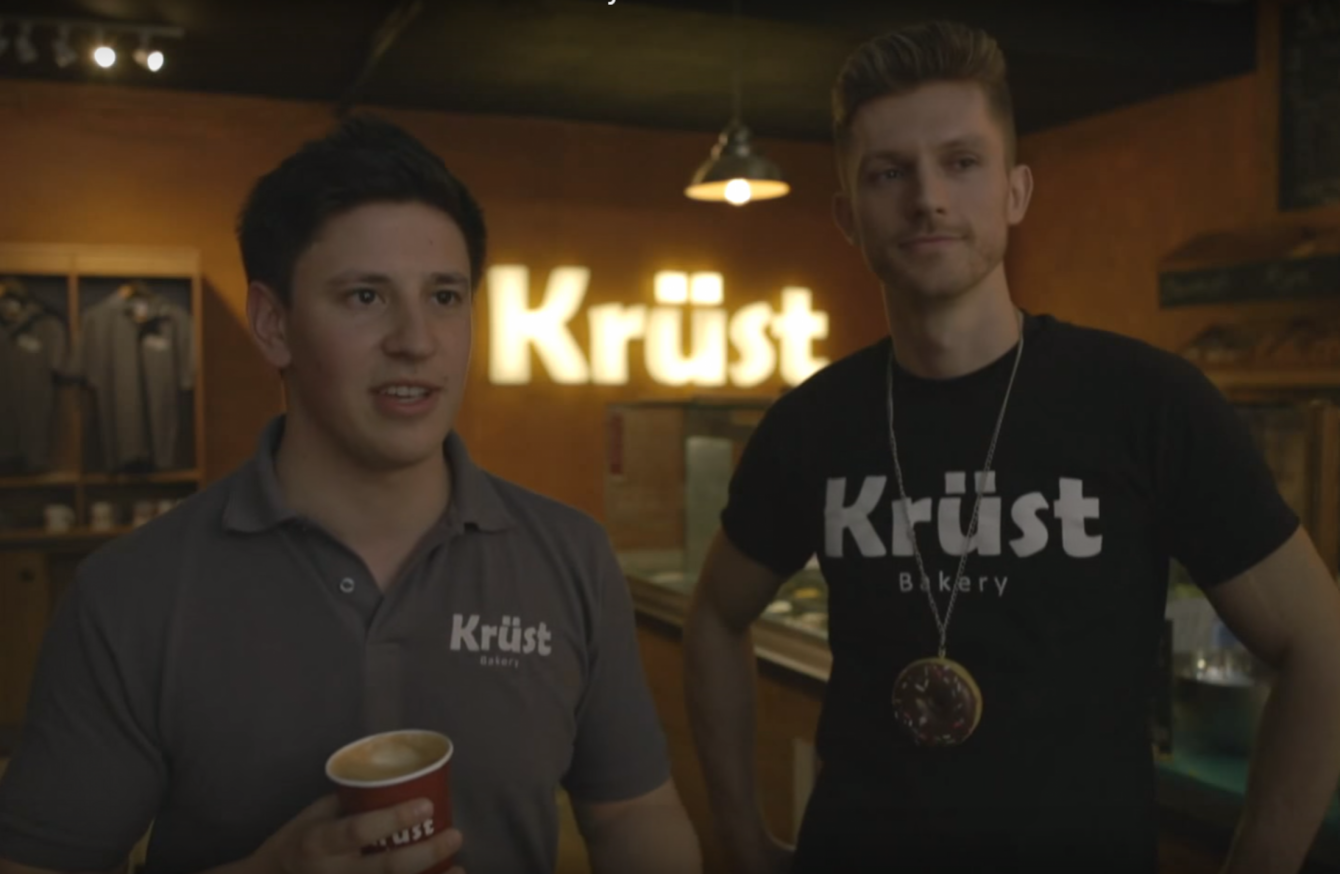 Krüst co-owners Garret Flower (left) and Rob Kramer
Krüst co-owners Garret Flower (left) and Rob Kramer
AFTER FOUR YEARS in the doughnut and coffee game, Garret Flower is turning to a new, more high-tech venture.
The co-founder of Krüst, which operates an outlet in Dublin city centre as well as a wholesale bakery business, is jumping ship to focus on Parkpnp, which he hopes will become the Airbnb for car parking spaces.
The fledgling company has developed a smartphone app that allows people to find spots nearby and even place their own residential spaces on the market, mirroring the 'sharing economy' model of the US home-letting giant.
According to the 27-year-old, Parkpnp is well under way – although it has only had a soft launch for its iOS and Android apps ahead of a bigger push next month.
"Our team is 12-strong already," he told Fora. "That's unusual, normally you have a few shareholders at the start but we've got twelve guys and they're all committed and pumped for it.
"We need a team to pump it out because we don't just want to be in Ireland. Dublin is one city and we want to be in more cities once we've proved it works."
To date, the business has been bankrolled by a combined investment of €500,000 from Sean Melly's venture capital firm Powerscourt Capital and Enterprise Ireland.
Flower said he understands tech is a different game to that of running brick-and-mortar stores and that lots of funding can be needed to build it fast to the necessary scale.
"Krüst was built organically … but if I'm going to launch a tech business, especially a marketplace, this type of business doesn't grow like that.
"You need big backers to launch a marketplace and a team. I've had four years of mistakes building a traditional business and it was very tough, especially in the food industry, but I've learned how to speed things up really fast."
Flower set up Krüst in 2012, when he was 23, with co-owner Rob Kramer, who takes over the business.
The coffee shop and bakery is probably best known for pioneering the 'cronut' in Dublin, while it has also struck deals with Applegreen and other national outlets to supply their pastries.
Kramer will focus on exports with Krüst's wholesale division and oversee plans to make further inroads in the catering industry.
Proven model
Flower said the idea for Parkpnp came to him last September after he bought his first car and couldn't get parking around Ranelagh, in Dublin's south, during a quick visit to the area.
He said he couldn't believe that no one else had tried to make the idea work in Ireland and was blown away by how successful the model was in the US.
"There's people listing their space in front of their house or underneath their apartment block or outside in a field area. There is no scope to how big the market can be.
"What I've seen is the US companies that are doing it, it's still just a baby market. They're only in a handful of major cities.
"So I thought, why not give this a go in Ireland? I tried to come up with reasons why this wouldn't work here, like any business I would start, and found it would be a good idea."
One of the major players from the US whose path Parkpnp will be looking to follow is SpotHero. The on-demand parking app raised funding last year of $20 million and it claims to have processed over 3 million parking bookings this year alone.
Targets
Parkpnp has plans to rapidly expand after its Dublin roll-out, which will happen between now and the end of the year. After targeting the Irish capital, Flower said he hopes to launch in Manchester and then spread operations to other cities in the UK that have congestion problems.
He also touched on plans to build out the commercial side of the Parkpnp model, which will involving striking deals with larger car park operators.
"There's two sides to the business. On the residential side, we take a 20% cut because we're the marketing channel and customer service and bringing people to those spaces. We feel we're a service.
"We also have a commercial aspect to the business. We've approach car parks and hotels across the country, because we're able to install a piece of hardware at the front of each entry and exit lane that allows you to use your phone to tap in, tap out and pay through your phone for parking."
Flower said Brown Thomas and the coach station car park in Galway have agreed for the hardware to be installed at their locations. Parkpnp is also in talks with high-profile hotel chains around Dublin Airport to install a similar setup.
"This is a commonsense product. We are allowing operators to make more money and pushing it out to a marketing channel they've never had before.
"What really slows this type of company is when other businesses worry what is he taking off us. This has the chance to increase their revenue which is why I think it is such an easy offering that I'm certain will work."
Written by Killian Woods and posted on Fora.ie