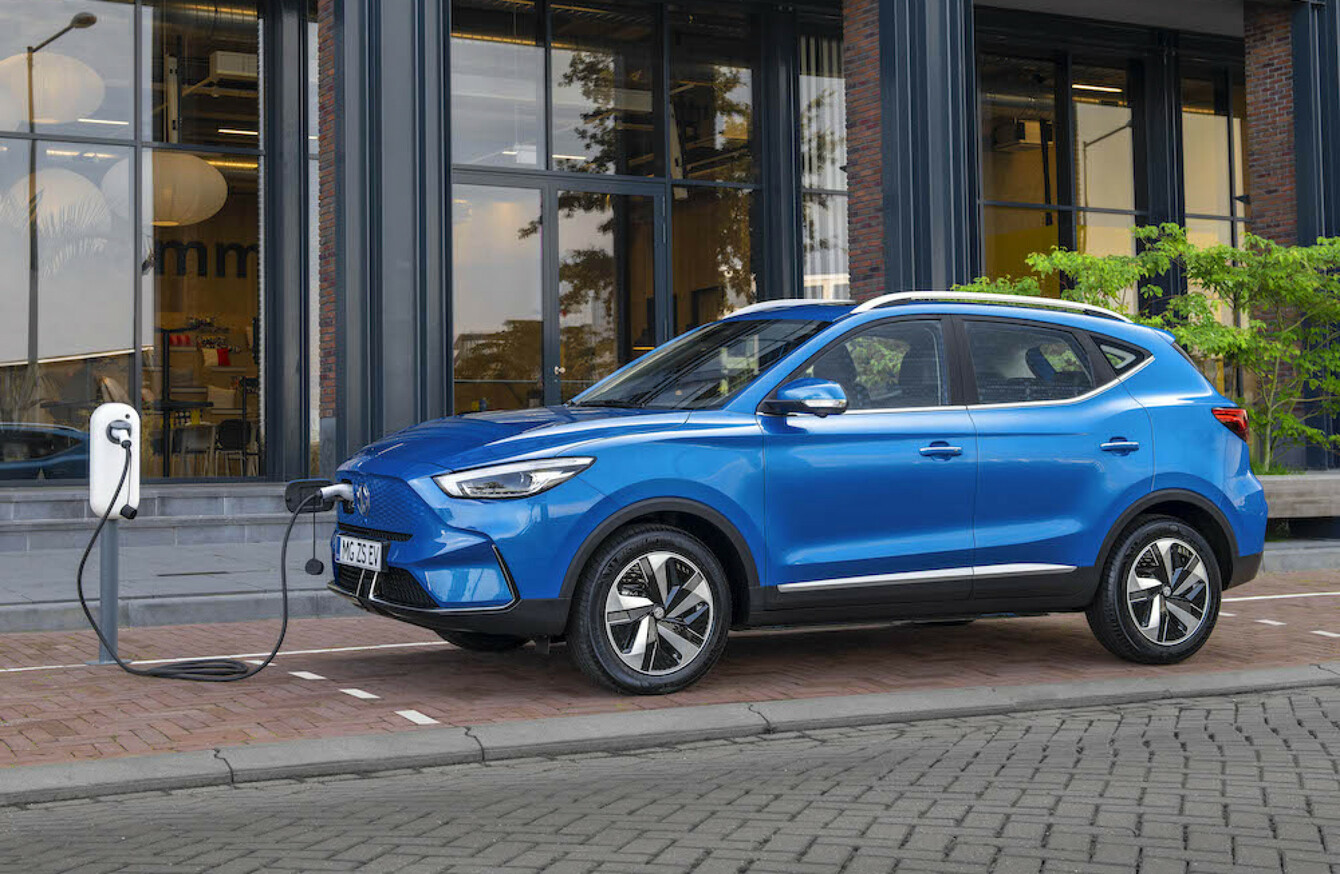 The new MG ZS EV at an electric vehicle charging point.
Image: MG
The new MG ZS EV at an electric vehicle charging point.
Image: MG
IN THE EARLY 20th century, a new technology bolted into the carriageways of families across Europe and the US: the electric car. Quiet, odourless, and with no gearbox, battery-powered vehicles were set to be the best transportation invention since the horse carriage.
That is until the Model T hit the market and sent the world into a century-long habit of petrol-powered, emissions pumping machines. But now, the tide is turning back.
With major manufacturers turning out new electric models, and a host of startups exploring new green technology, Irish roads are poised for an electric car renaissance.
"It is clear that the future landscape of the transport sector in Ireland, particularly the passenger vehicle and light commercial vehicle sectors, is electric," said Shane Prendergast, Electric Vehicle Programme Manager at the Sustainable Energy Authority of Ireland.
"[Electric vehicles] now represent a viable and clean option for motorists which can be seen in the increases in market share and sales figures year on year."
The path to net zero
The Department of Transport has committed to having almost a million electric vehicles (EVs) on Irish roads by 2030, aiming for 180,000 by 2025.
As part of this month's Budget 2022 announcement, the Government also declared it will continue to rebate €5,000 in tax on electric car purchases through 2023.
The rebate is part of a "very generous suite of incentives" the Government has imposed to coax drivers into buying electric, Prendergast said.
The reason for the Government's push, he says, is the vital role electric vehicles will play in Ireland's path towards net zero.
EVs not only commit less than half of the carbon emissions of a petrol engine, but they also remove emissions from the air as they drive.
Without combustion engines, EVs are also much quieter than petrol engines, helping aid noise pollution in busy cities.
With motor vehicles accounting for roughly 13 per cent of Ireland's greenhouse gas emissions, which trails the EU average, EVs have the potential to help the country gain massive ground on its emissions goals in the next decade.
Beyond their environmental impact, an EV future will also make drivers' lives easier, the SEAI says.
Costs are coming down: the average electric vehicle price in Ireland is now less than half of what it was ten years ago.
Maintenance is will likely cost less too. In the electric vehicle world, there is no such thing as an oil change, nor is it very common to have to replace your brakes, as braking on an electric motor is much less strenuous than a conventional car.
Concern over petrol and diesel price volatility also goes out the window, with EV owners able to install home chargers, for which they can receive a government grant of up to €600 to build.
'The perfect combination'
With about 9,000 fully electric cars on Irish roads today, the nation is still a long way off its target of 180,000 in four years, something transport minister Eamon Ryan acknowledged himself in a speech on the Electric Vehicle Policy Pathway in September.
"Ireland's plan is ambitious but necessary to enable our national transition to a carbon-neutral society," Ryan said, adding, "I would encourage people to consider buying an EV as a tangible contribution to reducing our country's CO2 emissions."
Still, Ireland may be in a better position than most countries to adopt the new normal, according to an ESB report on the future of EVs in the country.
"Ireland has many advantages as a location for the successful adoption of electric vehicles, including short inter-urban routes and a mild climate," the report said.
Prendergast agreed, saying, "Ireland as an island is a perfect candidate to succeed in electrifying the national fleet. The geography, weather, typical driving distances and high level of renewable electricity supply forecasted are the perfect combination for EVs to thrive, flourish and benefit the State and individual consumer."
New battery technology
Current ranges – the distance an electric car can travel before it needs to be charged – differ from 100km to 500km on a full charge depending on the size of the car's battery, so Ireland's small size and concentrated population around its cities make it an ideal hotspot for EVs.
Although EV technology has been developing at a steady pace for the past decade or so, the industry is still cutting edge, with manufacturers coming out with better, cleaner, and more efficient technology at every turn.
One of the aspects of the sector that remains high growth is in battery range and charging speed.
One of the most anticipated developments is the "solid-state" battery, which runs on solid electrolytes as opposed to liquid. These could push ranges up to 700km, and charge from zero to full in as little as 15 to 20 minutes.
Wireless charging – at home, or even on the move
Wireless electric charging technology is also in development, which would remove the need for EV drivers to plug in to charge. UK startup Char.gy has designed a charging mat for drivers without personal or off-street parking, allowing them to charge without access to wired infrastructure from a garage or driveway.
One of the most exciting prospects in the EV sector is a technology that can charge a car battery while it's driving. As one of the more futuristic prospects in the transportation sector, the scheme involves installing magnetic concrete inside roads that is able to transmit an electric current to a car driving over it.
The tech is currently being tested by a German company called Magnet, with help from researchers at Perdue University.
Additionally, Ireland has almost a dozen native startups working on EV technology hoping to drive forward the future of electric transportation.
Consumers are hopping on the bandwagon too, as the first half of 2021 alone saw almost 6,000 new EVs purchased in Ireland, a 186 per cent increase from the year before. "EVs can be seen as the gateway to future mobility," Prendergast said.
Want all of the advantages of emissions-free driving, without compromising on style and practicality? Unplug and drive with the new MG ZS EV, a truly affordable family-friendly electric car giving you the freedom to go anywhere. Book a test drive today.