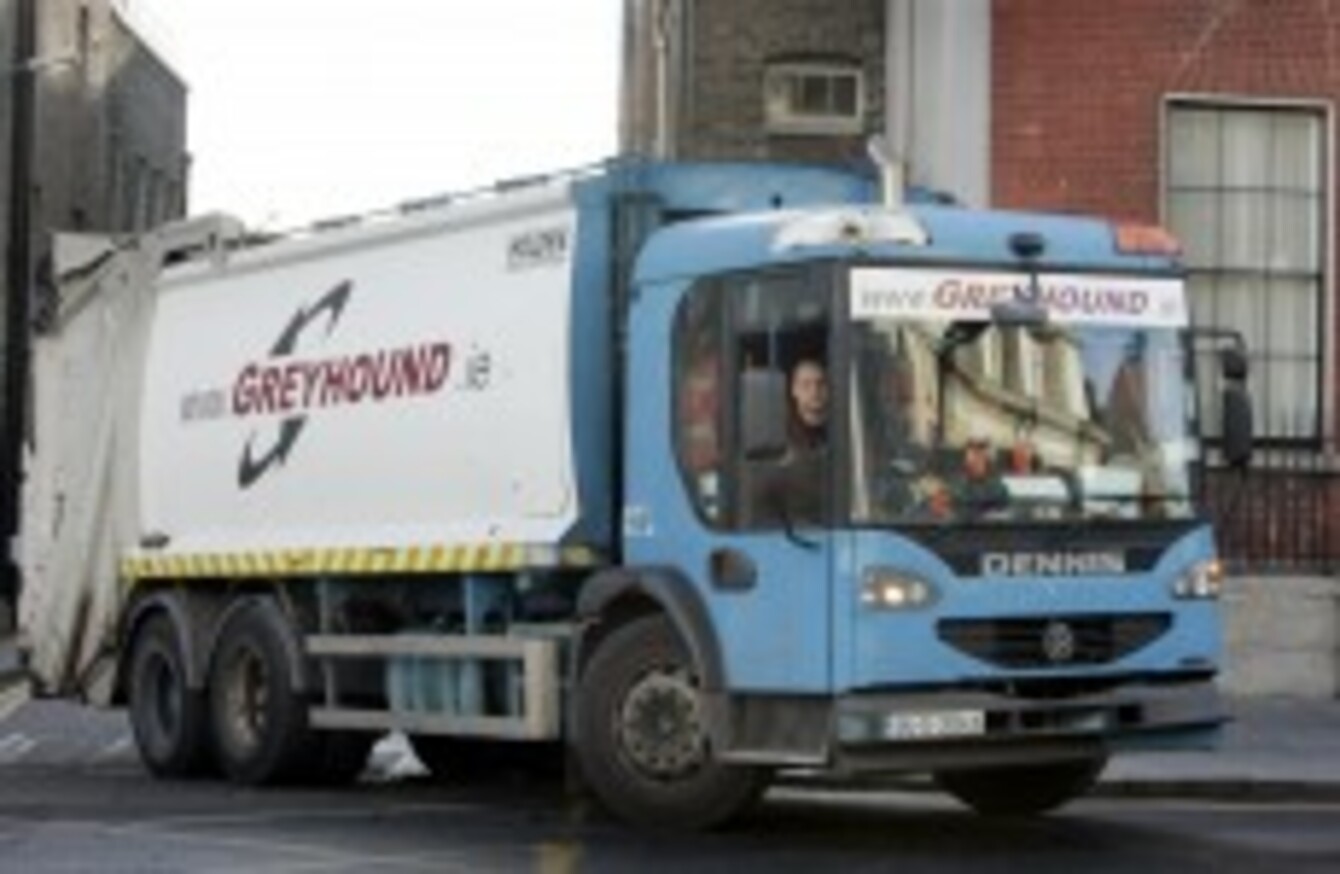 A Greyhound waste truck in Dublin city
Image: Mark Stedman/Photocall Ireland
A Greyhound waste truck in Dublin city
Image: Mark Stedman/Photocall Ireland
THE COMPANY RESPONSIBLE for collecting waste in parts of Dublin has told the government it wants to be subsidised for collecting bins from people who cannot afford to pay for the service.
Greyhound is asking for the government to subsidise the €2.8 million cost of providing a bin collection service to 17,000 customers in south county Dublin who currently receive a waiver.
The company says it will start to charge waiver customers for the service after 31 March if the government doesn't agree to the subsidisation.
"We need a resolution," said Michael Buckley, CEO of Greyhound Recycling and Recovery.
These customers are struggling to survive financially and they cannot afford to pay for the service. On the other hand we are a private operator and we cannot provide an ongoing service free of charge.
Waivers are granted to households where the sole income is from social welfare or where the household income falls below the income tax threshold. Hardship cases are also assessed on an individual basis.
The company revealed that South Dublin County Council was losing €6 million per year on providing the service. It says it plans to restore the business to profitability by the end of this year.
The company also defended itself against criticisms of the service since it took over collections in Dublin city at the start of this year. It said that it now has a 99 per cent collection rate across Dublin.
"Our service is getting better as our customers get used to our systems and we get to better understand their requirements," said Buckley.
"We are a private company and we cannot provide an ongoing free service to waiver customers where the annual cost is €2.8 million in south Dublin and €3.3 million in Dublin city," he said.
Greyhound said that householders who choose not to avail of the service or to pay for the service provided by the company could not expect their bins to be collected by Greyhound free of charge.
Background
The company had agreed to collect bins from waiver customers for 12 months when it won the contract from South Dublin County Council in March 2011. The council had deducted the cost of providing the service from the sale price.
The agreement expires on 31 March – and Greyhound has advised Minister for Social Protection Joan Burton that the company has no alternative but to charge waiver customers for the service if the cost is no longer subsidised.
Greyhound took over waste collection services in Dublin city at the start of this year. Dublin City Council had previously been responsible for collecting rubbish for more than 100 years.