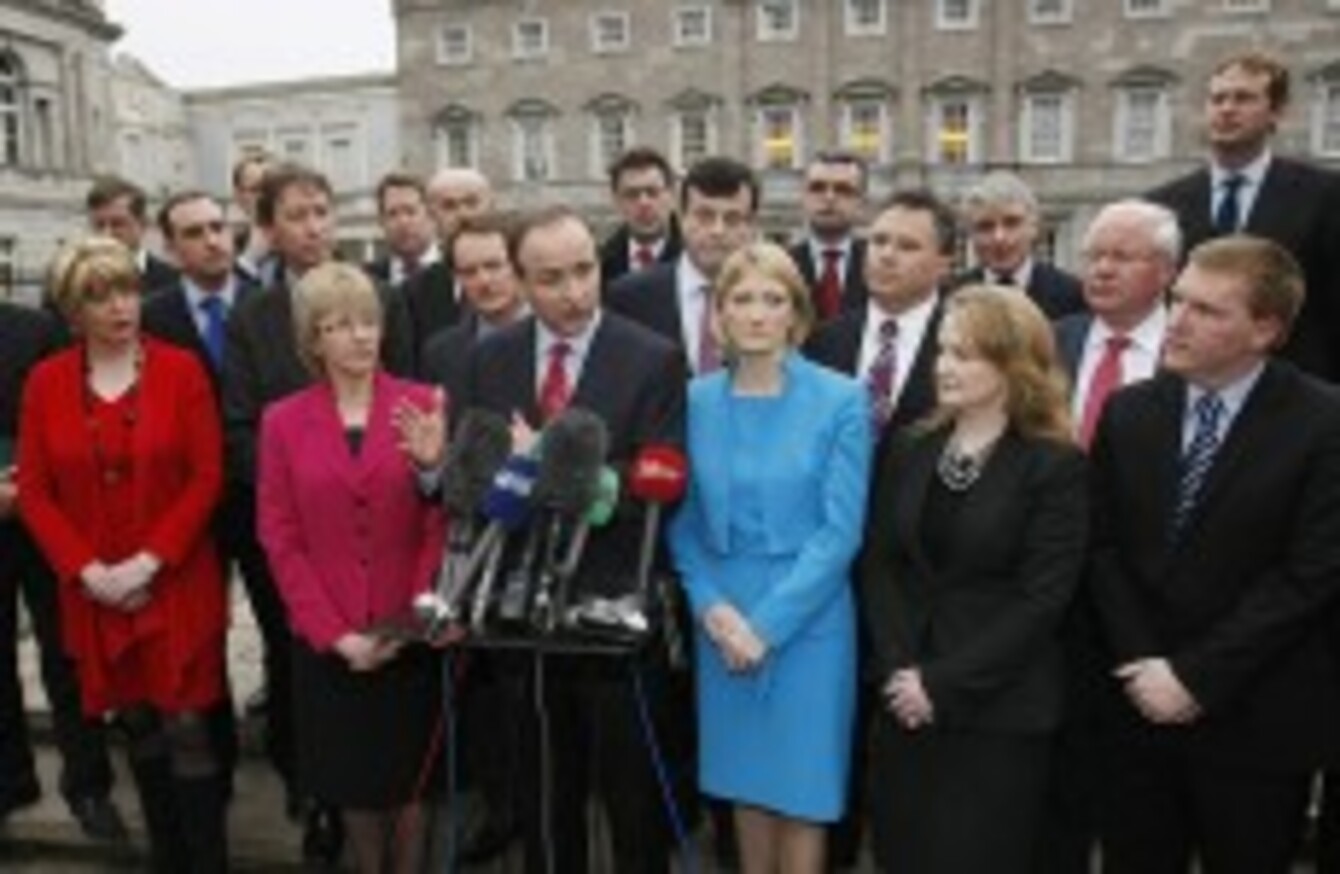 Image: Julien Behal/PA Wire
Image: Julien Behal/PA Wire
MICHEÁL MARTIN has named Mary Hanafin as the new Deputy Leader of Fianna Fáil as he unveiled a reshuffled front bench to lead his party's fight to save seats in next month's general election.
With just 25 days left to go until the likely polling day, Martin's front bench includes two Councillors, one Senator, and one candidate who has yet to even contest a general election.
Martin's team of 21 includes the return of former Defence minister Willie O'Dea, who resigned from the cabinet just over a year ago, who is handed the Communications brief; while former junior minister and vocal critic of Brian Cowen, Kilkenny's John McGuinness, is given responsibility for Small Business.
Other new briefs created by Martin include a position on Political Reform, which goes to Averil Power – a former personal aide to the new deputy leader Hanafin, and wife of Irish Independent political editor Fionnán Sheahan, who is contesting the general election in Dublin North East.
A new brief on Financial Sector Reform is given to Martin's constituency colleague in Cork South Central, Michael McGrath, while Cllr Jim O'Callaghan SC – brother of RTÉ broadcaster Miriam – is appointed to the new role as Spokesman on Constitutional Reform as well as being legal advisor to the front bench, an obvious precursor to the position of Attorney General.
Sean Fleming, constituency colleague of outgoing Taoiseach Brian Cowen, is given the role of Public Sector Reform spokesman – all but assuring that he will contest the election, ending speculation that he – like Cowen – was ready to retire.
The six current members of cabinet all retain responsibilities for their original briefs, with the exception of Hanafin who takes over as spokesperson for the Environment and Local Government. Her Tourism brief is given to Senator Marc MacSharry.
Announcing his new front bench at Leinster House today, Martin said he had "decided to draw on the party's full base of TDs, Senators, councillors and candidates" in compiling his new front bench, and said the creation of new posts would underline his party's credentials in seeking political, financial and public service reform.
Micheal Martin - Party Leader

Mary Hanafin - Deputy Leader; Environment & Local Government

Brian Lenihan - Finance

John Curran - Justice & Law Reform

Barry Andrews - Health & Children

Mary Coughlan - Education & Skills

Éamon Ó Cuív - Social Protection

Dara Calleary - Enterprise, Employment and Innovation

Brendan Smith - Agriculture, Fisheries & Food

Marc MacSharry - Tourism & Arts

Niall Collins - Defence

Pat Carey - Community, Equality & Gaeltacht Affairs

Willie O'Dea - Communications, Energy & Natural Resources

Billy Kelleher - Transport

Peter Power - Foreign Affairs and Trade

Averil Power - Political Reform

Michael McGrath - Financial Sector Reform

Sean Fleming - Public Sector Reform

Darragh O'Brien - Sport

John McGuinness - Small Business

Mary Fitzpatrick - Housing & Urban Development

Jim O Callaghan - Legal Advisor; Spokesperson on Constitutional Reform