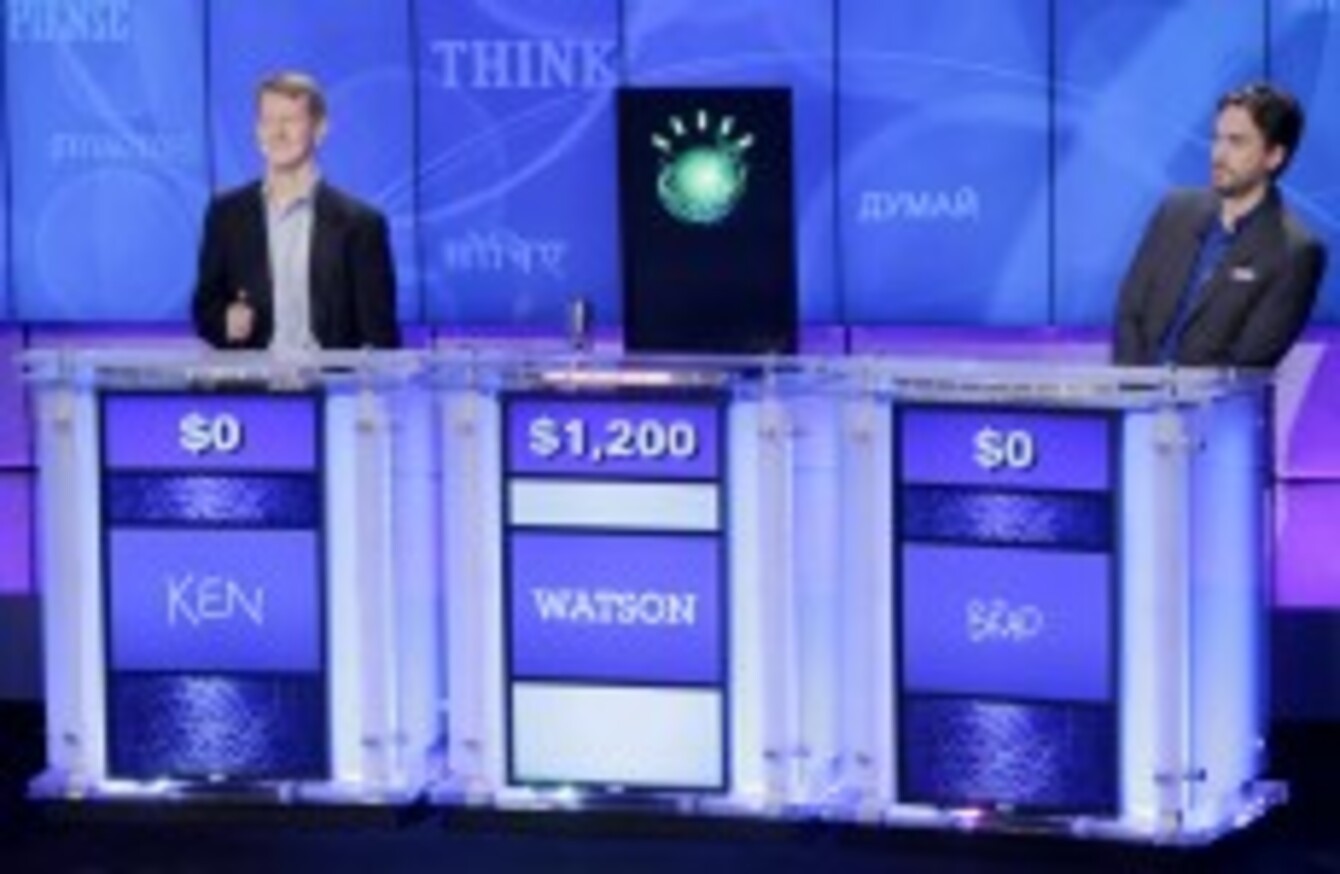 Watson, as it appeared on the US quiz show Jeoprady! back in 2011.
Image: Seth Wenig/AP/Press
Watson, as it appeared on the US quiz show Jeoprady! back in 2011.
Image: Seth Wenig/AP/Press
BIG DATA IS becoming, well, bigger. With so much happening in the space, it's unsurprising that more companies are coming up with ways to not only deal with this information overload but understand it and present it in a way that's accessible to everyone.
IBM may be more of a business company than a consumer one, but it's been working in this area with Watson, an artificial intelligence it wants to power everything. While it's still has a long way to go, it could help shape the direction technology is taking us.

So what exactly is Watson?
Watson is effectively an artificial intelligence which can answer any question asked in natural language. Instead of having to phrase a question correctly to get the answer you want, you can ask it naturally and Watson will come up with the relevant answer.
Originally it was designed to answer questions on the popular US quiz show Jeopardy, where it competed against two former winners in 2011 and won.
Since then it's evolved to do more than just appear on quiz shows. IBM made a $1 billion investment (€803 million) at the start of this year to improve it, and it plans to make  $1 billion mark by 2018 (it expects to make $10 billion in revenue within ten years).
How does it work?
It's best to think of Watson as similar to a search engine like Google. While search engines look at the words you used and finds you results based on them, Watson looks at what you said and takes into account the structure and context of the sentence.
For example, if you ask, "What's the weather like in Cork", a normal search engine would pick out the words "Weather and Cork" and provide you with weather results. Watson not only looks at the context, but it will look at how you phrase the question to see which one of its answers better suits the question.
It will provide a number of answers but will suggest the one it feels is the best and most appropriate answer. It uses what it knows (and in some cases, doesn't know) to come to a decision.
Another example would be asking it which team was going to win the Premier League. Using the data it has access to, it can take both present and past data to determine which team will come out on top. It's unlikely it will have an answer that's 100% accurate, but it will give the most likely one (If that example sounds somewhat familiar, it is as Microsoft's Cortana operates on a somewhat similar system when predicting results for the World Cup and NFL).
Another difference is that while the main Watson system has banks of information to rely on, it needs direction from people so it better serves their needs. Somewhat similar to teaching a dog tricks, any business or organisation that uses the service spends a few weeks tweaking it so it responds better to their requirements.
Dublin is one of the cities IBM is focusing on – thanks to it having a technology campus in Dublin – since it has a collection of small and large businesses in the area. Through its Client Experience Centre, it can work with small, medium and large teams to bring them up to speed with Watson and support them.
Ok, give me some examples of it in use?
Right, well the first public example is a service called Chef Watson, which comes up with new and original recipes using flavour compound algorithms. By choosing the ingredients you want to cook with (or don't want to use), you get a list of recipes based on your input.
The results can be a little strange – one of the combinations was Belgian Bacon Pudding which is exactly what it sounds like – but at the very least, they're original.
Ok, is it doing anything else other than making questionable puddings?
Yes. It has its fingers in a lot of pies (ok, we'll stop with the food references) with projects in retail, healthcare, non-profits, driving, finances, customer service (in the sense that it will deal with basic queries and refer you to someone if it's too complex for it to solve) and other areas.
That's also quite important as the more it does, the more it learns and the more useful it becomes. IBM opened up the Watson Analytics platform to everyone as a public beta, allowing anyone to put in a dataset and allow Watson to pick out the most interesting elements as a series of graphs and infographics.
While Watson has been around for three years, it's still early days for the service as it sees whether third-parties can bring out the best in it.
#Open journalism No news is bad news Support The Journal

Your contributions will help us continue to deliver the stories that are important to you

Support us now
So how would this tie into my day-to-day life?
At the moment, not a whole lot, but the potential for such technology means that someone could take those capabilities and turn it into something more useful for businesses and people. That's a long-term bet IBM is willing to back.
One such project involves giving you fitness and diet advice by processing said data. Teaming up with a startup called Pathaway Genomics, it can use DNA sequencing and Watson's power to digest said information and tell you the best ways to get fit, what to eat and when to take medication. It's not a replacement for a doctor, but it tries to reduce the number of times you have to visit one.
Other companies using it include US-based SparkCognition, which gets Watson to think like a security expert and discover threats that may not exist yet, while Genie MD learns from questions and answers to better understand health conditions.
Others are more ambitious. For example, the team in IBM Dublin are working on utilising parked cars to help aid services. Since the processing power, battery and sensors of a car are rarely used when stationary, and spend most of the day parked, it means there is untapped potential.
Some of the scenarios the team is working on include detecting gas leaks, improving security for homes (acting as a sensor of sorts), act as a WiFi/cellular beacon and detecting missing Alzheimer's patients. The latter would require the patient to wear a Bluetooth-wristband and an alert has been activated, the cars can detect when the patient has passed them and give their location.
The cars would communicate with each other – which is where Watson would come into play – and use that shared data to provide additional information about their surroundings.
As with all advances, there are obstacles between concept and reality – for one, ensuring that the data used isn't tied to anyone personally and a basic degree of privacy is maintained – but being able to make the normal day-to-day objects and processes smarter and more is what Watson aims to do.
Whether it accomplishes that is anyone's guess. If it manages to provide a level of intelligence not found elsewhere and allows developers to implement it easily, it could make your regular apps and objects smarter and more useful. The building blocks are already there, it's now a matter of getting people to make something with them.