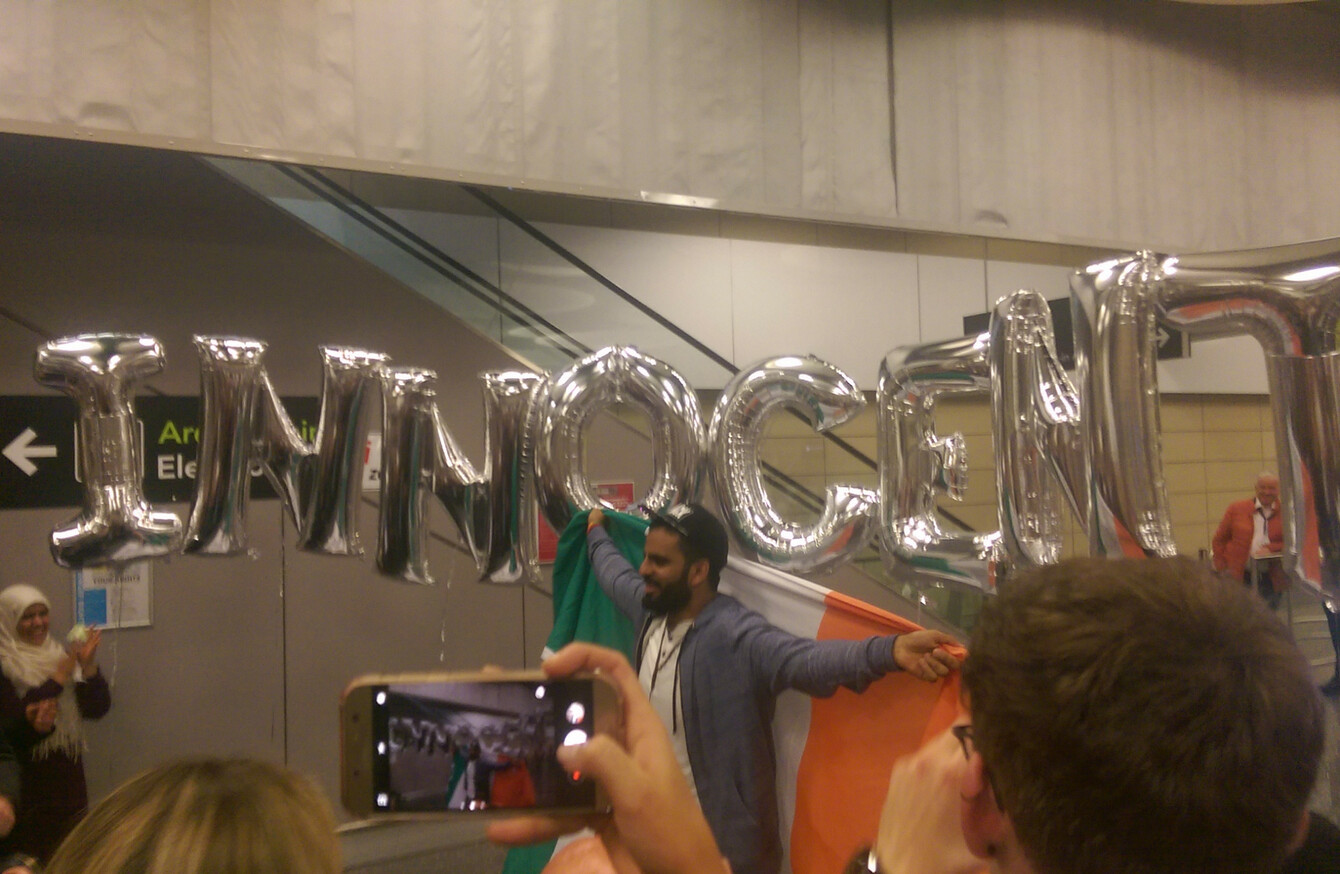 Image: Gráinne Ní Aodha
Image: Gráinne Ní Aodha
SINCE HIS RELEASE from a prison in Egypt, Ibrahim Halawa has been advised on how to adjust to his new life by his former cellmate Peter Greste.
The Latvian-Australian journalist was imprisoned in the same cell as Irishman Ibrahim Halawa for over a year after a protest in Cairo in 2013.
Hundreds were arrested in the protest, which was held in support of the Muslim Brotherhood's Mohamed Morsi, who had been ousted from power in a military coup.
Greste was deported from Cairo in February 2015 and flown to his home country Australia following government intervention. He's since used his influence to highlight cases of harsh prison conditions for those awaiting trial and the importance of a free press. (He and his two colleagues were convicted with spreading false news and aiding the banned Muslim Brotherhood.)
Speaking at Dublin Airport after Halawa's arrival back in Ireland, Lynn Boylan told TheJournal.ie that the Al-Jazeera journalist had been advising Ibrahim on what to do upon his release.
"[Peter Greste] has been in touch with Ibrahim to advise him on what to do next," she said, adding that they had been messaging "a bit" since his release from prison.
Boylan added that although she's not sure what exactly is next for the young Dubliner, she doesn't imagine "he's going to go away quietly" given his continued interest in politics and human rights.
Ibrahim Halawa gave a flavour of that fiery political streak when he spoke to reporters yesterday, saying that he wanted to help those "cell mates he's left behind" in the Cairo prison.
"[There's] a lot of innocent people behind bars… around the world, not just in Egypt. I'm going to help to get them released maybe around the world Irish people, even if they're criminals and convicted abroad, I'm going to be asking for them to come back and do their time in Ireland," Halawa said.
He also added that he wanted to help "a lot of homeless people – I have a lot of ideas for that".
Source: TheJournal.ie/YouTube
Boylan says that time in prison with Greste had made a significant impression on Ibrahim – the Australian has spoken before about how he and his cellmates would look after one another.
Speaking to Morning Ireland in September, Greste said that Halawa would find it difficult to adjust to his new-found freedom.
"There's always going to be a tendency, a desire to want to get back to normal," he said.
"The first thing he's got to realise is that there will be no such thing as normal any longer. He cannot go back to his old life after an experience like this.
After all the attention that his case has received, going back picking up where you left off is just simply not an option.
Halawa's sister Omaima agreed with that advice yesterday, telling reporters that his sisters, who were in college last time he saw them, had children and families now, which would be a huge adjustment.
Speaking to TheJournal.ie yesterday, Boylan said that there had been a "shift" in how the government dealt with the situation under the stewardship of Leo Varadkar and Simon Coveney, compared to the methods used by Enda Kenny and Charlie Flanagan.
"There seemed to be a firmer approach to the situation," she said, adding that they had acknowledged the softer tactic employed by Kenny "wasn't working".
Today, Minister for Foreign Affairs Simon Coveney said that this was "a day of great joy" for Ibrahim Halawa and all of his friends and supporters.
There will be many challenges for Ibrahim as he comes to terms with all that he has been through, and all the changes that have taken pace while he has been detained in Egypt.