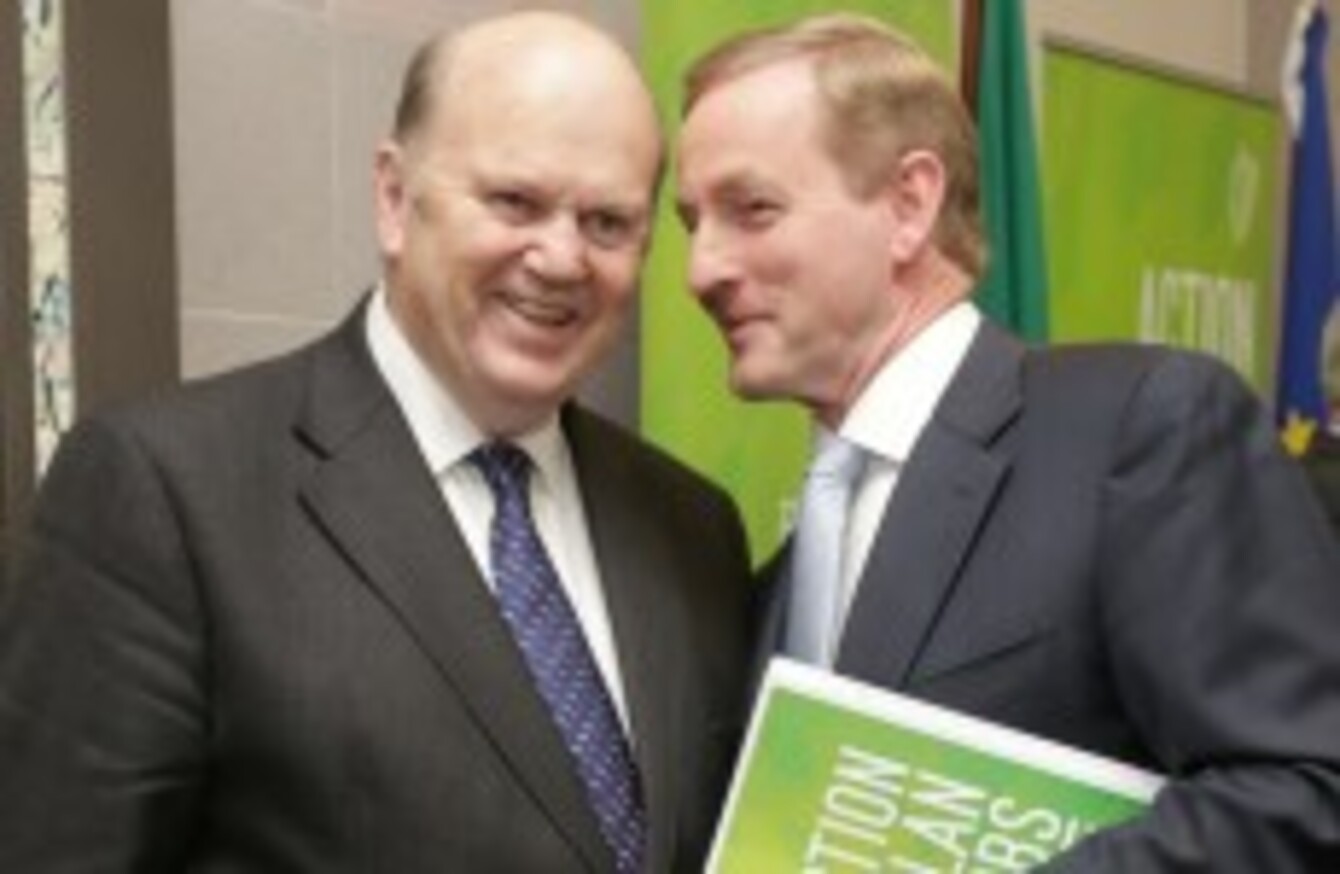 Finance Minister Michael Noonan and Taoiseach Enda Kenny
Image: Laura Hutton/Photocall Ireland
Finance Minister Michael Noonan and Taoiseach Enda Kenny
Image: Laura Hutton/Photocall Ireland
Updated 10.28
THE GOVERNMENT HAS been painting an overly rosy picture in its budget forecasts and will find it "very challenging" to deliver on its promises over the next five years, according to its key financial advisers.
In its latest budget assessment, the Irish Fiscal Advisory Council said Ireland's overall economic prospects were good with strong growth and lower unemployment boosting the public purse.
But the council warned the predictions the government used in its last economic update, the same figures presented in its much-maligned spring statement, didn't "present a full picture" of the costs tied to an ageing population or its explicit pledges to cut taxes.
The official Finance Department outlook was for the budget to swing into surplus in 2019 – a major turnaround from the 4.1% deficit recorded last year.
"This would appear very challenging to achieve while maintaining current services and meeting demands for increases in public services due to demographic and other pressures," the council said.
Any discretionary tax cuts would further increase the need to squeeze public spending over the coming years making it difficult to fund known future expenditure demands."
More spending, less tax
Since the spring statement, Public Expenditure and Reform Minister Brendan Howlin agreed plans to hand back over €2,000 to most public servants between now and 2018 at a cost of €566 million to the exchequer.
The government has flagged giveaways worth €1.4 billion in its next budget with the total to be shared equally between extra spending and tax cuts.
Tax returns are €734 million ahead of target so far this year – and could end the year over €1 billion up on forecasts, according to analysts. However the alarm bells have also been sounded that expenses will outstrip expectations.
The council, which criticised last year's budget as a "missed opportunity" because it didn't include €2.1 billion in planned cuts, said the state's forecasts should include figures based on "policies envisaged" and the latest update didn't necessarily offer realistic projections.
The Fiscal Advisory Council was set up in December 2012 to assess the Finance Department's official forecasts and to look at whether the government was putting in place good economic policies.
First published 6.02am