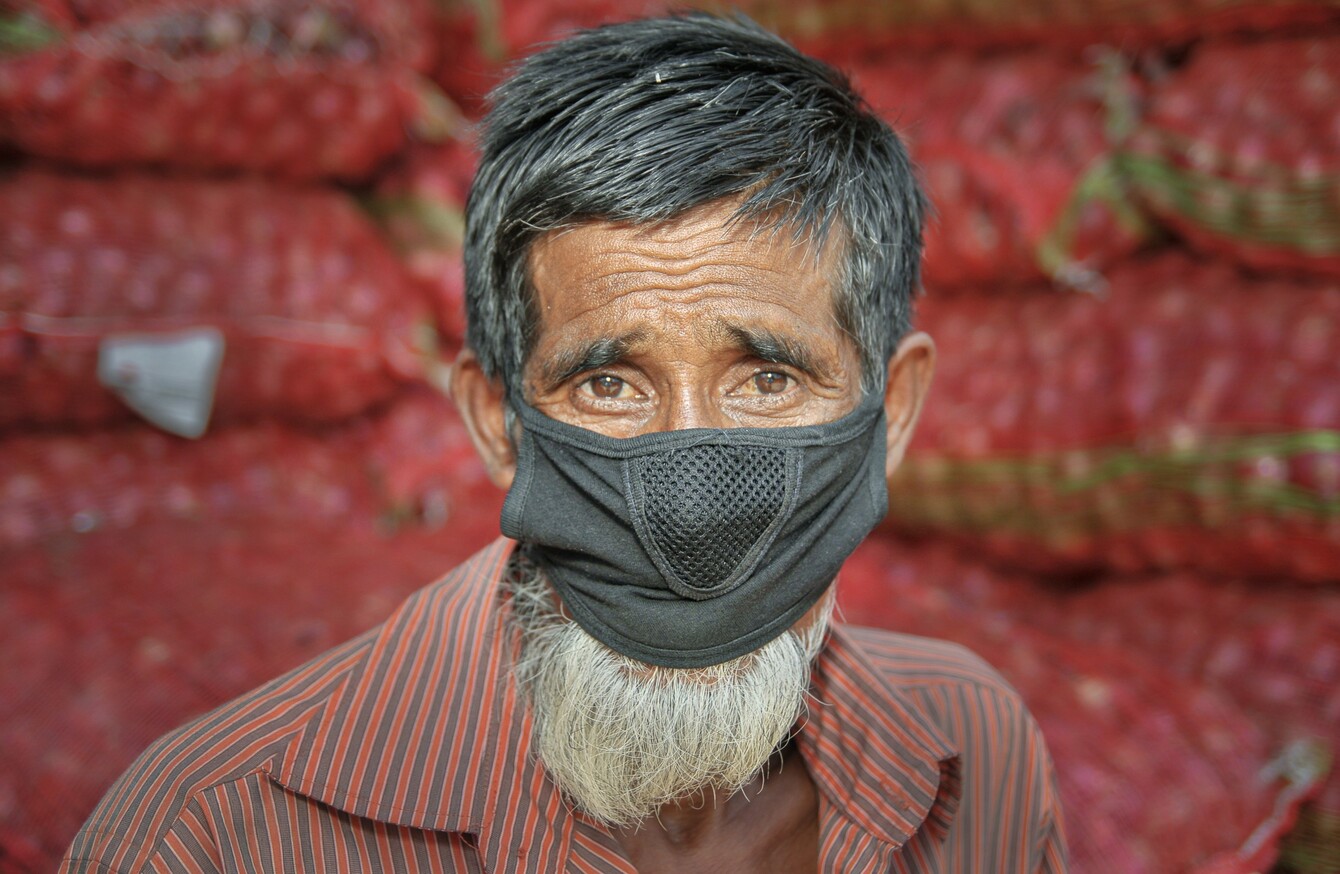 A labour-worker wearing a mask in the streets of Sylhet, Bangladesh.
Image: Md Rafayat Haque Khan/PA
A labour-worker wearing a mask in the streets of Sylhet, Bangladesh.
Image: Md Rafayat Haque Khan/PA
TODAY, IRELAND HAS provided €10 million in funding to the UN's Global Humanitarian Response Plan, which aims to help particularly vulnerable countries in their fight against the Covid-19 pandemic
Announcing Ireland's contribution this evening, Tánaiste and Minister for Foreign Affairs Simon Coveney said:
Humanity has a common enemy, which we can only defeat if we work together – as the World Health Organization's Mike Ryan says: 'None of us are safe until everyone is safe.'
Ireland has announced €6.7 billion worth of measures to tackle the Covid-19 threat here; it's also possible more measures will be announced at a later date as the crisis unfolds.
"We are doing everything possible to ease the impact of the crisis here in Ireland and are making a difference," Coveney said.
"But as we stay at home to protect our most vulnerable, there are millions of vulnerable people around the world who lack access to such basics as clean water and soap and who need our help if they are to stay safe and well.
Helping them is not only the right thing, an expression of our values of solidarity, generosity and compassion, it is also the sensible thing for Ireland to do.
"That is why today I have allocated €10 million from the Irish Aid programme to the UN's global humanitarian appeal, which help meet the most basic and urgent needs of the world's most vulnerable communities as they resist Covid-19," he said.
Developing countries are particularly at risk to the coronavirus pandemic, as measures such as social distancing are difficult to implement, and vulnerable countries have less medical facilities like ICU beds and ventilators, which appear to help keep death tolls low.
In Bangladesh, there are just 29 intensive-care beds equipped with ventilators to cater for 165 million people. That compares with around 225 ICU beds in Ireland, which is probably around double that when recent measures taken by the HSE and the private-hospital capacity are taken into account.
Minister of State for International Development Ciarán Cannon added:
The bravery and humanity of all of those working on the front line in the fight against the virus is remarkable. 
I have always been amazed by the Irish people and NGOs I have seen working to address humanitarian crises, but never more than now.
"Today's allocation to the UN appeal is part of Ireland support for the work of all those across the world who are saving lives in these most challenging of circumstances."