Image: Gregorio Borgia/AP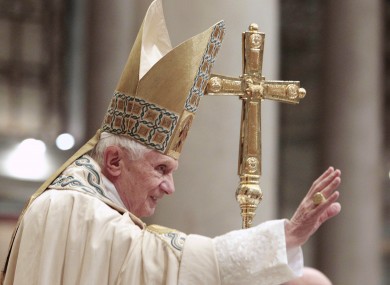 Image: Gregorio Borgia/AP
IRELAND MAY RE-OPEN an embassy in the Vatican whenever the public finances recover, the Tánaiste Eamon Gilmore has said.
Gilmore has acknowledged that the closure of the Holy See embassy – which the government estimates will save it €845,000 a year – could be reversed whenever the State can afford to reopen such an embassy.
"The government will continue to review our diplomatic network and it may be that, as public finances recover, we will at some time in the future be able to reopen a modest resident embassy to the Holy See," Gilmore told FG backbencher Pat Deering.
The secretary-general of the Department of Foreign Affairs, David Cooney, has been appointed as the non-resident ambassador to Ireland and is expected to present his diplomatic credentials to Pope Benedict later in the year.
Fianna Fáil's foreign affairs spokesman Seán Ó Feargháil said the government's approach to the closure of the Holy See embassy had been "completely incoherent".
Ó Fearghail pointed to recent media comments which suggested EU affairs minister Lucinda Creighton was backing calls for the embassy to be reopened – and accused the minister of "attempting to ride two horses".
Creighton was trying to "give ministerial leadership in the Department that has made the decision, while currying favour with angry backbenchers who realise the mistake and want to see it reversed," he said.
The incoherent approach of the Government and apparent refusal to simply acknowledge the mistake that has been made cannot be helping the country's prospects.
The Department of Foreign Affairs understands that an invitation to Pope Benedict to visit the International Eucharistic Congress is still being considered by the Vatican.
Gilmore has previously stated that if the Pope intends to attend the congress, the government would issue him with a formal invitation to visit the country.