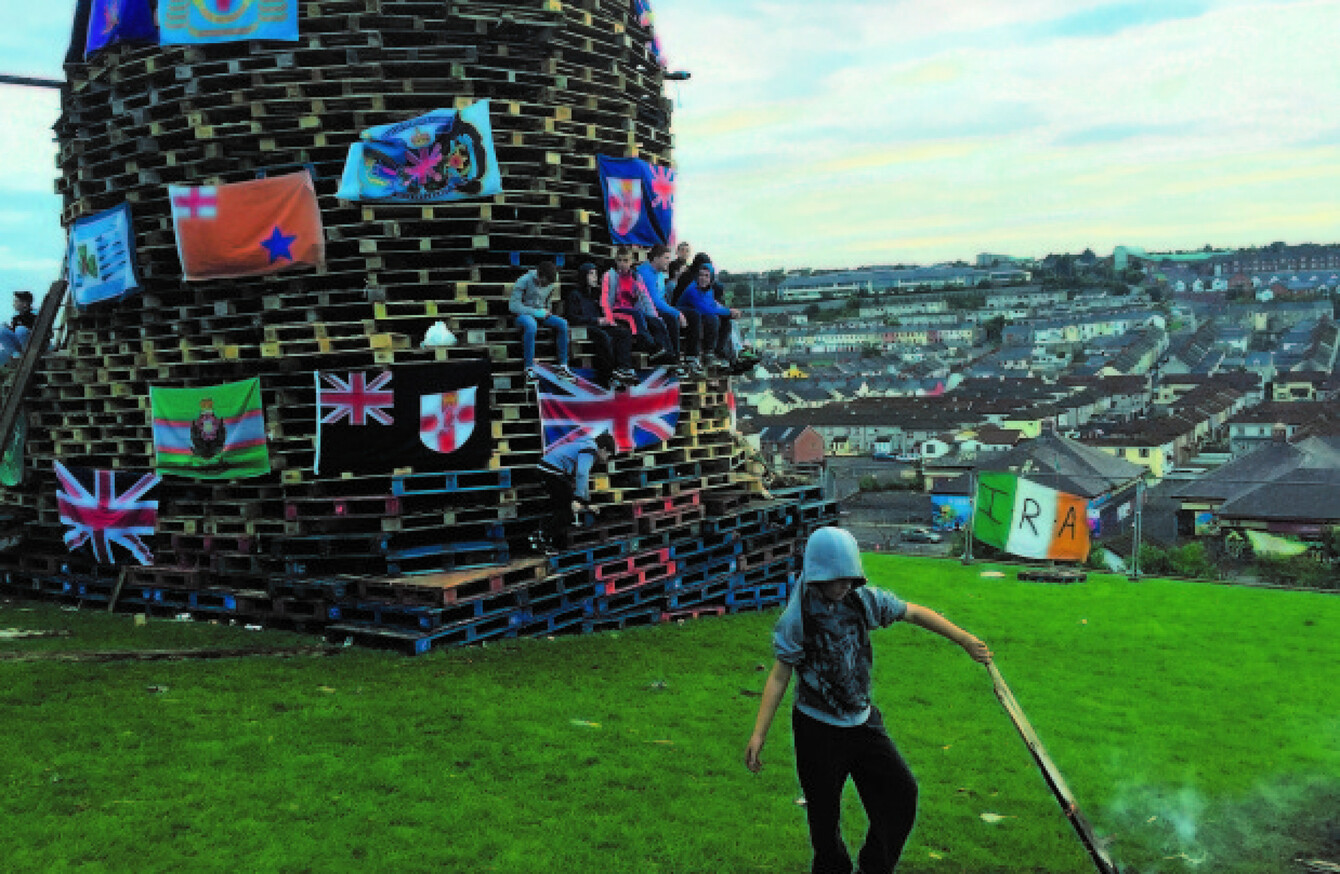 A scene from the documentary A Mother Takes Her Son To Be Shot.
A scene from the documentary A Mother Takes Her Son To Be Shot.
IF YOU WERE excited to see so many Irish (and Irish-connected) names in this year's Oscar nominations – Saoirse Ronan, Nora Twomey, Cartoon Saloon, Consolata Boyle, Daniel Day-Lewis, and Martin McDonagh all got nods for their work – then you should keep a keen eye on what the Irish Film Board has lined up for this year.
It has funded or part-funded a number of interesting Irish films that are due out in 2018 (and there are many great non-IFB funded also set to hit our screens), and today it announced the details on what we can expect for the year ahead.
It also gave an overview of how funding has gone over the past year. The IFB said that it saw a 58% increase on its production output for last year, which added up to more than €84 million. It also had a €46.7m regional production spend, and said that it is committed to spending €6m on Irish animation over the next three years.
This year, audiences will see 16 feature films, five co-productions, five TV  animations, 13 documentaries, 21 short films and one major international TV drama series which have been funded by the IFB.
The board highlighted a number of the upcoming productions, including:
Carmel Winters' Float Like A Butterfly: This is set in 1970's Ireland, and follows a young Irish traveller girl named Frances
Dave Tynan's Dublin Oldschool: A film adapted from Emmet Kirwan's critically acclaimed play of the same name
Mary McGuckian's A Girl From Mogadishu: This is based on the testimony of activist Ifrah Ahmed
Hugh O'Conor's directorial debut Metal Heart, starring Irish actress, Jordanne Jones "in a tale of two sisters who are worlds apart"
Wolfwalkers: This animated feature is from Cartoon Saloon's Tomm Moore and is the final instalment of the company's Irish folklore triptych (following on from the Oscar-nominated The Secret of Kells and Song of the Sea)
Sean Mullen's The Overcoat: An animated feature featuring the voice talents of Cillian Murphy
Creative co-productions will include Lenny Abrahamson's supernatural horror, The Little Stranger; Chanya Button's Vita & Virginia, produced by Katie Holly of Dublin's Blinder Films.
We can also expect documentaries such as Sinéad O'Shea's A Mother Brings Her Son To Be Shot, filmed in Northern Ireland; Brendan Byrne's One Million American Dreams, about the campaign to turn New York's Potter's Field into a dignified resting place; and Ross Whitaker's Katie, about Irish boxer Katie Taylor and her quest for change after a devastating year.
The Irish language will be getting a specific focus in 2018, as the IFB has teamed up with TG4 and the Broadcasting Authority of Ireland for an initiative called Cine4. Under this, the production of two films in the Irish language will be funded.
There's also a new partnership with RTÉ, called Scripted Comedy which – you guessed it – will see RTÉ support Irish scripted comedy projects "with export potential".
RTÉ will also show two Irish films on RTÉ 2 on Saturday nights during 2018.
Last year, the board announced it was going to be focusing on gender equality, something which became all the more pertinent when at the Irish Film and Television Academy Awards (IFTAs) earlier this month there were just three lead actress film nominees.
Áine Moriarty, chief executive of the IFTA, told us that this was: "Because there was just not a level of script written for women, it was a very low number of scripts written for lead women in the past year."
The IFB said it is gearing up to launch the details of a new scheme called POV, which is a "low-budget training and production scheme aimed exclusively at female writers and directors".
Getting regional
Film isn't just Dublin-based, and this year productions supported by the IFB outside of the capital included Ivan Kavanagh's Never Grow Old, which was shot in Galway – as was David Gleeson's Don't Go; Ian Fitzgibbon's Dark Lies The Island (based on the Kevin Barry short story collection), shot in Roscommon; Carmel Winters' film Float Like a Butterfly, which was filmed in Cork; and Tomm Moore's Wolfwalkers, which was shot in Kilkenny where he is based.
We all know that Star Wars used Ireland as a base for filming parts of its last two movies, but it wasn't the only production that did some filming here in 2017. For example, the BBC filmed its series Little Women here, Reed Morano filmed The Rhythm Section (which stars Blake Lively) in Dublin, and American channel AMC filmed Into The Badlands (which, while it might not have instant name recognition here, has a great name internationally) here.
Meanwhile, last year Troy Studios opened in Co Limerick, and the first production there will be George RR Martin's (Game of Thrones) Nightflyers.
Chair of the IFB, Dr Annie Doona said that this year's slate of Irish films shows "the definition of 'Irish film' continues to evolve and transform, as well as entertain and delight."
"We strive for this annual showcase of Irish creative talent to be as equal and diverse as possible because supporting a multiplicity of Irish voices is integral to the work of the IFB," she said, adding that the board has made some progress in the implementation of its plan on Gender Equality.
Meanwhile, IFB Chief Executive, James Hickey said that 2017 saw "a significant uplift in overall activity".