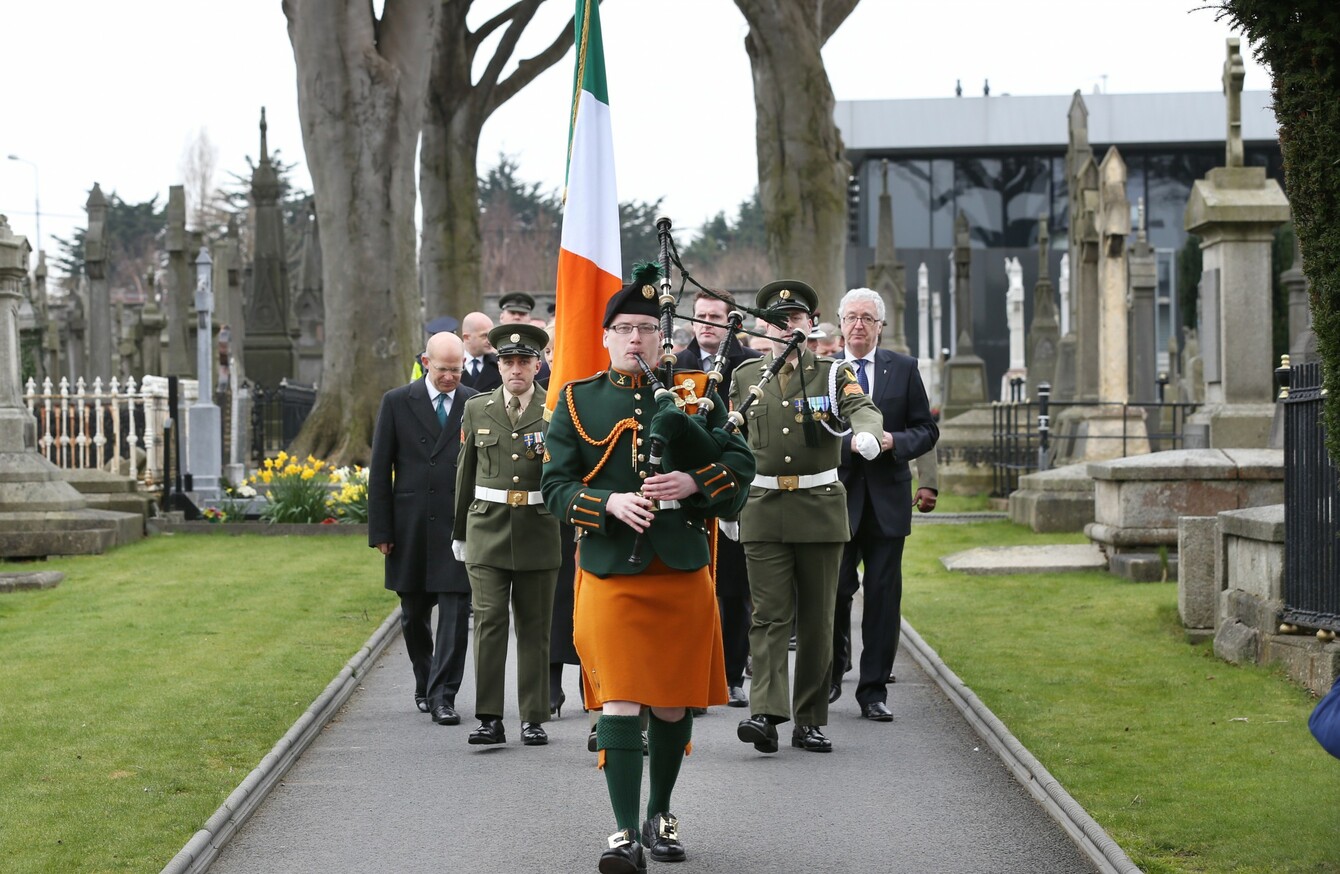 Easter Sunday Ceremony at Glasnevin Cemetery (2015).
Image: RollingNews.ie
Easter Sunday Ceremony at Glasnevin Cemetery (2015).
Image: RollingNews.ie
FIANNA FÁIL THINKS a new law is needed to protect the national anthem.
Senator Mark Daly has produced legislation to "protect" Amhrán na bhFiann as its copyright is currently expired.
"The lack of strict copyright in place for the national anthem leaves this important state symbol exposed.
"Copyright for the anthem officially expired at the end of 2012 and Fine Gael gave a commitment at the time to act on the issue. However they have failed to deal with this.
Having copyright in place in very important. It protects the anthem from being used in an inappropriate fashion. We need to ensure the integrity of our national anthem is maintained.
"It's clear from the government's lack of urgency here that Fine Gael and Labour cannot be trusted with the protection of key cultural symbols in a year of centenary celebrations."
Daly said the new legislation would "provide open-ended protection so we wouldn't find ourselves in this position again", and he hopes it will secure cross-party support.
TheJournal.ie has contacted Fine Gael and Labour for comment.
Remixes
The state bought the copyright for Amhrán na bhFiann in 1933 for £1,000 to ensure that it would be available for free for general use and so performance fees would not be charged for its use.
Source: theme45/YouTube
In 2013, Finance Minister Michael Noonan said this situation would not change even though the copyright had ended.
Many other countries have already seen copyright expire on their national anthem leaving it open to be remixed and used for commercial use - most notably by the Sex Pistols with their version of God Save the Queen and Jimi Hendrix's Woodstock performance of The Star Spangled Banner.
- with reporting from Christine Bohan