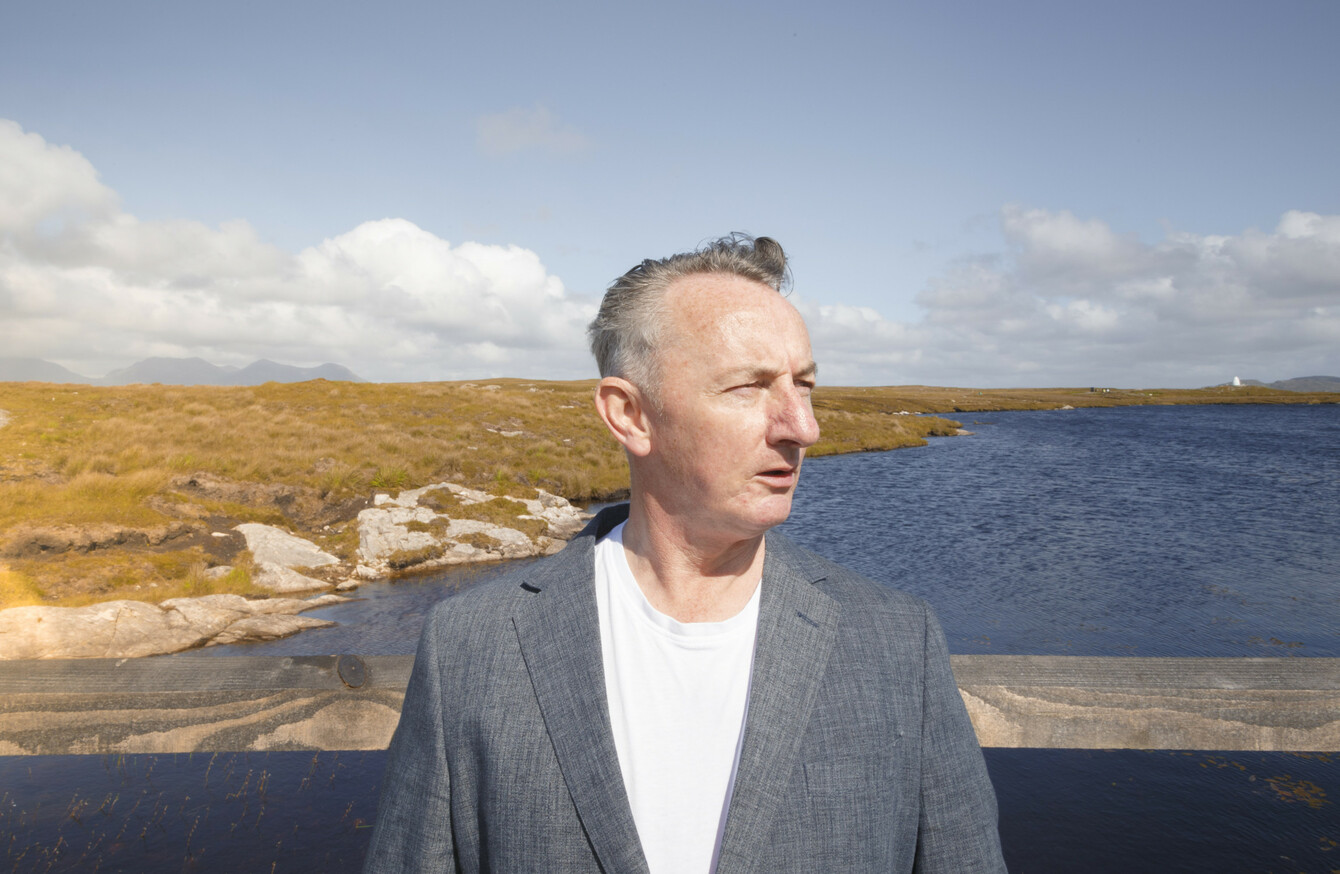 Image: Laura Sheeran
Image: Laura Sheeran
A TALE SET in a troubled Galway of the near future; a look at the Famine with 2017 eyes; and the story of a wild young woman struggling to conform: today's Irish theatre isn't shying away from tackling the tough stuff.
While the Celtic Tiger meant that more money was swimming around the country, the recession had a massive impact on funding for the arts. It also provided a fertile subject for people to dig into on stage. But as the country is now in a post-recession phase, things are starting to move on again. Yet at the same time, the world's political landscape is becoming darker – nuclear missiles and deadly hurricanes are becoming daily topics in the news.
And here in Ireland, we have long used theatre to analyse what's going on not just in our own country, but abroad. The Abbey Theatre itself was founded by people who believed in revolution through drama, and the country has a long history of writers refusing to separate art from politics.
As Laura Farrell-Wortman says in her dissertation Theatre After Anglo: Irish Drama Responds to the Great Recession:
the theatre creates a laboratory for developing new critical understandings of the recession, displaying the political and sociological necessity of the arts in a time of crisis generally.
A look at upcoming shows gives a good insight into how Ireland's theatre creators are tackling today's big issues. Take John Nee, the Galway musician and playwright, who has chosen to turn his thoughts future-ward. In Radio Rosario, he brings the audience to a dystopian Galway in a world where fascism has gained control.
Meanwhile Teresa Deevy's play Katie Roche, at the Abbey Theatre, treads similarly dark ground. It was last performed 80 years ago on that theatre's stage and instead of the future, is about an Ireland where being a young illegitimate woman carries social stigma.
In Moonfish Theatre's adaptation of Star of the Sea, the story of a pivotal moment in Ireland's history – The Famine – is brought together in a truly contemporary way: it's bilingual, and features puppetry.
A look at the upcoming Dublin Theatre Festival's programme shows that theatre-makers are using the event as a chance to reflect on the Ireland of today as well as the past.
In Rapids, the company Talking Shop Ensemble looks at life while HIV+ in today's Ireland, while Class is about, well, class in Ireland of 2017.
And then there are the adaptations – where people take a classic and give it a contemporary twist. Kafka's The Trial is reworked in Josephine K and the Algorithms, while Beckett's Happy Days inspires Makoto Sato's production of Her Voice.
Radio and Trump
Trump, World War II-era radio broadcasts and a dystopian Galway all come together in John Nee's Radio Rosario. It's partly set in and around the Marconi Station in Clifden – Nee, a big radio fan, has been researching the Marconi site for years. The play is about a man named Valve Hegarty who is despairing of his life – until a chance meeting with a woman called Rosario sends things in an interesting direction.
Nee is working on the play with co-director Laura Sheeran – this is their sixth theatre show together – and Sheeran herself is an example of an Irish creator (she often flies somewhat under the radar, which belies her incredible talents across music and photography) who embraces darkness.
In the character Valve Hegarty, Nee – who has lived in Galway for 30 years – has created a man who sings audio jingles to pay the rent, but is unhappy with his life and the world around him.
For Nee, it's not necessary to spell out that parts of his play are dystopian. "You could argue that the world is dystopian at the moment anyway," he points out. "We don't lay [issues] on incredibly heavy as well, we don't tear into them."
The playwright was influenced by Galway's docks when putting the show together – how they're starting to show their age. "The dock area where it's set is actually more like the docks used to be," he says.
A lot of it is pretty much the same: there's still docks, there's still swans, you can still walk up the canal. But we live in a post-Trump society so the repercussions of that are being felt.
What the show is about ultimately "is love and imagination", elements he believes are essential to a healthy life. "And those two elements are elements that I would see that are in opposition to Trump," he says.
Overall, his show is about both the light and the dark – and he doesn't find it necessary to spell these both out for the audience.
"From my own personal experience that has always been evident to me: that you can't be positive without acknowledging how difficult life is, how heartbreaking it is, how cruel, how unjust and all these aspects, so darkness has always been a side in my work," he says.
The famine days
While Nee looks at a near future, over at Moonfish Theatre they're looking back at Ireland's past with their adaptation of Joseph O'Connor's book Star of the Sea.
It is the winter of 1847, and the Famine-ship Star of the Sea is on the way to the United States – among its passengers are a maidservant, a ruined Lord and ruthless murderer.
Moonfish Theatre's Ionia and Mairead Ní Chróinín  decided to do a few things differently with their adaptation of the story – for one, they introduced the Irish language, and for another they wanted to bring the music in the book to life.
"The whole book is interwoven with that concept of music, and music telling being the untold stories of the people and untold histories, and that was the main thing that we wanted to bring the stage," says Mairead.
While the play is bilingual, it is "constructed in such a way that if you had no Irish at all you'd be able to understand it", says Ionia.
"We decided to go hell for leather and try to use every single possible way of translating Irish when doing Star of the Sea," she adds of the show, which will tour the US soon. "We really wanted the Irish to be part of the theatricality of the piece, part of the aesthetic of the piece. Nothing was there for no reason."
They show that a bilingual play can be immersive and educational. "That's one of the great things about art in general, that people are open to it – it's a different way of accessing Irish," says Ionia.
Though the play is about a terrible time for the people of Ireland, the pair don't want the audience to anticipate that it will be a gloomy watch. "There are a lot of bad connotations about the Famine – people think 'I don't want to talk about that, it's just all moan and misery'," says Mairead.
"When we were talking about it we all felt that Star of the Sea for us anyway was a chance for us to grieve and acknowledge a moment in Irish history that really just still reverberates down," she adds. "We felt that there hadn't been that time to really take stock and think about it that way."
Rather than just seeing people as Famine victims, they see the Star of the Sea as giving them back personhood.
They had hopes, dreams, ambitions – and then the Famine hit and it was such a huge catastrophe that shook everything out of order.
The play was first around three years ago. As they began rehearsing it again, the refugee crisis was emerging, which made them reflect on the questions brought up by a play about emigration, death, and loss.
"How much humanity do you feel is worth losing in order to survive?" asks Mairead. "Everyone has a different gauge for that."
Star of the Sea opens at Galway Town Hall Theatre on 1 and 2 September and goes on tour until December across the US and then into Cork, Drogheda, Kildare, Letterkenny, Sligo, Longford and Roscommon. For the full details, visit the Moonfish website.
Radio Rosario runs in Galway from 4- 9 September and then from 28 – 29 September at axis: Ballymun during the Dublin Theatre Festival.
Katie Roche runs until 23 September at the Abbey Theatre in Dublin.