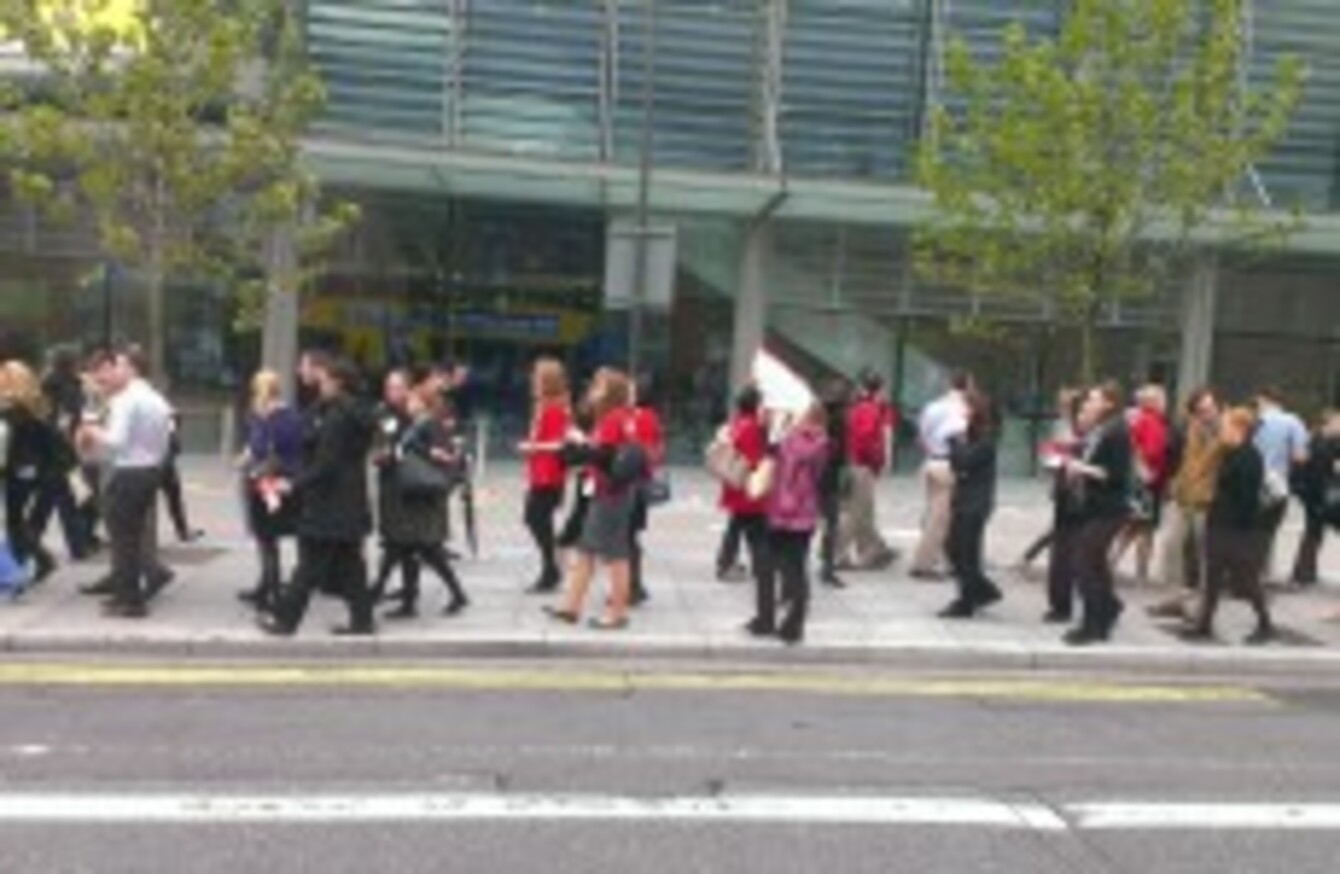 Doctors and their supporters picket outside the Mater this morning
Image: Michelle Hennessy/TheJournal.ie
Doctors and their supporters picket outside the Mater this morning
Image: Michelle Hennessy/TheJournal.ie
Updated at 11.17
IRELAND'S FIRST JUNIOR doctor strike in a quarter of a century began this morning. More than 12,000 out-patient consultant appointments and 3,000 elective surgeries have been cancelled.
The strike action is over the working hours of junior doctors who want their working week reduced to 48 hours and are calling for an end to shifts that are more than 24 hours, as required by European law. They also want sanctions imposed on hospitals that impose these hours.
Hospitals
The strike action will take place in 51 hospitals and ends at midnight tonight. Services that will be unaffected by the industrial action is emergency care, cancer care and dialysis care. The people most likely to be affected are patients with non-life threatening conditions.
While emergency wards are open, people are told to expect delays due to the staff shortages.
The HSE say they will re-schedule appointments, but if further strike action goes ahead, then there will be problems as there will be a backlog of appointments.
The IMO has another stoppage planned for next week, if agreements are not met.
EU directive
Speaking on RTE's Prime Time last night, Barry O'Brien HR director of the HSE said the HSE had a time frame to deliver the changes agreed, adding that they will be fully compliant with the EU working directive by December 2014. He said it was very disappointing that the action is going ahead.
Eric Young of the IMO said the HSE has no credibility and that the doctors had no trust in the HSE or that they will deliver the changes.
When put to him that junior doctors were seeking both the time-off and extra payment resulting effectively in triple time, Young said this was not the case.
Originally posted at 8am