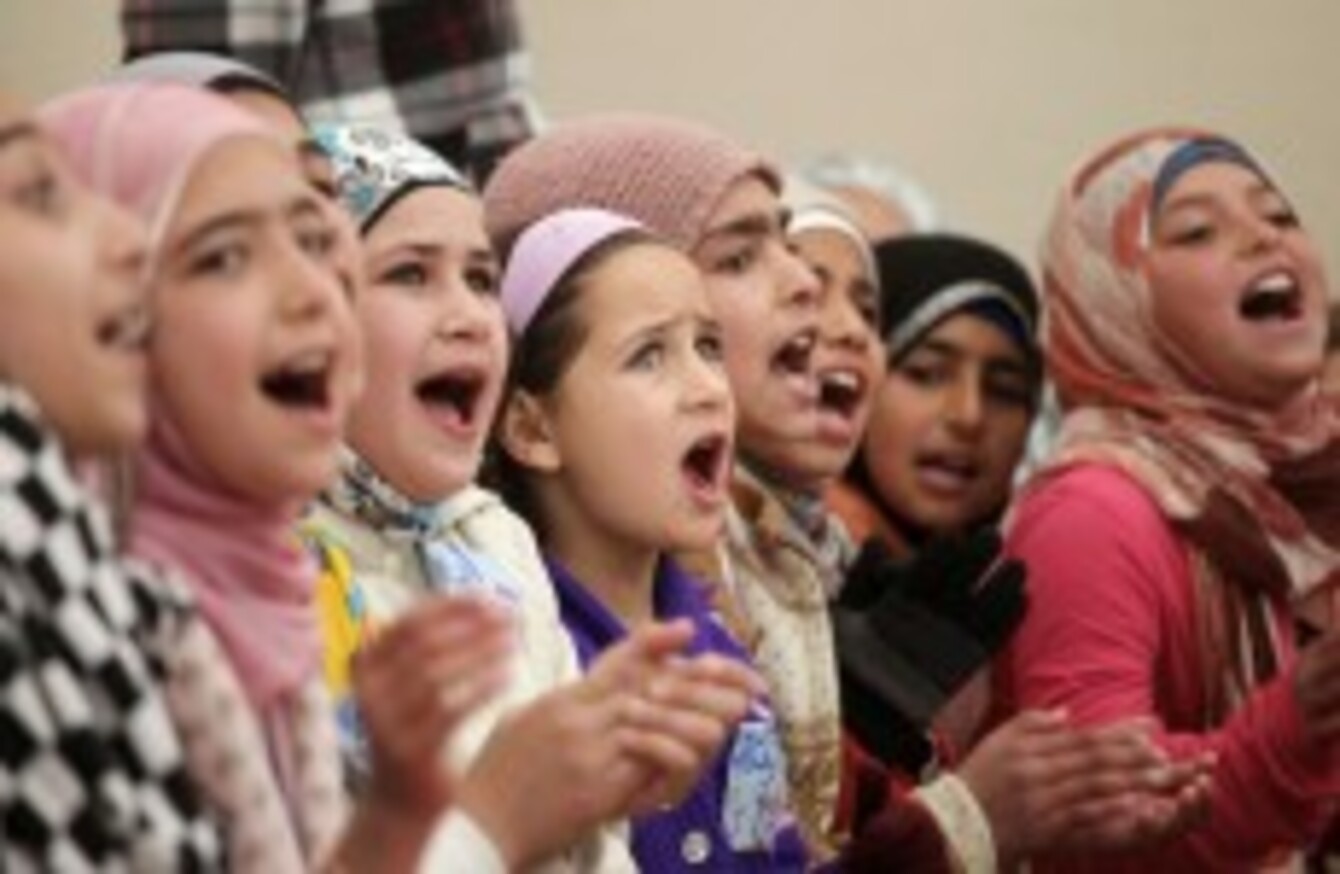 Image: Mohammad Hannon/AP/Press Association Images
Image: Mohammad Hannon/AP/Press Association Images
UNDER A HUGE white tent in the desert dust of Jordan, 100 Syrian refugee children, their own lives blighted, rehearse King Lear, one of Shakespeare's great tragedies.
They form a circle around Syrian actor-turned-director Nawwar Bulbul, who has worked with them for more than two months at Zaatari refugee camp in the hope of drawing attention to their plight.
"I seek to revive laughter and joy among children to help them express themselves," said Bulbul, who was in several hit soap operas at home before falling foul of President Bashar Assad's regime and fleeing into exile.
I seek to reproduce their childhood, which has been destroyed by war.
Jordan currently hosts more than 500,000 Syrian refugees, including 100,000 in Zaatari – more than half of them children.
Laughter, joy and childhood innocence are not commonly associated with the story of Lear, an ageing monarch who decides to divide his kingdom among his three daughters.
Because of a misunderstanding, he disinherits the only one who truly loves him. The others betray Lear, destroying not only his family but also his kingdom.
The king goes mad, raging against his misfortune.
"Blow, winds, and crack your cheeks! Rage! Blow!" he rails in a storm, calling on the sky to send down "sulphurous and thought-executing fires" to "singe my white head!"
Majd Ammari, a green-eyed 13-year-old from conflict hotspot Daraa, is entranced by his role as Lear.
Shakespeare in classical Arabic
He will of course not utter those thundering lines in the Bard's English, but in classical Arabic.
"This makes me happy. I really want to become an actor when I grow up," said Majd, who fled to Jordan with his 10-member family last year.
Bulbul has adapted and modified the play to make it more suitable for the children, and says it "has nothing to do with politics and the Syrian uprising".
"I only took the roots of the story – that there is a dying king who wants to divide his realm among his three daughters. Two of them are liars and the third is honest.
"I focused on the comparison between lying and telling the truth," said the actor from the Syrian city of Homs.
I focused on what is interesting for children. All children like acting. A boy likes to play the role of king, prince, knight, while a girl wants to become a princess.
Bulbul said he chose Lear because he feared "a play about the bombs that fell on people's heads in Syria would not interest" children who have become jaded by the death and destruction they have seen.
The actor, who left Syria after being blacklisted for joining anti-regime protests, said he gets little support in Zaatari.
He depended on friends to buy the tent and help gather equipment and props.
(Image: Mohammad Hannon/AP/Press Association Images)
'Children pay the price'
Boys line up to the right and girls, most wearing headscarves, to the left as Lear stands in the centre holding a wooden sceptre, listening to his daughters pitch their expressions of loyalty.
All of the children are under 15, and most come from Daraa and the Damascus area.
"We want to tell the West: 'Leave the children out of this dirty game of war.' They have nothing to do with war, but they always pay the price," Bulbul said.
"Children should be playing with toys and learning science, arts and music.
"When I first came here, children were using the language of war… tanks, bullets and bombs. But that has changed now. To me, this is an achievement."
Bulbul staged the play at Zaatari on World Theatre Day Thursday.
Written invitations were arranged for UN chief Ban Ki-moon, actress and UN special envoy Angelina Jolie and French football legend Zinedine Zidane.
"To me, the children are the real revolutionaries. Performing Shakespeare's play in the heart of Zaatari is a different kind of a revolution against politics and society," Bulbul said.
Bushra Nasr, 13, plays eldest daughter Goneril, while Weam Ammari, 12, is Cordelia, the one who is wronged.
"The play brought joy to all of us. We needed that," said Nasr, who fled to Jordan with her five sisters and two brothers a year ago.
Ammari, who has five sisters and a brother, said she has finally found something to entertain her.
"My role was not easy at first because I had to speak classical Arabic. But now, everything is smooth and I have a lot of friends. It makes me feel much better.
"I do not feel lonely any more in this place."