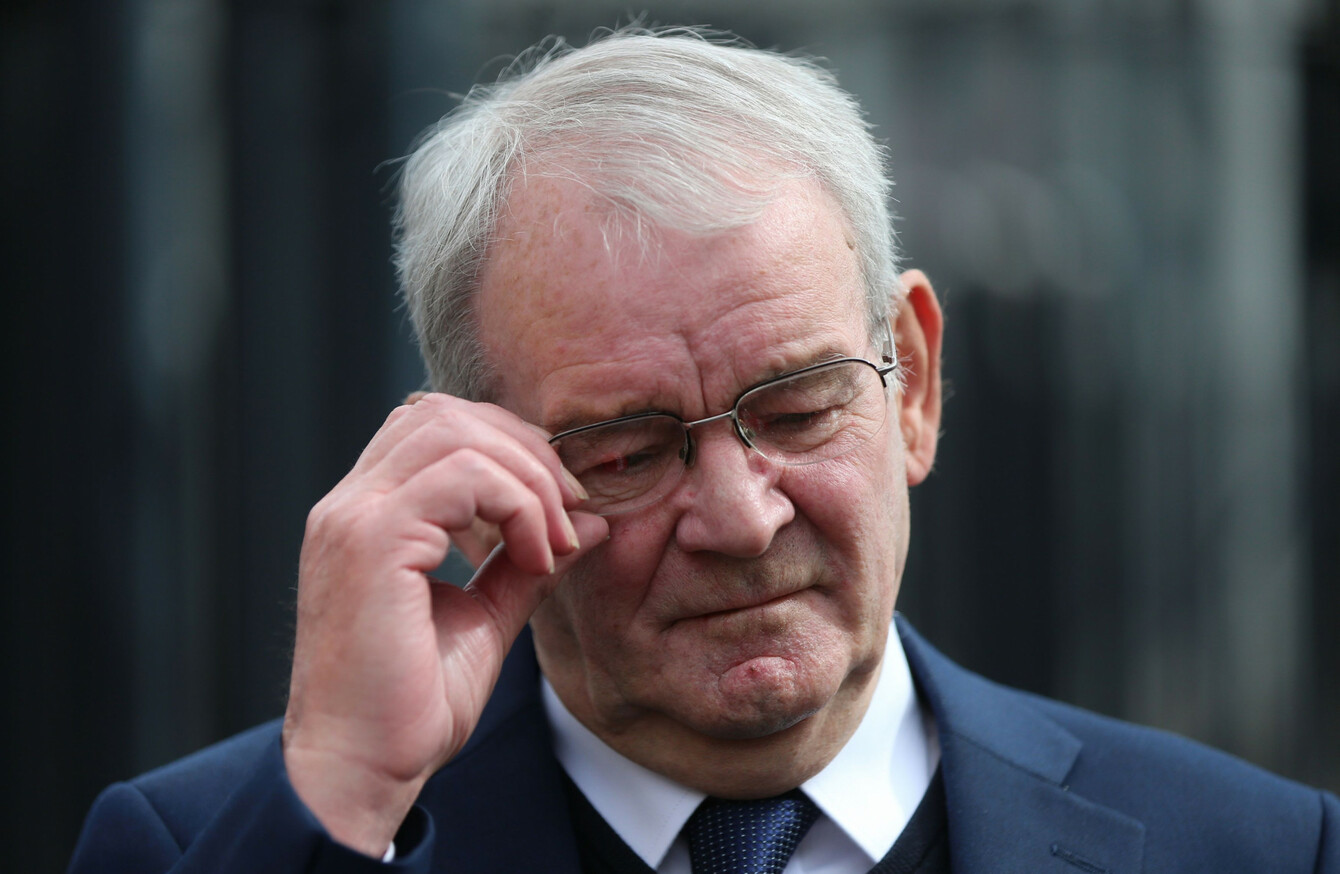 Image: Niall Carson via PA Images
Image: Niall Carson via PA Images
THE SOLE SURVIVOR of the Kingsmill massacre has said that the offensive Kingsmill video posted by Sinn Féin's Barry McElduff was "depraved" and "succeeded in spades in the hurt that he caused".
"What [Barry McElduff] did was dancing on their graves… [he] seemed to be celebrating their deaths. If he saw what I saw that day, he wouldn't have done it," Alan Black said.
Speaking on RTÉ's Sunday with Miriam in what he said would be his last interview, Alan recounted the horrific events of that day: the sight of his 19-year-old apprentice Robert Chambers being shot dead, and the kindness of various people after he suffered serious injury.
Alan was shot 18 times
In a particularly moving part of the interview, he spoke of the last moments in the life of Robert Chambers, and how he "had been in love" with a girl called Wendy, who worked in the factory.
He'd been "on at" Alan to get him to drive so that he could drive up to see Wendy, but because Alan had three young children he said he hadn't the time. But that day, while they worked on repairs in a field, Alan agreed to teach him.
Well he danced in that muddy field beside the turbine line and he hugged me… He didn't even make it home.
The Kingsmill massacre, one of the worst single atrocities of the Troubles, saw a van carrying a group of textile workers killed by men disguised as British soldiers on 5 January 1976.
The IRA have never claimed responsibility for the attack, although an investigation by the North's Historical Enquiries Team concluded in 2011 that it was responsible.
'This gunman who shot Robert then shot me'
The Kingsmill factory was based outside in the country outside Glenanne, Co Armagh.
There were 17 people on the minibus, and five were dropped off at White Cross, Alan says.
They had been driving along the road when Alan noticed that a car had been driving very slowly in front of them.
"Bob Walker, the driver, was usually in fourth gear driving at 40mph, but he had to slow down to 15 mph," he said.
A red light appeared up ahead; they had thought it was an army checkpoint. They pulled over, and a man said "Everybody out".
They were told to put their hands on top of the minibus, and were asked 'who's the Catholic?' Alan said that that man, Richard Hughes, told him later that two of his colleagues put their hands on top of his head.
Next thing the gunman went forward and pulled Richard out by the shoulder and told him to "run down the f-ing road".
"He started running down the road and we were getting very uneasy," Alan said.
There was a space in the line up where Richard had been, and they were ordered to "Close up".
"So we closed the gap left by Richard. And the next thing the gunman said was 'Right'."
The noise of the gunfire was deafening. They shot us all at waist-level and that lasted maybe 10 seconds.
I was hit multiple times and so was everyone else. It was absolutely awful – there were screams of pain, some people couldn't scream and they were moaning.
"My 19-year-old apprentice Robert fell across my legs and he was calling for his mommy."
The gunman then gave an order to "finish them off".
And the shooting became more measured. Robert was still calling for his mommy. I saw the gunmen's boot and the tip of his rifle – and they blew his face away. That will stay with me until the day I die, calling for him mommy and getting his face blown away. It was absolutely horrific.
He said that he realised the only chance he had to survive was "not to flinch, not to move". "This gunman who shot Robert then shot me."
"The bullet hit my head but didn't [go through] my skull."
"And then they casually walked away. I could see them from where I was lying."
I could see blood spurting out of my chest and I tried plugging the hole with my fingers to stop myself bleeding to death.
#Open journalism No news is bad news Support The Journal

Your contributions will help us continue to deliver the stories that are important to you

Support us now
"I knew the boys were dead. The smell, I didn't know you could smell death, but you can."
'I was certain I was going to die'
Two locals Gerry and Anne McKeown came across the bodies of the men. They prayed next to Alan while Gerry held his hand while waiting for the ambulance to arrive.
He was quickly rushed to hospital, where a team were waiting for him. A priest asked if he was Catholic to discern whether he needed to administer the last rites.
I said 'No I'm not, but don't leave me' and I'll never forget his humanity. He held my hand and prayed, and that was the last thing I remember before the anesthetic took hold.
Although Alan said he had been recovering well in hospital, the mental toll of what had happened to him began to sink in.
"Between the constant pain and the loss of my friends, I got very low and to be honest, it might sound bizarre, but I decided to die. I just switched off and I could feel myself going."
Alan said his vitals fell, and his organs began to fail. A student nurse who had been sitting beside him called for help and a team tried to save him. He said that he smiled at their efforts and said "No I'm going, I don't want to live in this world".
He said the student nurse told him:
"Alan you've got three kids, you can't leave [them] without a daddy".
And I thought 'Oh god why did you say that now I'm going to have to come back'.
He said that he can go through days where he doesn't think of the horrific events of the day, but once it hits him "it's like a black cloud" and he needs to spend time by himself before it lifts.