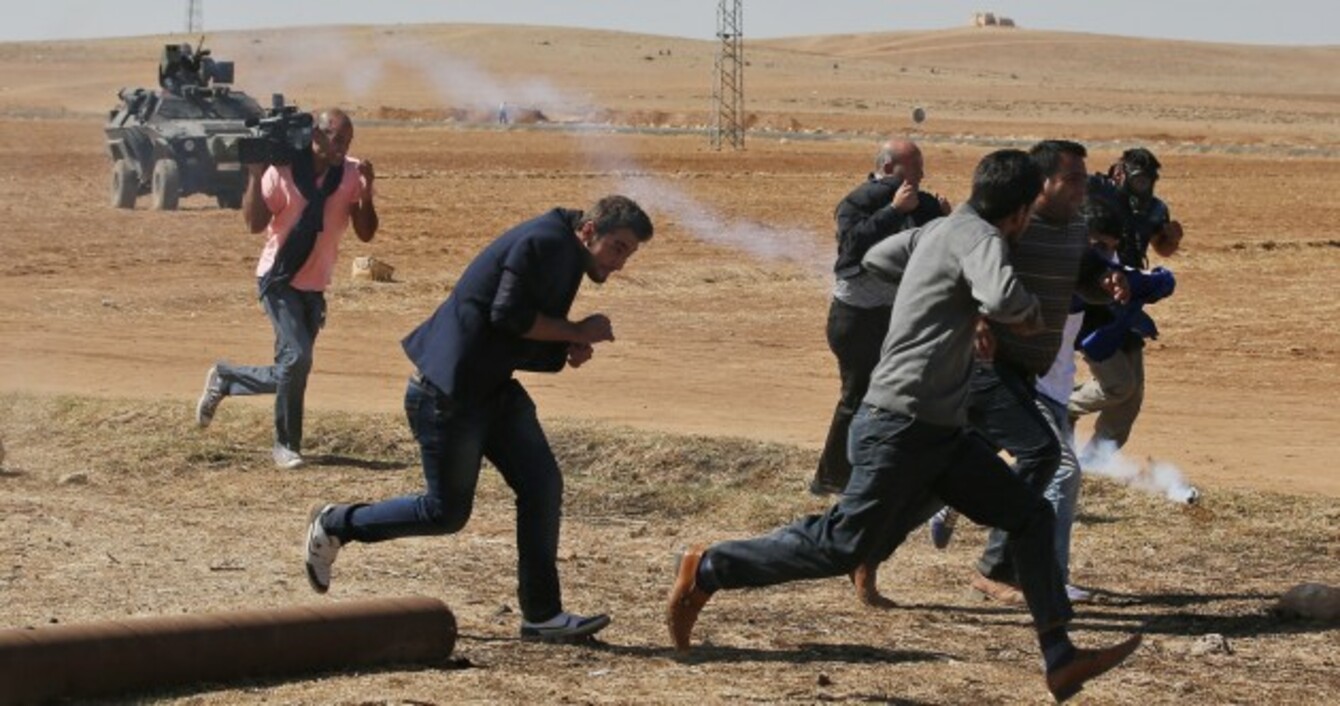 Image: AP/Press Association Images
Image: AP/Press Association Images
ISLAMIC STATE MILITANTS penetrated the key Syrian town of Kobane on the Turkish border today after fierce fighting with the Kurdish fighters who are struggling to defend it.
Kobane has become a strategic battleground between the Islamic State group and its opponents, who include the United States and its Western and Arab allies.
The jihadists launched their latest assault on the town after a three-week siege with a wave of suicide bomb attacks, a local activist said.
The Syrian Observatory for Human Rights said jihadists and Kurds were "clashing in the streets, between apartment buildings," sending hundreds of civilians into flight towards the Turkish border.
Earlier, an AFP photographer reported seeing two black IS flags flying on Kobane's eastern side, after the jihadists seized part of Mishtenur Hill which overlooks the border.
In a sign of mounting desperation, a Kurdish female fighter blew herself up at an IS position east of Kobane on Sunday, the Observatory said.
It was the first reported instance of a female Kurdish fighter employing a tactic often used by the jihadists, said the Britain-based monitor, which relies on a network of sources inside war-ravaged Syria for its reports.
Kobane has become crucial in the international fight against the jihadists, who sparked further outrage at the weekend with the release of a video showing the beheading of British aid worker Alan Henning.
The video also included a threat to another hostage, US aid worker Peter Kassig.
His parents have issued a video plea for their son's release, urging his captors to show mercy towards the 26-year-old former US soldier who has converted to Islam.
They also revealed Kassig had sent them a letter in June.
"I am obviously pretty scared to die but the hardest part is not knowing, wondering, hoping and wondering if I should even hope at all," Kassig wrote.