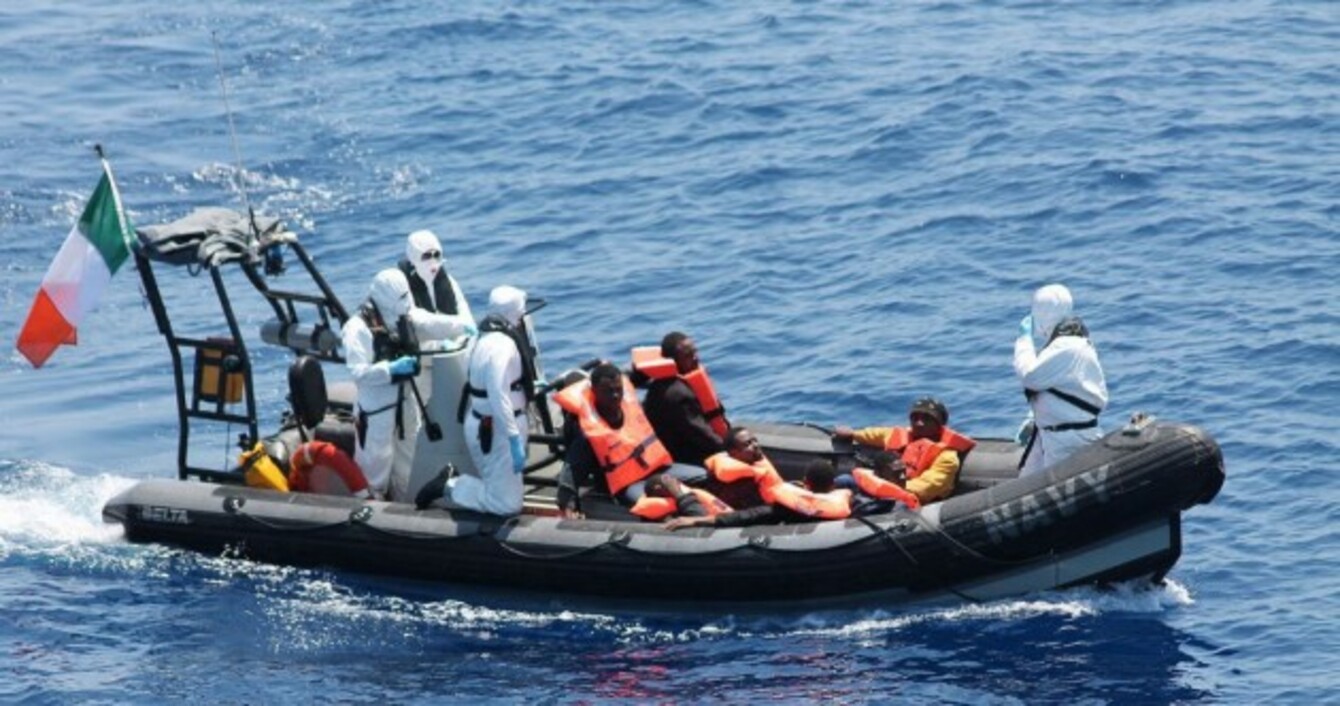 Image: Defence Forces
Image: Defence Forces
Updated 22.12
IRISH NAVAL VESSEL the LÉ Eithne was involved in an operation to rescue 201 migrants, 60 kilometres to the north of Libya this morning.
The operation, which is still ongoing this afternoon, also involved Italian, German and British ships.
The migrants were part of a flotilla of five makeshift inflatable vessels that were attempting to cross to Europe.
The Defence Forces have this evening released dramatic footage of the LÉ Eithne making contact with the migrants' vessel.
Source: Video TheJournal.ie/YouTube
The first video sees the rescue ship making initial contact with the inflatable boat containing the migrants.
Subsequent videos show the chaos as the migrants are brought on board.
Source: Video TheJournal.ie/YouTube
Source: Video TheJournal.ie/YouTube
Men, women, children and one infant were taken on board the ships.
The Éithne departed Cork less than two weeks ago to assist in the European effort to tackle the migrant crisis, after a number of large-scale tragedies earlier this year.
Today's was the first rescue carried out by the crew.
They were alerted to the inflatable vessels by Italian authorities at around 8am.
According to a Defence Forces spokesperson:
"The LÉ Eithne deployed immediately to assist and arrived on scene at 10 am.
"The sea conditions during the rescue were calm.
The crew of the LÉ Eithne came to the migrants' assistance giving them food, water and first aid at the scene.
Source: Video TheJournal.ie/YouTube
"The rescuees will be transferred to the HMS Bulwark where they will in turn be transported to a port of safety in Italy."
The number of migrants from Africa crossing the Mediterranean to get to Europe continues to rise, with more than 80,000 landing so far this year.
The International Organization for Migration estimates that 1,820 have died or gone missing on that journey.
With additional reporting by Cianan Brennan.
Originally published at 17.01