Liveblog
He's just a couple of weeks into the job and he is still dealing with issues around judges.
Last week, it was his appointment of former Attorney General to the Court of Appeal.
This week it is the Judicial Appointments Bill that is being fast-tracked through the Dáil this week. Stay tuned…
It's been a busy few days for the Taoiseach, with travelling to Brussels and then back to Dublin for the Pride parade at the weekend.
Today, he gets to speak to the US President Donald Trump for the first time:
That should be interesting…
There's been an array of judges out on the airwaves over the last few days and the issue of the new Bill is likely to be raised today.
Fianna Fáil have already been out on the plinth today talking about their opposition to the Judicial Appointments Bill.
Micheál Martin wants to talk about judges writing to the Taoiseach.
He said he has heard that the government nearly collapsed last week also over issue of the Judicial Appointments Bill.
He says Shane Ross wants to "ram this Bill through" before the summer recess. He says this is an issue that should be above party politics.
It is my view that the judiciary's view should be known.
Martin says Ross' commentary on judges over the years is well known.
"That is the wrong motivation for such a profound legislation," he says.
Martin says there has been no rationale put forward.
We believe the Chief Justice should be the chair of the commission (it is currently proposed that it should be a lay person, and not someone from the judiciary).
He calls on the Taoiseach to publish the letter that he received from the top judges.
Varadkar says he will have to take advice as to whether he can publish it, but says he has no issue with putting it into the public domain.
Varadkar says it is time for reform and transparency.
He says it is still in the Constitution that the Government will appoint judges, but the change is about what names are put forward to Cabinet.
Having a lay chair is not unusual, he explains, telling the Dáil that it is done this way in Scotland.
He points out there is a similar procedure when Secretary Generals are appointed to government, while a board appoints a new CEO in private companies.
In terms of surgeons, they are not appointed by doctors, but the appointments board.
He says this will bring Ireland "into the modern way".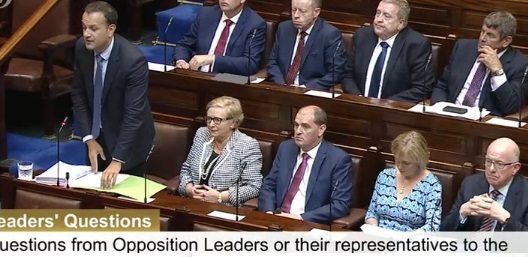 Martin says Ross has been "demonising" judges.
Despite listing of some reasons why there should be change, he says there is no reason behind the changes.
Varadkar says the reasons are three-fold. To ensure that no industry is self-regulating and self-appointing, to bring about more transparency, and to remove any political links to appointments.
"I have no intention of rushing this Bill through," says Varadkar. He says he is very open to amendments.
Mary Lou McDonald raises the issue of 90-year-old Michael and his wife Kathleen.
There has been outrage after Michael took to Liveline yesterday.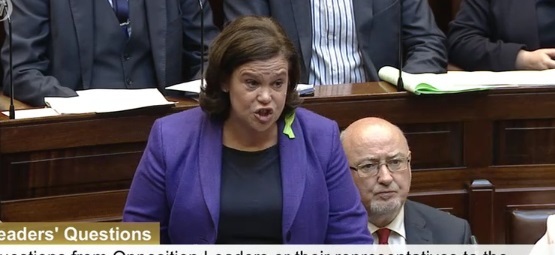 She says the case is "mind boggling". She wants to know if someone will be held to account.
Varadkar says it is something that shouldn't have happened and something he is very upset about.
"It was a decision devoid of common sense and devoid of humanity," he says.
He says he is pleased Minister Harris moved swiftly to resolve the issue and review has been initiated.
Varadkar tells the Dáil said officials have been in touch with their son and the situation has been resolved. "They will be united," he says.
He says this is not the kind of decision-making he wants to be taken in this State.
The Taoiseach says he is ashamed it was not resolved before it was put into the public domain.
Brendan Howlin says the system clearly failed in this case.
He says he has been in touch with the HSE over the last few months about similar cases and each time the response from the HSE was no.
"What about the other Michael and Kathleen's are out there?" he asks.
He wants to know how many other cases are there out there, stating that no everyone has the chance to get on the airwaves.
Varadkar says the Fair Deal review is underway and one in relating to home care will be launched this week.
The decision made in this case was not financial but was based on clinical need, explains the Taoiseach.
"It was the wrong decision," he admits, stating that "it was inhumane and the government does not stand over it".
An examination as to why the decision was made is underway.
"You have to surmise there are other cases," says the Taoiseach.
He says the rules will be changed if needed, adding that the needs of very elderly couples should be assessed in a compassionate manner.
Catherine Murphy of the Social Democrats is up and she is talking about the Sean FitzPatrick case.
Murphy says she received a reply from Department of Jobs to say they had offered the ODCE extra resources.
However, the ODCE said they were satisfied with their resources. But she says other replies say they flagged they did not have sufficient resources.
Can you explain the conflict of information sent on to her and her colleague Roísín Shortall both in May 2017 and November 2015, she asks.
Varadkar says he has not seen the ODCE report as it has not yet gone to Cabinet. He says it has gone to the Attorney General and it will be published if permitted.
He says the ODCE has got additional staff. He says the lack of resources aren't always to blame, that shredding documents and coaching witnesses cannot be blamed on lack of resources.
He says he wants to bring a package of measures to go to Cabinet before the end of September to deal with corporate fraud and white collar crime.
That's it for Leaders' Questions for today. Join us back here tomorrow…
Contribute to this story: