Liveblog
FOLLOWING A DIVISIVE and fiercely fought campaign billionaire mogul Donald trump has become the president of the United States.
But Ireland has its own political issues to worry about this Wednesday afternoon – with large scale public sector strikes still posing a major concern for Government.
Let's see what they focus on for this session.
Micheál Martin is kicking things off with the Daft Q3 report around housing.
He's asking the Taoiseach about sky-rocketing rents around the country.
Rents gone up 12% in Dublin, Galway 11%, Limerick 11%, he says.
"This is an extraordinary crisis facing many people in our society," he says.
Martin says there hasn't been enough Government action to tackle these "disastrous" rises.
Martin goes on to say that people are being trapped in the rental sector and what the Government proposes to do.
Kenny says "it's a serious problem" and that the Housing Action Plan was put in place to try to increase the supply of housing, which would alleviate the issue.
He said that the five pillars of the plan are put in place to help the various people affected by the housing issue.
Kenny says that supply, increased powers for the PRTB and increased securities for people in the private rental market are all being looked at.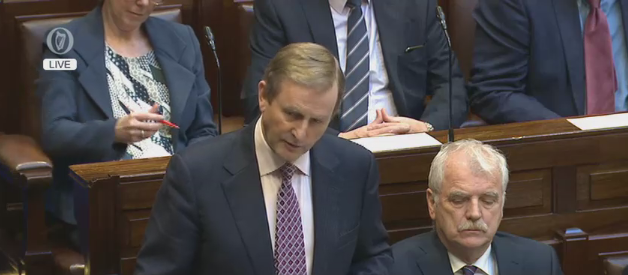 "It's not today or yesterday that this began," says Martin in response.
He says the Government was "dithering" on the issue, which gets a few shouts from the seated Fine Gael deputies.
Martin takes aim at the number of vacant dwellings in the state, questioning why they hadn't been brought back on stream.
"I absolutely agree with you," says Kenny, that the housing issue isn't a recent problem.
He brings up Priory Hall, ghost estates and the collapse of the construction sector to criticise the previous Fianna Fáil government.
Adams is up now and he's talking about the election.
"The people of the USA have spoken," says Adams.
He's talking about the 50,000 undocumented Irish and how good relations between the US and Ireland was needed.
Adams commends the Clintons and Barack Obama for their support of the Peace Process and the Good Friday Agreement.
"When do you intend speaking to President elect Trump?" asks Adams.
Kenny says he's written to Trump already to congratulate him on the presidency.
He says he pointed out the the Government will work with the US government as they have with administrations in the past.
Kenny says the Republican Government will be able to put forward a bill in relation to undocumented migrants.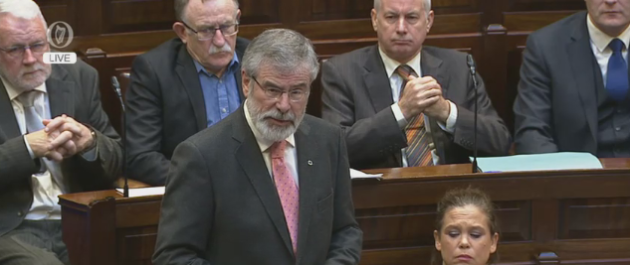 Adams says that maintaining the Good Friday Agreement was of the utmost importance now, especially in the wake of Brexit.
He asks Kenny to assure the Dáil that this will be "a primary objective of the Government".
Kenny says he can assure this.
He says he will lay out with the US what Ireland's priorities are in their relations.
Undocumented migrants and the peace process are at the forefront of this.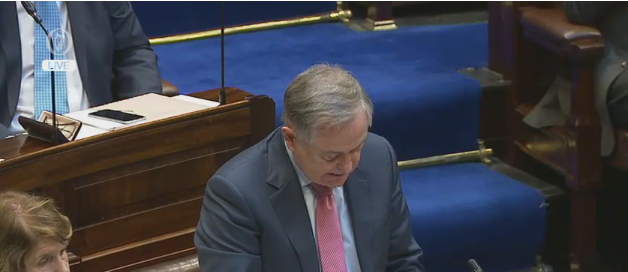 Brendan Howlin up now and it's all about industrial action.
He questions the Government's preparedness to tackle the wave of industrial unrest in the public sector.
He states that union leaders are unhappy with the Lansdowne Road Agreement.
He says he wants Kenny to say that there is a need "for a successor agreement" to Lansdowne Road to be negotiated soon.
He also says a discussion that "is broader than pay" was needed.
Kenny gets a few giggles when he says that Howlin had different positions when he was in government.
The Taoiseach says he hopes the ASTI issue could be resolved now.
Kenny says a successor to Lansdowne is needed in time.
"But we remain fully committed to Lansdowne Road," he says.
Kenny says there are limited resources available for resolving pay disputes.
"We support a collective approach to dealing with this," he says.
He also thinks that GRA and AGSI will vote favourably on Labour Court recommendations when the time comes.
Howlin asks about the need to withdraw the Fempi legislation around cutting public sector pay.
He also wants Kenny to confirm the cost of the deal offered to gardaí by the State.
Kenny says the costs were already set out by the Public Expenditure Minister.
Ruth Coppinger is up and she's all about Donald Trump.
Coppinger asks Kenny will he do what he said previously and call Donald Trump a racist when he meets him,.
Coppinger calls Trump "a racist, a misogynist, homophobe and many other things besides".
She says that neo-liberal policies had been a huge detriment to the US.
She takes aim at Clinton too.
"The people in the United States made a very democratic decision," says Kenny.
Kenny said he had stated that comments Trump had made were "racist".
But he said he listened to Trump say earlier today that he wanted "to heal wounds" and that he supported that.
He said he would be happy to meet Trump to discuss future relations of Ireland and the US.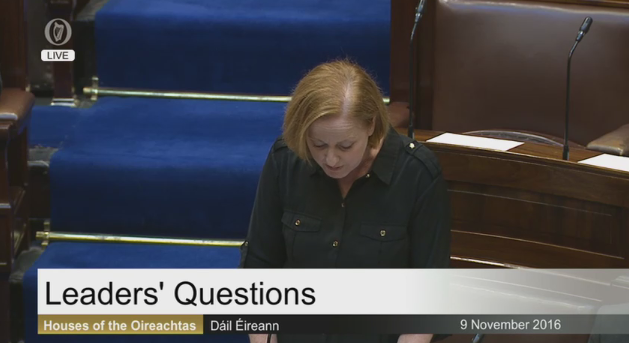 Coppinger says that it would be better had Sanders been elected.
She says solidarity was needed from Ireland with minorities and others in the US who may be worried and in fear over Trump's presidency.
The Taoiseach once again reiterates that the US electorate voted democratically.
"They've spoken, they've spoken very clearly," he says.
There isn't any point in assessing what might have been.
He states again that the State's approach will be to work with Trump to realise the plans of unification and inclusion that he referenced in his victory speech today.
And that's it for leaders' questions this afternoon.
Go forth and think about the future of the world.
Contribute to this story: