Liveblog
It's high noon at Leinster House, which means it's time Leaders' Questions. 
Christina Finn here with you to take you through Leaders' Questions.
Yesterday's sitting was rather eventful. Six TDs refused to stand for the Dáil prayer.
You can catch up with all that here:
Will they refuse to stand again, we can only wait and see.
Ceann Comhairle reads the prayer out and there is a 30 second moment of silence, but all six of yesterday's protesters are absent. So, no one is sitting for the prayer today.
Why didn't the Garda Commissioner tell the Justice Minister about what she new about the finances at Templemore Garda College, asks Micheál Martin.
Enda Kenny says he has every confidence in Noirin O'Sullivan, and says a number of reviews are underway.
He says this relates to matters that happened some years ago – and the commissioner is back before the PAC in July.
"You cannot wash this thing away, week after week – do you not get it," asks Martin.
The Fianna Fáil leader says O'Sullivan's position is now untenable.
This requires urgent action, says Martin.
He says the Taoiseach is in a paralysis of inaction and calls for him to act now.
You can read more of the latest here:
Gerry Adams is up now and he also has big issues with the conflicting accounts of that 'brief' meeting with the Garda Commissioner and the HR boss.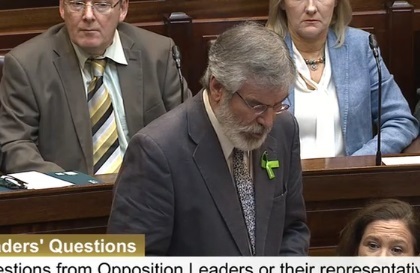 He wants to know why the Taoiseach has confidence in the Garda Commissioner. He quotes Leo Varadkar's words from Morning Ireland today – who said that people are fed up of there being no accountability in these matters.
Enda Kenny again says this whole debacle relates to something that happened a number of years ago – reiterating the commissioners words that this is a "legacy" issue in the gardaí.
Here's a bit more information for you on the controversy:
He said the PAC needs to be allowed to do its job and said the commissioner will be able to give her answers on 13 July.
All is not well here, admits the Taoiseach, but said it is the this commissioner that is taking action to sort it out.
He said the PAC should be allowed to do its job and says the Tánaiste has no difficulty in coming in and answering questions on the matter.
Adams tells the Taoiseach that he doesn't seem to want to do anything about the commissioner before he leaves office.
Micheal Healy Rae is talking about the level of crime happening in Kerry. He said the elderly around the country are living in fear.
(He raised the issue last week also)
He says a local Tipperary man, Mr Campion (aged 94) and his wife (aged 87) were recently attacked in their home in Roscrea.
"They broke his walking stick over his head, they ransacked his home and stole his money," said Healy Rae.
"These people are scumbags," he said.
He said this type of behaviour by any human being is deplorable.
"You are cowards, you are horrible blaggards," he added, and called on the government to step up and do more. He said people that do such acts should be tagged for life.
Enda Kenny said this is a case of "cowardice and unwanted brutality". The Taoiseach what state of mind these people were in. He questioned how anyone could do such a thing to an elderly couple.
"To do that to an elderly person is unforgivable in so many ways," said Kenny
"Please get cross about this issue," said Healy Rae, who added it is not just or fair.
The Taoiseach said Operation Thor carried out by the gardaí is cracking down on crime, and said there are a number of legislation changes that impact on new bail rules.
Eamon Ryan of the Green Party is lambasting the Taoiseach over Ireland's failures to reach its carbon emissions target.
He says there was political commitment when they were in government, and says this government is not taking the issue seriously enough.
We are turning this green island brown, says Ryan.
We cannot get a cycle lane along the Quays because of the lack of funding – what is going to change, he asks.
It is your responsibility to stop this country from going green to brown.
This is followed by a bit of a side swipe by the Taoiseach.
Kenny notes that Ryan recently said he wanted to get "more promiscuous" (in terms of politics, he clarifies)
He also says he heard Ryan is willing to "get into bed" with any political party.
Kenny says the greatest technological minds are working on this issue.
The Taoiseach asks: 'Do you not appreciate the difficulties when you are trying to do something like this.' (in terms of cycle ways, new roadways etc)
He says Ireland is a litigious country and the State can't just go around buying up farms with CPOs.
"We are not working hard enough," says Ryan.
Ryan said the Metro project was in the back when he was in government – the funding was there, he said, even during a time of some of the toughest budgets.
"You're minister killed it," he tells the Taoiseach.
Ryan says he lacks ambition when it comes to rolling out large-scale projects that could help.
The chance might come again for you, deputy Ryan, to play your part, says the Taoiseach.
Martin commends Kenny on his "Joycean stream of consciousness" the chamber just witnessed.
That's it for Leaders' Questions – join us back here again tomorrow.
Contribute to this story: