Image: Shutterstock/Zakhar Mar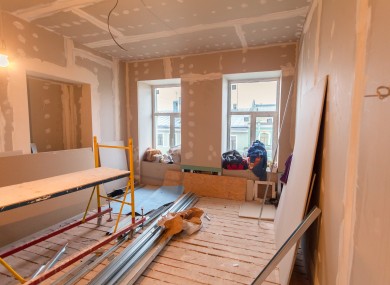 Image: Shutterstock/Zakhar Mar
OVER THE LAST few months, the way we use our homes has changed. For many people, the home has been transformed from just a place to lay your head, to somewhere that is a workplace, childcare facility and social hub all in one.
These radical changes to our patterns of work and social life can spark some big decisions – whether that's considering a lifestyle change, or finally planning that big project.
So with sales of homewares booming, and builders and architects in high demand, are you one of those planning a home renovation? 
If so, there are plenty of different routes to go down. Answer the questions below to build a picture of what you're looking to change – and see how you compare to others in the same situation.
Each time you give a rating, you'll see how your number matches the overall reader average. Let's start at the beginning…
When it comes to defining a project, one of the biggest challenges can be setting priorities.
What are you hoping to achieve with your renovation project? Are you looking to extend for more space, create a more sustainable home, add contemporary style - or a mixture of all three?
Once you know what you're looking to do, the next question is often: who will do it? That can depend on a number of factors, including your own DIY confidence levels.
If you're not doing the work yourself, you'll want to find the right professionals to do it for you. That can be a job in itself – from working through quotes and recommendations, to understanding which people you really need.
Last but not least, there's perhaps the most important question of all: money. For any successful project, it's important to plan financially around it. Be clear about your budget, and stick to it – and if possible, know where the risky areas are that could make you overshoot.   
 So, how did you compare? Did the average ratings surprise you? Join the discussion in the comments below. 
If you're looking to upgrade your home to be warmer, more comfortable and more sustainable, an An Post Money Green Loan could help you get there – and An Post's one-stop Home Energy Upgrade Service takes the hassle out of the process too. To find out more about the benefits of a home upgrade, check out the An Post Green Hub.