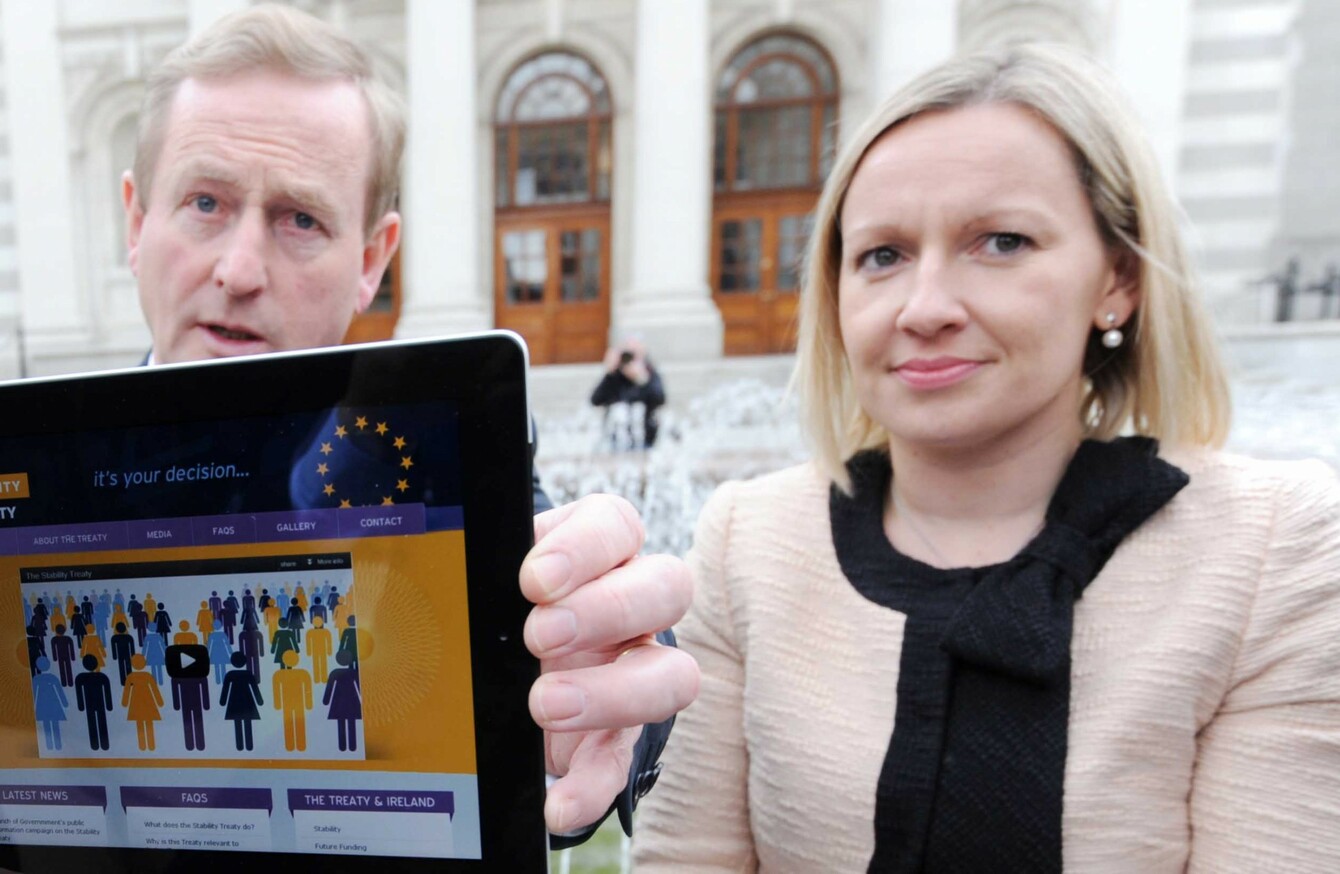 Lucinda doesn't miss awkward photo-ops like this with Enda Kenny
Image: Laura Hutton/Photocall Ireland
Lucinda doesn't miss awkward photo-ops like this with Enda Kenny
Image: Laura Hutton/Photocall Ireland
LUCINDA CREIGHTON HAS said Fine Gael is "a chapter of history that is very firmly closed" as she embarks on her first general election campaign outside the party.
The former junior minister was expelled from Fine Gael over her opposition to abortion legislation nearly three years ago. She said she does not miss the party, describing its structure as undemocratic.
Creighton founded Renua last year and the party hopes to be in a position to field candidates in every constituency in the country in the election, which is expected next month.
In an interview with reporters before Christmas, Creighton was asked if she missed her former party to which she gave an emphatic response:
Absolutely not. No, no, no I don't.
"I was a TD since 2007 and I was also a member of the national executive board for many years and it just wasn't a democratic structure."
She said that TDs had no input into the writing of the party's manifesto or policy formulation, adding: "It was all done by paid advisers and gurus and spin doctors and focus groups."
Describing her experience as Renua leader as "much more real", she claimed that its election candidates have been heavily involved in formulating the party's manifesto.
It really is grassroots up, we've had members from all over the country involved in it. So that's what politics is about, it's supposed to be about ideas. What's the point of being in a political party if you can't shape those ideas?
The manifesto, which will be published later this month, will include a commitment that any TD found to be corrupt will be expelled from the Oireachtas.
Creighton said that since the launch of her party in March of last year, others have been "stealing our policies". Renua has been involved in spats with both Sinn Féin and Fianna Fáil over policy similarities.
She added: "So you know Renua Ireland is definitely lighting a fire in the Irish political system in the moment."
Renua has also promised to publish a list of its so-called red line issues during the election campaign. These will be matters the party will not compromise on in any coalition negotiations.
Creighton would not be drawn on whether the controversial proposal for a flat 23% rate of tax on all income would be included in this, but said the party is committed to lowering taxes.