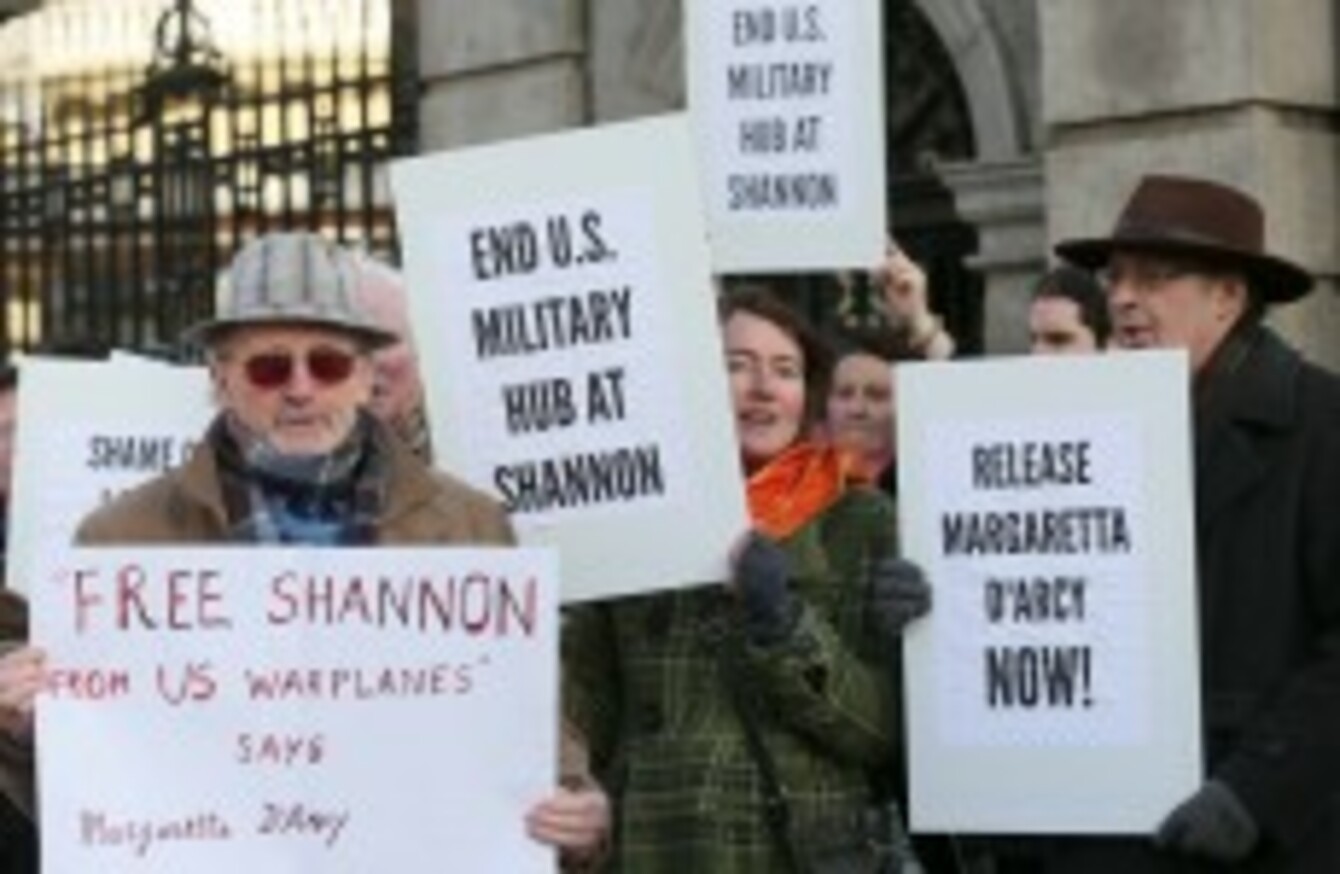 Image: Laura Hutton/Photocall Ireland
Image: Laura Hutton/Photocall Ireland
JAILED ACTIVIST MARGARETTA D'arcy has thanked her supporters, the group Shannonwatch said today.
Yesterday, the group's members Zoe Lawlor and John Lannon visited D'Arcy in Limerick Prison.
D'Arcy (79) has been in the prison for 10 days. She was jailed for three months for trespassing on the runway of Shannon Airport.
She refused to sign a bond to uphold the law for two years and stay out of unauthorised zones at Shannon Airport. As a result of this, her sentence was not suspended.
Shannonwatch
The Shannonwatch members said that during the visit, they told Margaretta about the great support there is for her.
They also brought her photographs and reports of demonstrations in Galway, Limerick, Dublin, London and Bil'in in Palestine, as well as some of the articles written about her in recent weeks.
They said:
She was pleased that the issue of the US military use of Shannon was being highlighted, and expressed her thanks to everyone who has shown their support.
According to the duo, D'Arcy "was in good spirits and talked passionately on a range of issues".
They said she described conditions in the prison as "unsatisfactory"  and also said that the impact on the women who are imprisoned is something "that needs urgent attention".
With regard to the possibility of a Presidential pardon, Shannonwatch said that D'Arcy said that "the question of whether or not she could accept a pardon would depend on what it was for".
The artist also spoke of the irrelevance of age when it comes to taking action:
A person's age is not relevant when it comes to taking action. I may have fewer commitments to family now than a younger person would, and this gives me the opportunity – as well as the duty – to act. It's important to realise that people can be effective regardless of age.
Women
Shannonwatch said that D'Arcy also spoke of the important role of women in conflict resolution.
In particular she spoke about UN Security Council resolution 1325, which refers to the disproportionate and unique impact of armed conflict on women and recognises the contributions women make to conflict prevention, peacekeeping, conflict resolution and peace-building.
Meanwhile, Aosdana, the state-funded arts group of which D'Arcy is a member, has called for her release, the Irish Independent reports.
It said that six of the 1o members of Aosdana's managing committee voted in favour of a motion calling for the immediate release of D'Arcy on compassionate grounds.