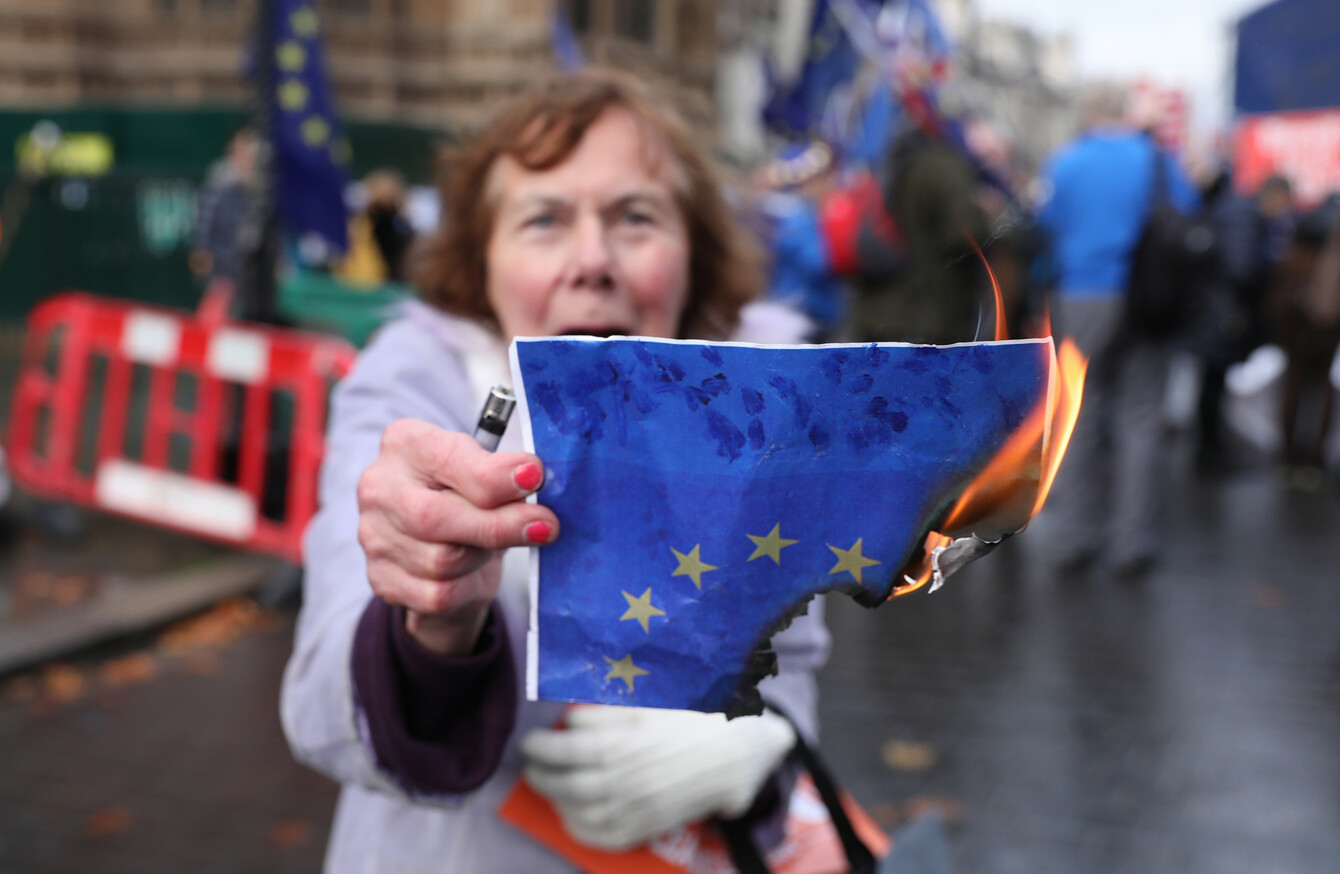 A Leave demonstrator burns an EU flag during the People's Vote protest outside the Houses of Parliament, London, where the debate continues on Theresa May's Brexit deal before the final vote tomorrow.
Image: ISABEL INFANTES
A Leave demonstrator burns an EU flag during the People's Vote protest outside the Houses of Parliament, London, where the debate continues on Theresa May's Brexit deal before the final vote tomorrow.
Image: ISABEL INFANTES
THERESA MAY FACES a fight for her political life this week in a parliamentary vote that will decide the fate of her Brexit divorce deal.
The beleaguered leader's splintered government appears to be facing a heavy defeat in parliament on Tuesday on the draft withdrawal agreement she signed with Brussels last month.
The text defining terms on which the island nation leaves its main trading partner after 46 years is the most important to face the House of Commons in years.
A big loss could spark immediate challenges to May from both within her Conservative Party and the opposition Labour party.
It would also leave the tortuous Brexit process in a state of flux – and raise the prospects of a no-deal scenario – less than four months before the 29 March departure date.
Media reports said May was under pressure from her cabinet to try to salvage the deal by delaying the vote and flying to Brussels to seek more concessions ahead of a planned summit with 27 fellow EU leaders on Thursday and Friday.
But Brexit Secretary Stephen Barclay told the BBC on Sunday: "The vote is going ahead."
Yesterday evening, May spoke on the phone with Leo Varadkar about "the current situation on Brexit, including the planned vote in Westminster on Tuesday," a spokesperson for the Taoiseach said.  
Varadkar's support would be crucial for May if she were to negotiate further with the EU. 
'Risk of no Brexit' 
May's team insists that her vision offers the cleanest break between the UK and EU that Brexit supporters could hope for at this late stage.
A rejection by parliament "would mean grave uncertainty for the nation with a very real risk of no Brexit," May told the Mail on Sunday.
She also raised the spectre of an early election and a possible return to power of the opposition Labour Party for the first time since 2010.
May said the prospects of Labour leader "Jeremy Corbyn getting his hands on power is a risk we cannot afford to take."
Newspapers have identified more than six current and former ministers in May's cabinet who are also ready to run for her job should she falter over the coming days.
Commenting on tomorrow's vote, Táinaiste and Minister for Foreign Affairs Simon Coveney said: "We are saying that the deal that is there, which is a deal between the UK and the EU, is not going to change, particularly the legal language of the Withdrawal Treaty. 
"I hope people will see it for what t is, which is a fair, balanced document that deals with the complexity of a country the size and the economy the size of the UK's leaving the Union that it had been part of for 45 years." 
EU supporters, were pinning their hopes on a European Court of Justice ruling today on whether Britain's parliament has the right to unilaterally halt Brexit in its tracks.
One of the Union's advocates general, a senior legal adviser, has already issued an opinion suggesting that Britain can indeed unilaterally suspend its departure.
The court has confirmed it accepts jurisdiction in the case, which is based on a request lodged by a group of anti-Brexit Scottish politicians.
May insists she has no plans to reverse Brexit, despite parliamentary opposition to her withdrawal deal from both pro- and anti-Europe MPs.
Token concessions 
May would have a tough job securing better divorce terms acceptable to the Northern Irish DUP party that has propped up her government for more than a year.
EU President Donald Tusk signalled that no concessions would be made after speaking to May by phone on Sunday.
Yet Brussels also wants to see May succeed and avert the economic nightmare that could unfold should Britain break away without any arrangements underpinning future trade.
European officials said they might be able to find a way to offer a token concession in Brussels that May could take back to London.
But they stressed that such tinkering cannot alter the basis of the withdrawal agreement itself.
The two sides might "work on the (accompanying) protocol or clarify a point that is deemed important so that she can take it back to parliament," an informed European source told AFP on condition on anonymity.
May would then be expected to submit the touched-up version for a second vote at an unspecified date.
Coveney has said that "the backstop was never and is not an offer from one side or the other". 
"It was a negotiated solution that both sides signed up to, the EU and UK. It is there for a good reason, it is a last resort, insurance mechanism that only kicks in if we are unable to resolve the border issues through negotiating a comprehensive future relationship, which everybody believes is possible," he said. 
With reporting from Adam Daly