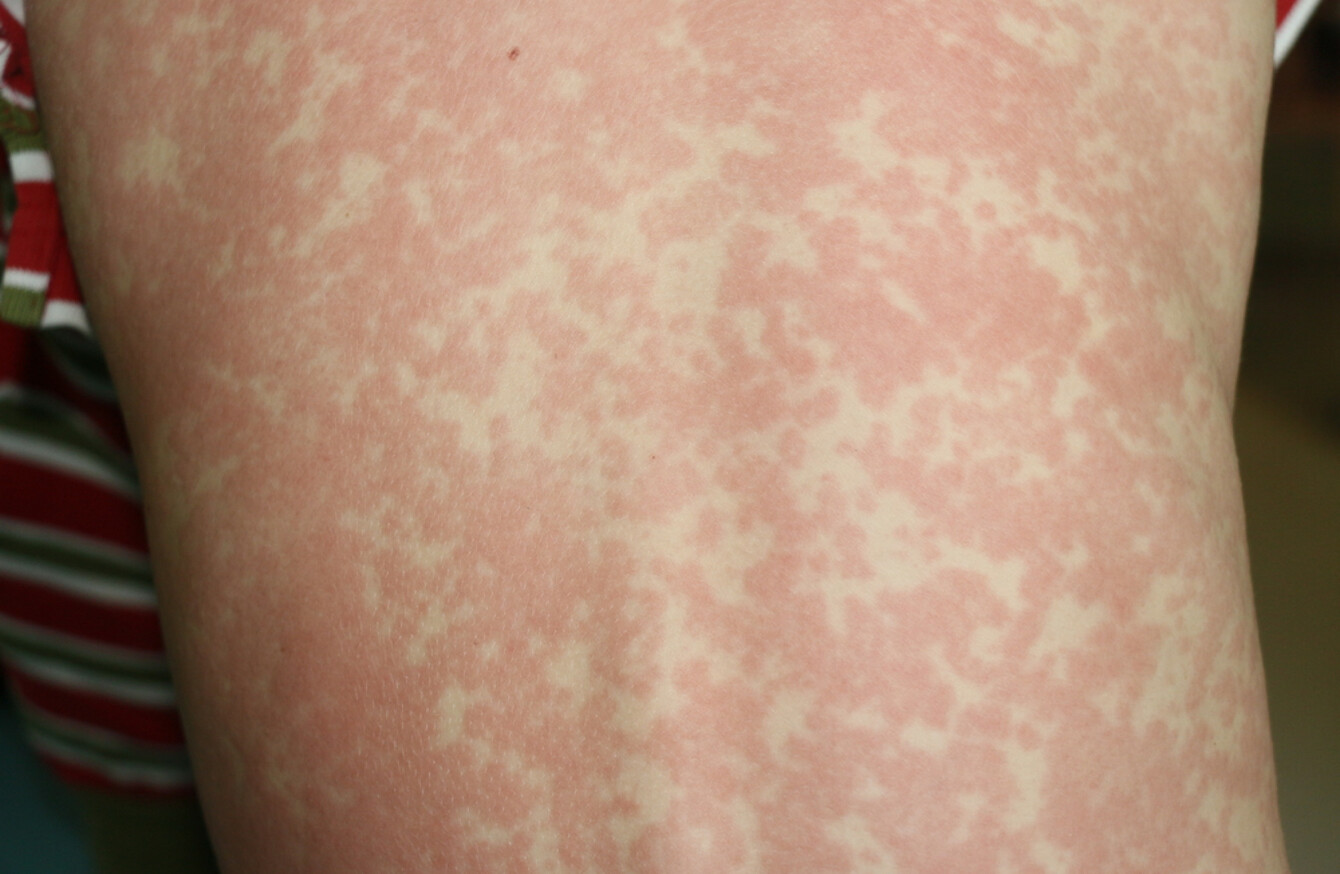 Image: Shutterstock/DonyaHHI
Image: Shutterstock/DonyaHHI
FORTY CASES OF measles have now been confirmed as the recent outbreak continues to spread across the country.
Overall 62 cases of measles have been reported to the Health Protection Surveillance Centre (HPSC) – this includes 40 confirmed cases, 1 probable and 21 possible measles cases.
The outbreak began in Limerick in January and has since spread across the country.
Measles can lead to serious complications such as pneumonia and inflammation of the brain and can, in rare cases, lead to a fatal disease of the brain which develops years after the infection.
It is highly contagious and if one person has it, 90% of the people close to that person who are not immune will also become infected. It is spread easily through coughing and sneezing.
These are the most recent figures on the measles cases:
Eastern Region (Dublin, Kildare and Wicklow): 18 cases (6 confirmed, 1 probable and 11 possible cases)
MidWestern Region: 38 in total (29 confirmed and 9 possible cases)
South Eastern Region; 5 in total ( 4 confirmed and 1 possible)
Western Region: 1 confirmed case of measles .
Control team 
An outbreak control team made up of representatives from the HSE is involved in managing the outbreak in an effort to prevent further spread.
The only effective protection against measles is two doses of the MMR vaccine. Anyone who has not had two doses of MMR is at high risk of getting measles if they come in contact with someone who has it.
Most people born before 1978 are likely to have had measles infection and will therefore be immune and not at risk.
Known measles contacts are being advised to be alert to the symptoms of measles.
It causes symptoms ranging from a high fever with a cough, runny nose and a rash, to more serious complications, such as pneumonia and encephalitis (swelling of the brain).
Pregnant women, very young children and older people, as well as those whose immune system is not as strong as it should be, because of other illnesses or treatment, are particularly vulnerable to measles complications.
The illness typically begins with the following symptoms:
High fever
Irritability
Cough
Runny nose
Conjunctivitis (red eyes)
After a few days, a red rash starts on the head and spreads down the body
The time between exposure to the virus and developing measles rash is normally 14 days (range 7-21 days). People are infectious from 4 days before the rash starts until 4 days after the rash starts.
The HSE says the MMR vaccine (measles, mumps and rubella) is safe and effective. However, it is contraindicated in pregnancy and pregnancy should be avoided for one month after getting MMR.
If you think you have measles, you are advised to stay at home and phone your GP, rather than visiting the GP practice.
Tell the doctor or nurse that you think you may have measles and stop anyone from visiting your house.
Call the Department of Public Health at 061 – 483338 to advise that you think you/your child may have measles.