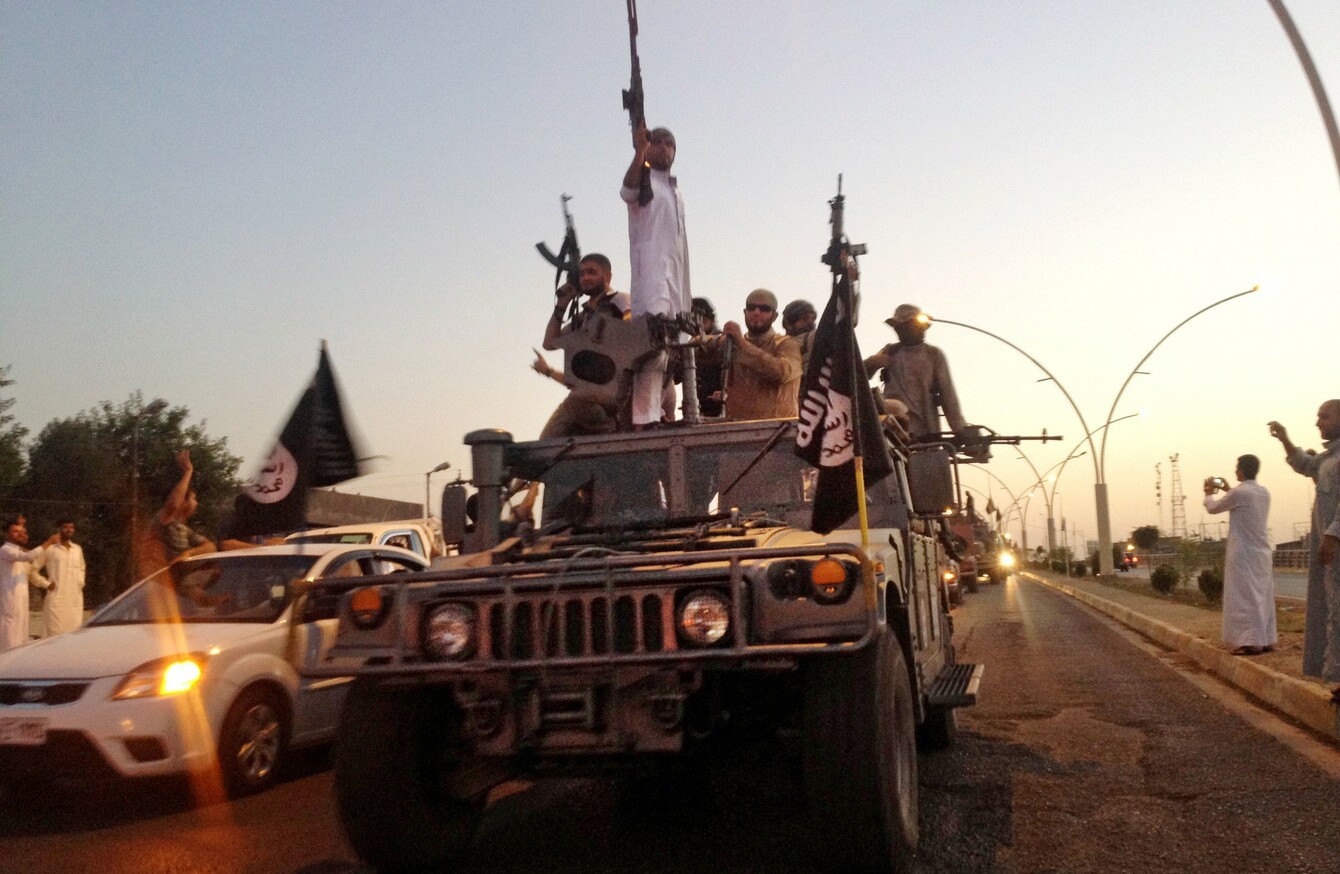 File photo. Fighters from the Islamic State group parade in a commandeered Iraqi security forces armored vehicle down a main road at the northern city of Mosul.
Image: AP Photo, File
File photo. Fighters from the Islamic State group parade in a commandeered Iraqi security forces armored vehicle down a main road at the northern city of Mosul.
Image: AP Photo, File
THE CITY OF Mosul in northern Iraq used to be a cosmopolitan, multi-ethnic hub.
Known as Iraq's second city, it is located on the on the banks of the Tigris River about 360 kilometres north of Baghdad.
The city controls strategic trade routes in northern Iraq, notably a key highway to the border with Syria and its second city of Aleppo, while other routes lead to Turkey and to Baghdad.
Food and fabrics have long been traded in Mosul, which is also known for producing the fine cotton fabric muslin.
A resettlement plan by the ruling Ba'ath Party in the 1970s led to a majority of Sunni-Arabs in the city, but up until recently it was an Iraqi demographic mosaic of Arabs, Kurds, Turkmen and Christians.
However it became gutted by years of violence which culminated in the Islamic State (IS) group takeover in June 2014.
IS militants orchestrated a brutal campaign and took over the city, along with large swathes of Iraq, during the summer of 2014.
Hundreds of thousands of people fled the city on the arrival of IS, migrating to other areas in Iraq or leaving the country altogether.
With a population of close to two million in 2014, it is now estimated that about a million civilians remain living there under IS rule.
The population of the city is predominantly Sunni-Arab, many of whom initially greeted IS, having suffered for years under the control of the Iraqi government and army.
Life in the city
Two years later, however, and the standard of life in the city has declined dramatically.
Industry has shut down, food and electricity is in short supply, and IS militants rule under an ultra-conservative form of Sharia-law.
Women are not allowed to go out publicly without being accompanied by a man, men must grow their beards or suffer severe punishment.
BBC footage from 2015, shows life inside the city and instances of abuse from IS militants.
Pollution is rife, schools and municipal buildings have shut down and construction has halted. Internet and signal towers have been destroyed, disrupting communication in and out of the city.
People are not permitted to leave the city without IS permission, and those who do so can be killed or punished. The homes and belongings of those who have fled have been destroyed by the group.
The group has also destroyed priceless cultural artefacts and sites.
In a video released by IS on 26 February, 2015 militants were shown smashing pre-Islamic treasures in a museum in Mosul, sparking global outrage.
Thousands of books and rare manuscripts were also burned in the main library.
According to the Iraqi government, on March 5, 2015, IS militants used bulldozers and explosives to destroy Nimrud, an ancient Assyrian city south of Mosul.
Medical supplies are low and public beatings as punishment and surveillance are common in the city.
The group made Mosul a laboratory for its state-building experiment, not just a military bastion but a city where it regulates everything from education to the opening hours of shops.
IS has declined significantly in strength since it took over large parts of Iraq and Syria in 2014.
While the ongoing Syrian Civil War makes it hard to uproot the militants there, the group has last half of the territory it once held in Iraq, according to the US.
Mosul is seen as one of the last remaining strongholds in Iraq, the battle to retake it will soon begin.
#Open journalism No news is bad news Support The Journal

Your contributions will help us continue to deliver the stories that are important to you

Support us now
Campaign to retake Mosul 
The US and Iraq have been planning for months for a complex push to drive IS out of Mosul. Both countries want to move quickly to take advantage of recent momentum against IS in Iraq and the perception that the extremists' morale is waning.
Capturing Mosul would mean a symbolic and strategic defeat to the militants, but a large number of problems exist.
Military experts have said that retaking Mosul would be an arduous task that plays to the extremist group's advantages, including its ability to embed among civilians. The battle will require huge numbers of troops and street-by-street combat.
IS fighters have reportedly dug tunnel networks and planted munitions throughout the city in anticipation of the Iraqi counteroffensive, and will be prepared to use human shields and dig in in numbers to draw out the battle.
As well as this, a disparate number of forces with different aims will take part in the offensive, which will make it extremely difficult to coordinate.
Iraqi troops, Kurdish Peshmerga fighters, and Shiite militias will all be involved in the offensive, all with different aims and stakes in the liberation of the city.
According to The Huffington Post, the battle will almost certainly destroy the city, and pose serious humanitarian problems.
The United Nations has said the operation may displace up to one million people, and impact up to 1.5 million.
Mosul may indeed be liberated, but signs point to a long and drawn out battle and a humanitarian crisis in its wake. It remains to be seen if it ever again becomes the city it once was.
With reporting from AP and AFP