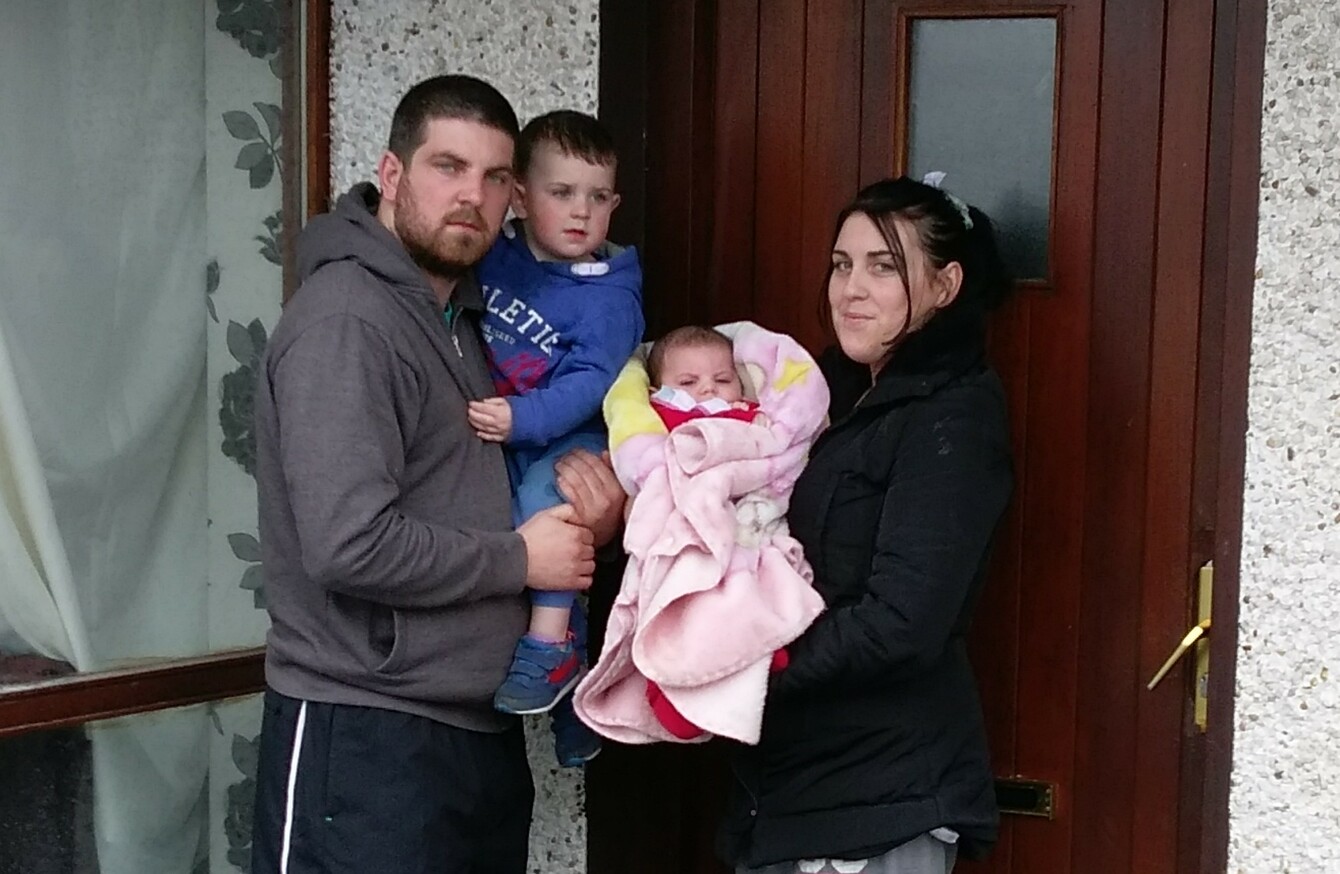 Image: Alan Lawes
Image: Alan Lawes
A YOUNG FAMILY in Meath has been squatting at an abandoned council house since Friday because they could no longer stand the conditions at their emergency accommodation.
Tom Stokes, his partner Bridget and their two children, Thomas, aged two, and baby Mya, became homeless at the end of last year when their landlord raised their rent and they could no longer afford to pay.
The council placed them at a house in Navan and the family-of-four has been living in one bedroom, sharing a kitchen in the house with seven other families, for the last few months. It was not the cramped conditions, however, that were of greatest concern to Tom and Bridget.
It was the damp in the room they were sleeping in.
"The room was indescribable," Tom told TheJournal.ie. "Wet, damp – in the shower there's all black mould. And it was just too small for our family of four, especially with a sick baby."
15-month-old Mya has had pneumonia and bronchitis and has been in and out of hospital in recent months. Doctors and social workers have written to the council requesting that her family be moved to more appropriate accommodation.
"She needs to be in a warm, clean, fresh environment," her father said.
Lying empty
Stokes became frustrated with the lack of action from the council and decided to move the family himself, to an abandoned council house in the Windstown estate, about three miles from the emergency accomodation.
It's a council house with three bedrooms and two bathrooms. There's wallpaper done in the sitting room and hallway and it's painted. It's been lying empty while we risk our health and the health of our kids in a one-room bed sit.
"I'm just a father and my partner a desperate mother, trying to find a suitable home for our two children."
He said the house is just one of a number in the area that are boarded up.
The electricity, gas and water all work in the house and he said his children have been sleeping better in the last three nights than they have in months.
Council officials visited the family earlier today and told Stokes he and his family would have to move back to their room in the emergency accommodation.
Alan Lawes of Direct Democracy Ireland, who has been assisting the Stokes family, said: 
"This family, like thousands of others in Ireland today, were abandoned by the state and its officials and had no other choice but to take the action they did in order to protect the health of their children and what I hope for now is that the council see sense and leave the family where they are now."
The council has not responded to a request for comment from TheJournal.ie.