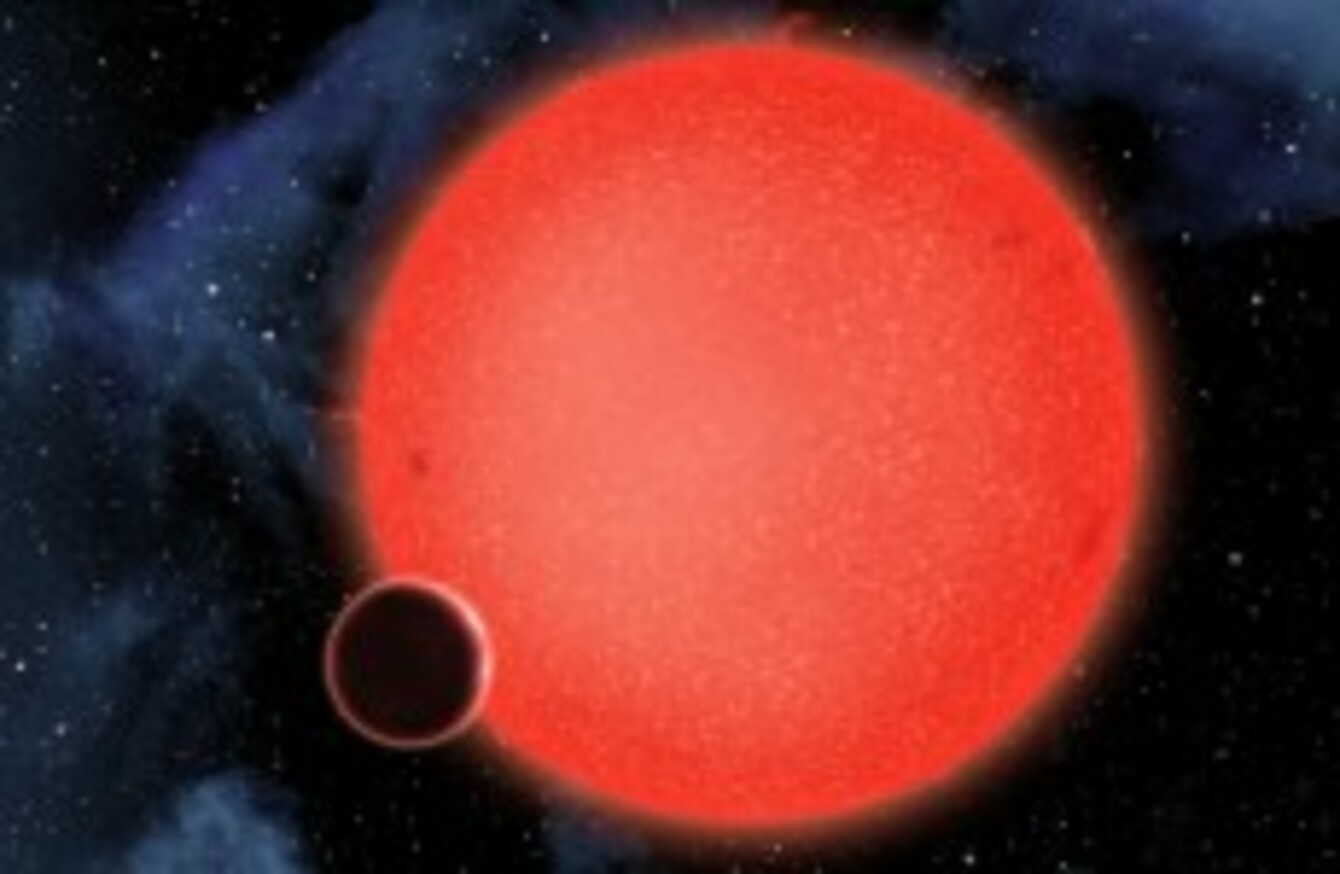 An artist's conception of GJ1214b orbiting a red dwarf star.
Image: David A Aguilar (CfA)
An artist's conception of GJ1214b orbiting a red dwarf star.
Image: David A Aguilar (CfA)
ASTRONOMERS HAVE discovered a new type of planet: one made of water and surrounded by a steamy atmosphere.
The planet was first discovered by the ground-based MEarth Project led by the Harvard-Smithsonian Center for Astrophysics (CfA) in 2009.
Now, the centre says that analysis of observations made by NASA's Hubble Telescope of that new world, identified as GJ1214b, has found that it is a waterworld enshrouded by a thick, steamy atmosphere. The planet is located in the direction of the Ophiuchus constellation and is about 40 light-years away from Earth.
The planet's diameter is about 2.7 times that of Earth and it weighs almost seven times more, according to the CfA and NASA. The planet orbits a red dwarf star every 39 hours at a distance of 2.1 million kilometres, which astronomers say gives it an estimated temperature of 232C.
Zachory Berta of the CfA said that GJ1214b is "like no planet we know of". "A huge fraction of its mass is made up of water," he said.
"The high temperatures and high pressures would form exotic materials like 'hot ice' or 'superfluid water' – substances that are completely alien to our everyday experience."
#Open journalism No news is bad news Support The Journal

Your contributions will help us continue to deliver the stories that are important to you

Support us now
Berta and his colleagues used Hubble instruments to filter light from the planet's host star through its atmosphere, which provided the team with clues about the mix of gases involved. The atmospheric model most consistent with that data is a dense atmosphere of water vapour.
Further calculations based on the planet's size and mass led astronomers to calculate the density of the planet, which suggests that it has much more water than on Earth – and much less rock than on our planet.