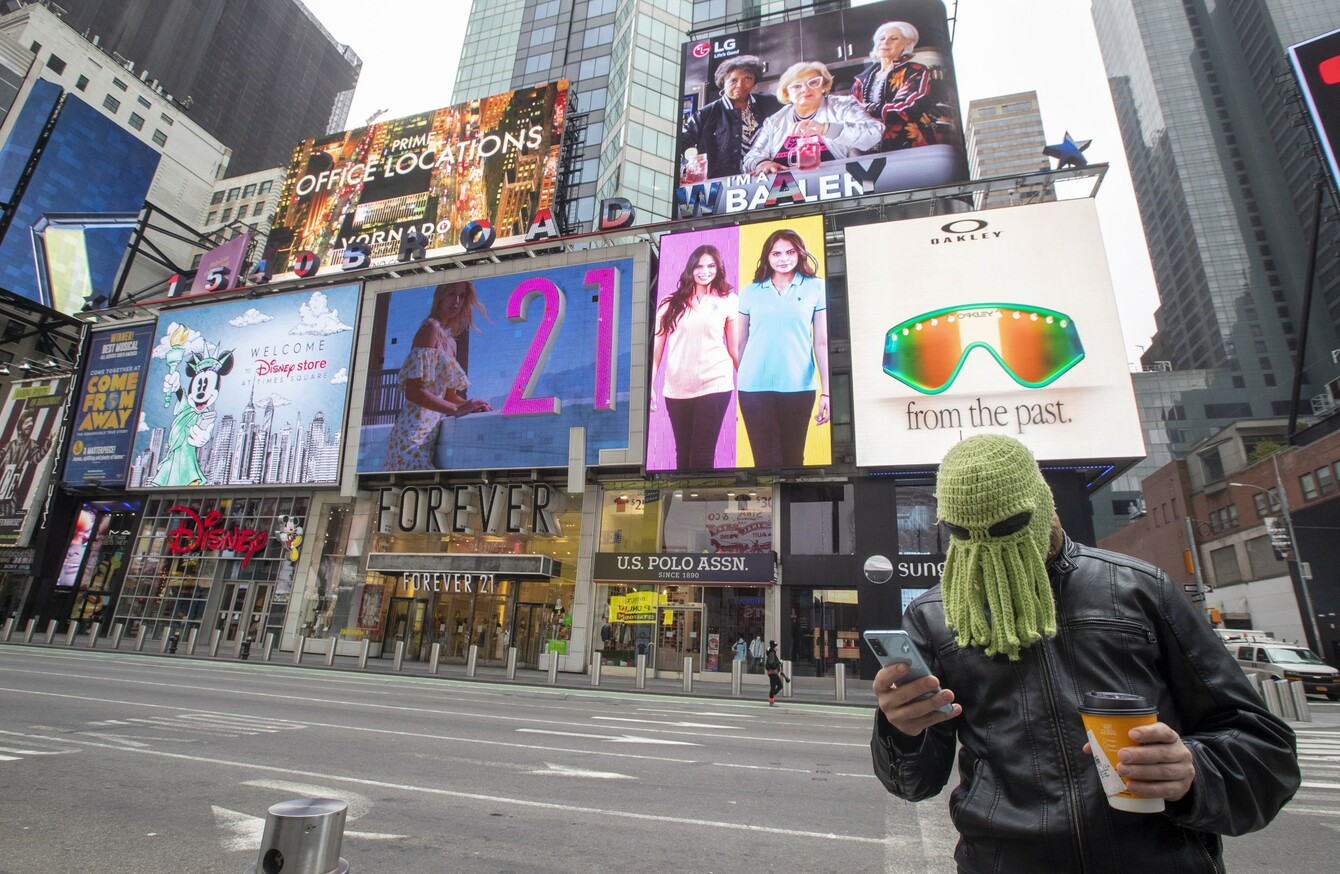 A man wears an octopus hat in New York's Times Square.
Image: Mary Altaffer/PA Images
A man wears an octopus hat in New York's Times Square.
Image: Mary Altaffer/PA Images
Updated Mar 26th 2020, 7:00 AM
US SENATORS HAVE passed the largest rescue package in modern US history for businesses and ordinary Americans devastated by the coronavirus amid fears that New York could be the next epicenter of the pandemic.
American deaths from the coronavirus pandemic have topped 1,000 in another grim milestone for a global outbreak that is taking lives and wreaking havoc on economies and day-to-day routines everywhere.
In recognition of the scale of the threat, the US Senate late on Wednesday passed an unparalleled $2.2 trillion economic rescue package steering aid to businesses, workers and health care systems.
The unanimous vote came despite misgivings on both sides of politics about whether it went too far or not far enough, and capped days of difficult negotiations as Washington confronted a national challenge unlike it has ever faced.
The 880-page aid package is the largest economic relief bill in US history, its value equivalent to more than half of the nation's entire $4 trillion annual budget.
Worldwide, the death toll climbed past 21,000, according to a running count kept by Johns Hopkins University.
The number of dead in the US rose to 1,041 late on Wednesday, with nearly 70,000 infections.About half are in New York state.
"We still have the trajectory going up," said New York Governor Andrew Cuomo, adding that about 12% of the people who test positive require hospitalisation.
Cuomo said health officials anticipate about 120,000 coronavirus patients coming into New York's hospitals, which have a capacity of 50,000 beds.
The state has 30,811 declared cases, up by 5,146 since yesterday, with almost 300 deaths. Almost 18,000 of those are in New York City, which reported almost 3,000 new cases, Cuomo added.
Some 192 people have died in the city, according to a running tally by Johns Hopkins University.
But the governor pointed to evidence suggesting New York's strict stay-at-home orders and social distancing measures have slowed the hospitalisation rate.
"The arrows are headed in the right direction," Cuomo told reporters.
Cuomo said New York was still "on the way up the mountain" and wouldn't meet the peak of declared cases for another three weeks.
But he added that projections showed that hospitalisations were now doubling every 4.7 days as opposed to every two days as was the case on Sunday.
The state's almost 20 million residents have been confined to their homes since Cuomo ordered all non-essential businesses closed on Sunday.
He said that the number of confirmed infections in Westchester County, the origin of New York's outbreak, had "dramatically slowed" following a two-week containment. 
After New York Mayor Bill de Blasio said the Big Apple would run out of medical supplies by the end of the week, Cuomo assured residents there were enough to last more than a fortnight.
"Today, no hospital, no nurse, no doctor can say, legitimately 'I don't have protective equipment,'" he said.
"Right now, and for the foreseeable future, we have a supply. We have not yet secured supply for three weeks from now, four weeks from, now five weeks from now. But we are still shopping."
He repeated that New York's cases are projected to reach their peak in 21 days and that the state needs 30,000 ventilators by then.
He called on President Trump to introduce a "rolling deployment" whereby New York, as the worst hit, receives most of the country's equipment, before passing it to other states.
"Send us the equipment that we need. Send us the personnel. As soon as we get past our critical moment we will redeploy that equipment and personnel to the next hotspot. I will personally guarantee it," Cuomo said.
Just over half the US population is now under some form of lockdown as the authorities around the country seek to stem the outbreaks.
Birmingham, Alabama and Charlotte, North Carolina have become the latest major US cities to order residents to stay indoors.
Wall Street stocks were mixed as the markets awaited a vote on the $2 trillion package hammered out by congressional leaders to boost the US economy.
'Historic relief'
After an acrimonious debate, Senate Republicans and Democrats and the White House reached agreement overnight on the relief package.
"At last, we have a deal," Senate Majority Leader Mitch McConnell said, hailing the "wartime level of investment into our nation."
It will put cash directly into the hands of millions of Americans hard hit by the crisis, provide grants to small businesses and hundreds of billions of dollars in loans for larger corporations including airlines.
It would be the largest-ever rescue, dwarfing even the bailouts of 2008, when a worldwide financial crisis sent the US economy into a tailspin.
The Senate convened at noon but three hours later it had yet to schedule a vote, even though McConnell insisted senators would "pass this historic relief package today."
Last-minute hiccups with the text — including a drafting error about unemployment benefits — has pushed a vote back to possibly late Wednesday.
The measure then heads to the House of Representatives for passage and on to President Donald Trump for his signature.
House Speaker Nancy Pelosi told colleagues the Senate compromise "does not go as far" as she would like towards Democratic goals, and that her caucus was reviewing the final provisions to determine a path forward.
With infections rising, the Senate bill proposes around $130 billion for hospitals in dire need of protective gear, intensive care beds and ventilators.
Trump tweeted Wednesday that four hospitals being built in New York with federal assistance "are moving along very well, ahead of schedule."
"Many additional ventilators also delivered," he said.
Trump had voiced hope yesterday that the country could begin to reopen by Easter but his top infectious disease advisor, Anthony Fauci, said the timetable would need to remain "very flexible."