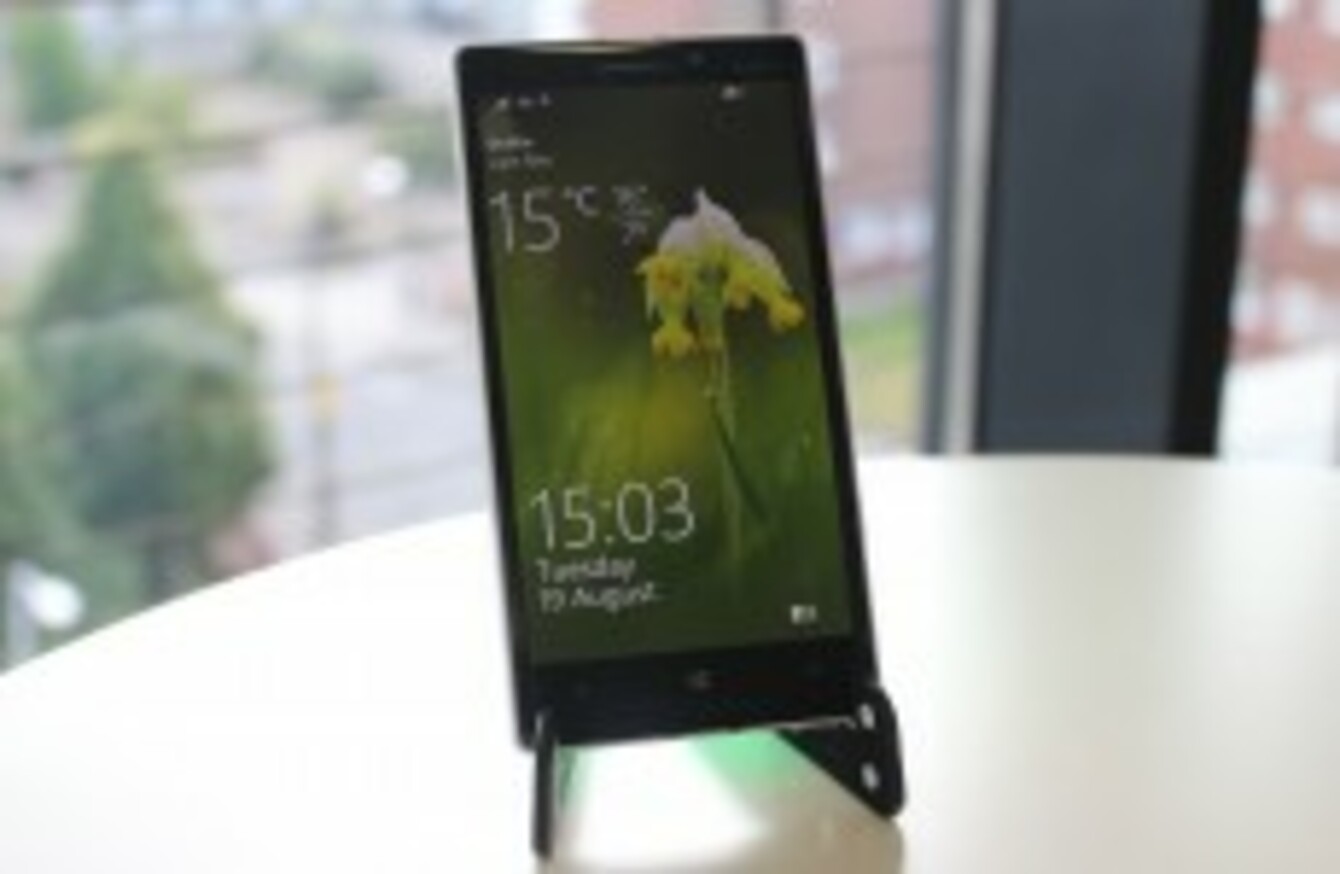 Image: TheJournal.ie
Image: TheJournal.ie
IT'S A BRAVE new world for Nokia. Now a Microsoft company and currently going through a restructuring period, it's determined to improve its position in the smartphone market with a high-end and two mid-range smartphones, the Lumia 630 and 635.
Since the Lumia 930 is spearheading this charge, it's worth asking whether this phone will help improve Microsoft's position. Nokia has always made quality handsets, but has it and Microsoft done enough to convince the general public that it's worth getting?
Main selling points
20MP camera, sharp photos.
Pin-sharp 5-inch HD screen for photography, gaming, and videos.
Fast performance, virtually no slowdown.
Windows Phone 8.1 is a significant improvement. 
Hardware and Software
When you first pick it up, you'll notice that it feels a little bit heavier and thicker than most smartphones. This is mostly because smartphones have become lighter over time, but it's something you will likely forget after a few seconds.
The Lumia 930 is sturdy, using a part-metal design to keep it together with a plastic backing. Combine that with a 5-inch Gorilla Glass screen, and what you have is a solid device.
The 5-inch HD screen is perfect for watching Netflix and Vimeo, and is smooth to play around when you're navigating Windows Phone 8.1 (more on that later).
Overall, it's quite powerful and you're not going to have many problems with performance.
The battery, while decent, could be better. While it's mostly fine, there can be moments where you may find it has depleted faster than you expected although activating battery saver does solve this.
Camera
Photography has always been the jewel in Nokia's crown and the Lumia 930 is no exception. If you include a 20MP camera, you should expect great shots. When you combine it with a pin-sharp HD screen, it's a joy to use.
Even just using the basic camera mode, you can get some fantastic images and it's one of the few smartphones out there where you can zoom in on a subject and not experience a significant drop in quality.
Lumia 930 - Flower

Source: TheJournal.ie

Lumia 930 - Graffiti 1

Source: TheJournal.ie

Lumia 930 - Fountain

Source: TheJournal.ie

Lumia 930 - Graffiti 2

Source: TheJournal.ie

Lumia 930 - Broken Statue
Other features like Burst Mode – which takes a succession of shots and allows you to pick out the best one – are only improved by the camera's quality.
The only smartphones that would outperform the Lumia 930 is its cousin, the Lumia 1020, which has a 41MP camera, and the Sony Xperia Z2.
The front-facing camera is probably the only disappointing element of its camera. A 1.2MP camera isn't bad, but it's a pity it's not of greater quality considering how it's pushing services like Skype.
Windows Phone 8.1
It's difficult to talk about Nokia without bringing up the OS, but thankfully, things are much sunnier on this front.
While Windows Phone 8 had a number of good ideas, it was let down by a number of interface and design choices that would have left casual users cold. Not only does Windows Phone 8.1 fix the majority of these problems, but adds a variety of different features which makes it almost feel like it has experienced a rebirth.
Elements like the notification centre, switching between apps or even choosing background wallpaper may not sound impressive on their own, but when combined with new features like Storage Sense and Battery Sense, it makes it a more fluid and complete experience. It's really the little things that makes 8.1 so pleasant to use.
#Open journalism No news is bad news Support The Journal

Your contributions will help us continue to deliver the stories that are important to you

Support us now
Also worth mentioning is how fleshed out the Windows Phone store has become in the past year. While there was always the argument that it hosted too few quality apps, pretty much every major app is represented.
If you use Microsoft products, then it's an obvious choice, but those there are enough alternatives and workarounds to cater for those using Google products and other services.
Conclusion
Nokia has created another solid, if not revolutionary, smartphone that delivers. It does everything right, great camera, solid battery life, nice hardware, but that was never the problem.
The real problem is how it can convince regular smartphone owners settle for Apple and Samsung to it.
While it does so many things right, the Lumia 930 doesn't have a feature that jumps out and grabs your attention.
That may be a harsh statement, but when you compare the unique features between the Lumia and the other flagship phones, there are few, if any, unique features to point out.
That's the part that could hinder its success, but for those who don't settle for a iPhone or Galaxy S by default, there really is a lot to like here and it's a reliable smartphone that won't let you down.
Give it a try, you may be surprised.
The Nokia Lumia 930 is available at Vodafone (€449), O2 (€479), Meteor (€429), and eMobile (prices given are for prepay).