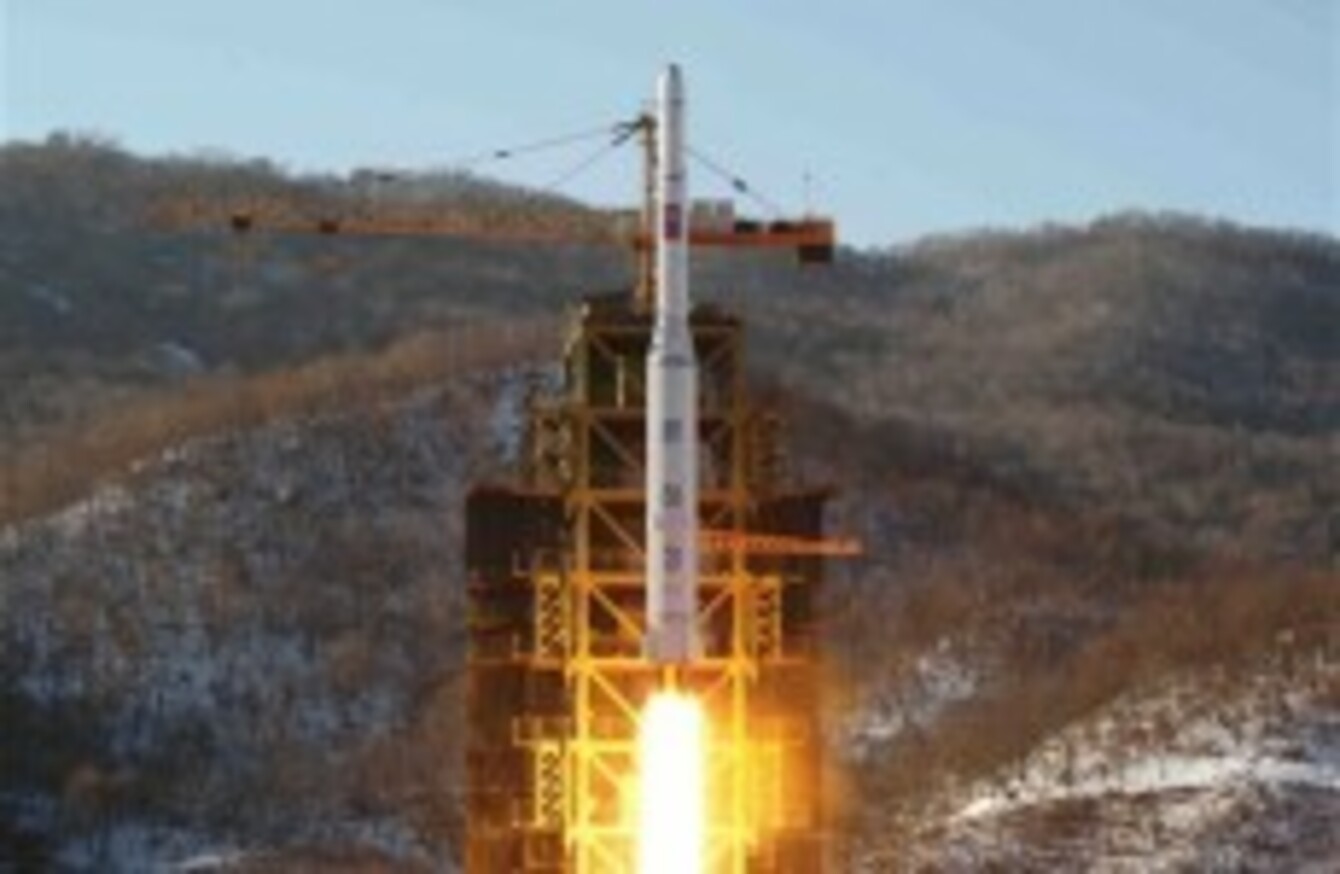 File picture of North Korea's Unha-3 rocket lifts off from the Sohae launch pad in North Korea.
Image: (AP Photo/KCNA, File)
File picture of North Korea's Unha-3 rocket lifts off from the Sohae launch pad in North Korea.
Image: (AP Photo/KCNA, File)
THE LATEST SANCTIONS against North Korea will have little impact on its nuclear and missile programme, despite the added clout of China's support for the UN measures, analysts said today.
The action announced by the UN Security Council yesterday was a clear compromise that expanded the list of North Korean entities on the UN's sanctions list, but stopped short of imposing any tough new penalties.
It followed weeks of intense negotiations between the United States, which wanted a strong response to the North's long-range rocket launch last month, and China which sought to shield its ally from any harsh measures.
The resolution added North Korea's space agency, a bank, four trading companies and four individuals to the UN list of entities subject to an assets freeze and travel ban.
"The sanctions themselves amount to little more than a slap on the wrist," said Kim Yong-Hyun, a professor of North Korean studies at Dongguk University in Seoul.
Sanctions
"But the North is likely to be upset at China yielding to pressure from other members of the UN Security Council and accepting the resolution," Kim said.
The US-proposed resolution was adopted unanimously by the 15-nation council and included a threat of "significant action" should Pyongyang stage a nuclear test in the future.
As North Korea's sole major ally and economic lifeline, China is seen as the only country with any genuine leverage over the impoverished, isolated and nuclear-armed state.
At the same time, Pyongyang has played on Chinese fears of the consequences of North Korea's collapse to defy Beijing's efforts to rein in its nuclear weapons programme.
Most analysts agreed with Kim that the real import of Tuesday's sanctions announcement lay in Beijing's backing, rather than the actual measures themselves.
"Any kind of Chinese move is important," said Robert Kelly, professor of Political Science and Diplomacy at Pusan National University.
"North Korea would collapse without Chinese support. So when China backs sanctions, even if they aren't that tough, it's significant," Kelly said.
Missile
Pyongyang's reaction to the UN measures was swift and defiant, with the North's foreign ministry denouncing the resolution and vowing to strengthen the country's nuclear and missile capabilities.
Its response is likely to fuel speculation that Pyongyang is preparing a third nuclear test, following its previous detonations in 2006 and 2009.
"The problem is that North Korea has far too much invested — financially and politically — in its nuclear programme to step back now," said Kelly.
"The best that sanctions have done and can do is slow the march to nuclearisation and make it harder to proliferate," he added.
Speaking to reporters after the Security Council announcement, China's UN ambassador Li Baodong made it clear that Beijing was equally sceptical about the effectiveness of sanctions.
"The policy of sanctions and resolutions alone does not work," Li said, calling for an early resumption of six-party talks on the North Korean nuclear issue that have been held intermittently since 2003
Pyongyang walked out of the negotiations in April 2009, a month before it carried out its second nuclear test, and in its statement Wednesday the foreign ministry appeared to rule out any return to the table.
"There will be no dialogue to discuss denuclearisation of the Korean peninsula," the ministry said.