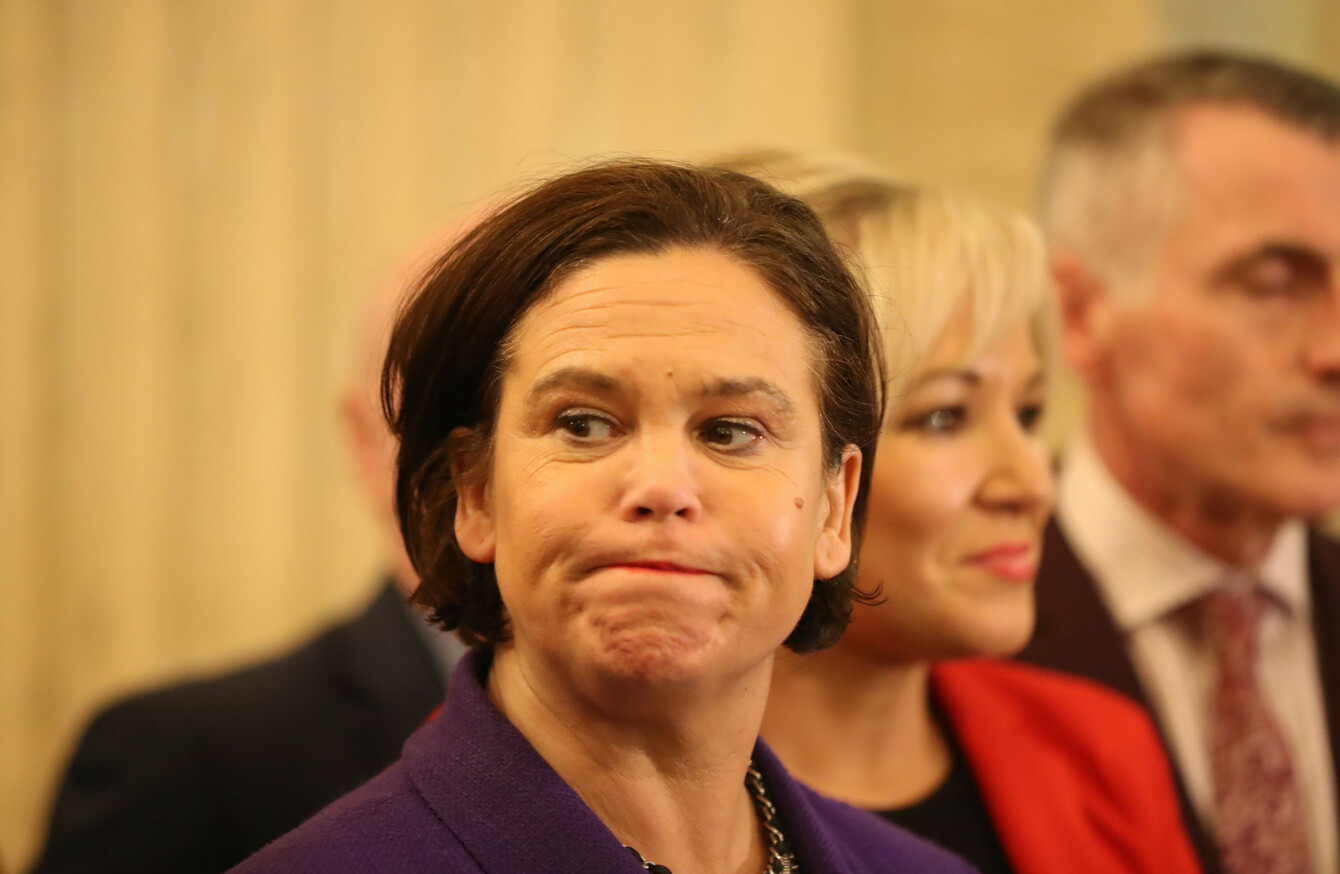 Sinn Fein's president Mary Lou McDonald
Image: PA Wire/PA Images
Sinn Fein's president Mary Lou McDonald
Image: PA Wire/PA Images
Updated at 9.30pm
SINN FÉIN LEADER Mary Lou McDonald has said the DUP had agreed a "draft agreement" on restoring power sharing in Northern Ireland.
Last night, the DUP leader Arlene Foster said that the talks failed on the issue of the Irish language.
Foster said that she "respects the Irish language" but that her party cannot agree to a standalone Irish Language Act, as is sought by Sinn Féin.
In a press conference this afternoon, McDonald said there were three separate acts in the draft agreement: An Irish Language Act, an Ulster Scots Act, and a Respecting Language and Diversity Act.
McDonald said she wanted to clearly point out that it was never envisioned that the Irish language would be compulsory, or that there should be civil service staff quotas.
The new Sinn Féin leader added that there was no deal on marriage equality.
She said her party would not be publishing the draft deal from Friday night "at this time" because it could damage the prospect of getting the talks up and running again.
"None of these issues were, or are, insurmountable," said McDonald.
However, she told reporters she will be giving copies of the text to the UK and Irish Governments and briefing the other Stormont parties on its detail.
'Taken by surprise' 
In a statement this evening, a spokesperson for Downing Street said that British Prime Minister Theresa May spoke to the leaders of Sinn Féin and the DUP on the phone earlier today about the collapse of power-sharing talks in Northern Ireland yesterday.
Up until Foster's announcement there had been hope in the North – as well as among the UK and Irish governments – that a deal was imminent.
Both parties have been deadlocked now for over 13 months when the Executive collapsed – leaving Northern Ireland without a functioning Assembly.
"In both phone calls, the Prime Minister expressed her disappointment that an agreement had not yet been reached about the recent phase of political talks in Northern Ireland," the spokesperson said.
She reiterated how the government remains absolutely committed to restoring an Executive and that it is still her firm belief that restoring devolved government – so that democratically elected politicians can make locally accountable decisions – is in the best interests of everyone in Northern Ireland.
"The Prime Minister was clear that she still believes the basis for an agreement exists and recognised the leadership both parties had shown over past weeks and months. She urged them both to reflect on the recent phase of talks in order to find the best way forward."
Earlier today, Foreign Affairs Minister Simon Coveney has said that everyone was "taken by surprise" by the collapse of the talks.
Speaking on RTÉ's Morning Ireland, Coveney said:"I've been involved in facilitating between the DUP and Sinn Féin now for eight months."
He said there had been many issues and that both sides had been "attempting to resolve" some of those issues.
"There was a basis of understanding between the two parties at the end of last week on how to do that," said Coveney.
He said that while no formal agreement had been reached, both sides had strongly indicated that a final wording of a deal was imminent.
He said "the gaps were closed" between both sides and that he did no understand why Foster's statement was so definitive yesterday.
The collapse in talks once again opens up the possibility of direct rule from Westminster, as the parties seem unable to reach any compromise.
Direct rule
In her statement yesterday, Foster said that it was necessary for the UK government to set a Budget for Northern Ireland and to start making policy decisions.
"It is now incumbent upon Her Majesty's Government to set a budget and start making policy decisions about our school, hospitals and infrastructure," Foster said.
"I had dearly hoped that we could have restored an Executive and local Ministers could have taken those decisions.
This is not possible at this time.
The statement makes it clear that the DUP are looking for direct rule over the North from Westminster, at least for the time being.
Complicating things further is the fact that the UK government is currently propped up by the DUP in a confidence and supply arrangement.
Coveney said that nobody wanted a return to direct rule and that all sides needed to work hard to ensure that did not happen.
He said during Leaders' Questions today that the Irish government has made it clear to the British government that a return to direct rule is not where Ireland wants to be, stating that it would be "bad news" for everyone involved.
No one wanted direct rule introduced, not even the DUP, despite what they indicated last night, he added.
So, what happens next?
Both the Irish and UK governments expressed their disappointment yesterday at the collapse of the talks.
Secretary of State for Northern Ireland Karen Bradley said that she would need to consider "practical steps" in light of the breakdown in talks.
Deputy party leader, Michelle O'Neill said they would be speaking with both Taoiseach Leo Varadkar and British Prime Minister Theresa May before the end of the day.
With reporting by Christina Finn and Hayley Halpin