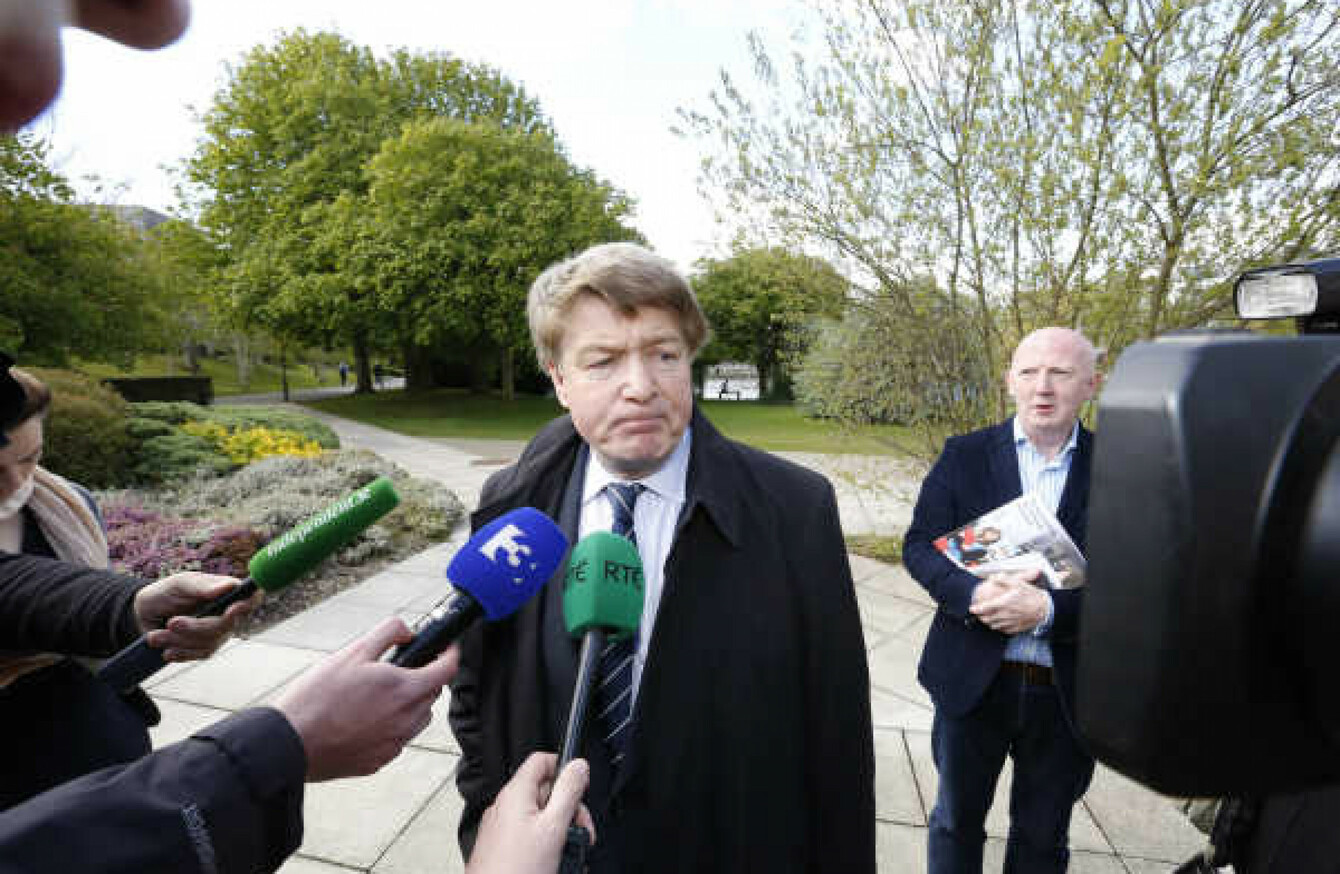 File photo of Brian O'Donnell speaking to reporters.
File photo of Brian O'Donnell speaking to reporters.
RETIRED SOLICITOR BRIAN O'Donnell formally exited bankruptcy today. He was formally discharged from bankruptcy at a sitting of the High Court.
Both O'Donnell and his wife Mary Patricia formerly of Gorse Hill, Vico Road, Killiney Co Dublin, but now living in the UK, were adjudicated bankrupt by the High Court in August of 2013.
That finding was confirmed by the Supreme Court in February 2015.
In July 2016 the O'Donnells' bankruptcy was extended following an application by the official in charge of his bankruptcy, the Official Assignee (OA) in Bankruptcy Chris Lehane, for alleged non-cooperation.
The O'Donnells had opposed the move and denied the allegations.
Today Ms Justice Costello was informed by barrister Eddie Farrelly for the Official Assignee that his client no longer wished to extend Mr O'Donnell's bankruptcy.
He said Chris Lehane was satisfied that all outstanding and historical issues in relation to the bankruptcy had been addressed.
Brian O'Donnell was not at court for the brief hearing, but was represented by his solicitor and son Blake O'Donnell. Mary Patricia O'Donnell had exited bankruptcy in December 2016.
Bank of Ireland applied to have the couple declared bankrupt after they failed to satisfy a judgment for €71.57m obtained against them.
The judgment was obtained by BOI in December 2011 after they failed to repay loans advanced by the bank.
Legal battle 
O'Donnell lost more than 80 legal cases surrounding his dispute with Bank of Ireland, including an appeal brought before the Supreme Court.
The family had significant public support from the 'New Land League' and its spokesman Jerry Beades as it conducted a public relations battle to let the family stay in their former house in Gorse Hill back in 2015.
In one of the more memorable moments of the 'Battle of Gorse Hill', now-retired broadcaster Vincent Browne led a posse of journalists through the gates of the house, shouting, "This is bank land. Everyone should come in."
O'Donnell famously handed the keys to Bank of Ireland CEO Richie Boucher at the bank's 2015 AGM in Dublin.
The house went up for sale earlier this year with an asking price of around €8.5 million.
With reporting from Daragh Brophy