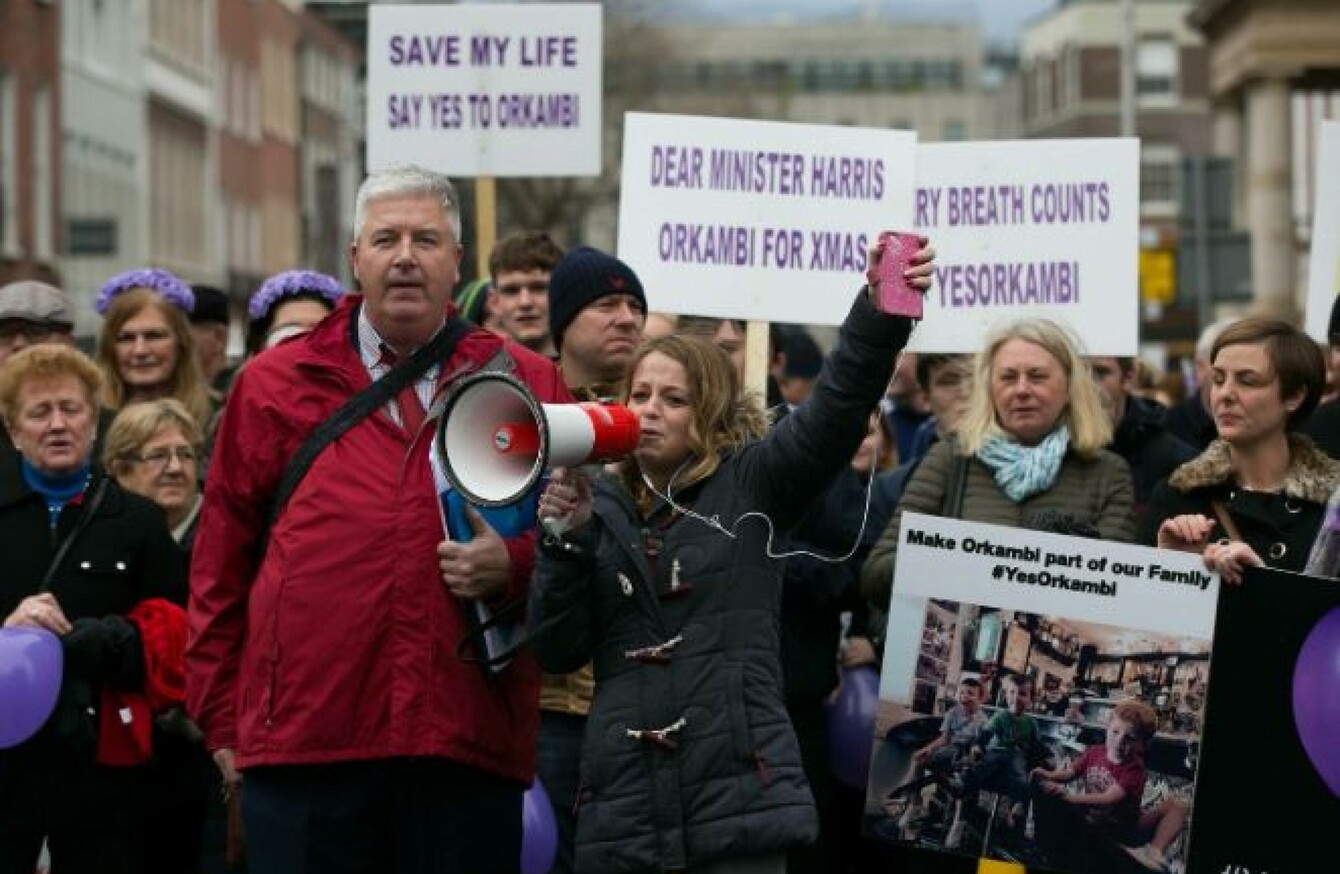 Demonstrators protesting the delay in securing the Orkambi drug for cf sufferers.
Demonstrators protesting the delay in securing the Orkambi drug for cf sufferers.
HEALTH MINISTER SIMON Harris has confirmed that the cystic fibrosis drugs Orkambi and Kalydeco will be available to patients from next month.
Responding to a questions in the Dáil this evening, Minister Harris confirmed that a deal had been reached in principle on the drug.
"These drugs will be available to Irish patients in this country from next month," Harris said.
The HSE has been involved with negotiations with company Vertex – which manufactures the drugs – over securing their use for Irish people living with cf.
"The message going out to Irish patients from Vertex and the HSE is that these medicines will be available from next month," said Harris.
The Minister said that an agreement had been reached on principle between the two sides.
"I also wish to inform the Dáil that both parties are working to finalise the contractual arrangements to complete the approval process in advance of the first of May," he said.
Harris said that he recognised that this had been "an extraordinarily difficult time for cystic fibrosis patients, for their families and for their friends as they have been waiting for this process to conclude".
People living with cystic fibrosis, their loved ones and advocates have been campaigning for months to try to get the drug approved.
With about 50 new cases of cystic fibrosis diagnosed in Ireland every year, campaigners are extremely eager for Orkambi – which has been heralded by them as a life-saving, 'miracle' drug – to be made available.
Cystic fibrosis greatly impacts the lifespan of those with the debilitating condition.
The huge cost of Orkambi – put at €158,000 per year per patient, at a cost to the State of €390 million over the course of five years – led to protracted negotiations.
Talks got underway between the HSE and pharmaceutical company Vertex over the drug last week.
Harris said that further work in the coming days by the HSE would "bring the matter to finality" and that the drug would be available from next month.
Now, the drug along with the drug Kalydeco has been approved and should be available from next month, Minister Harris confirmed.