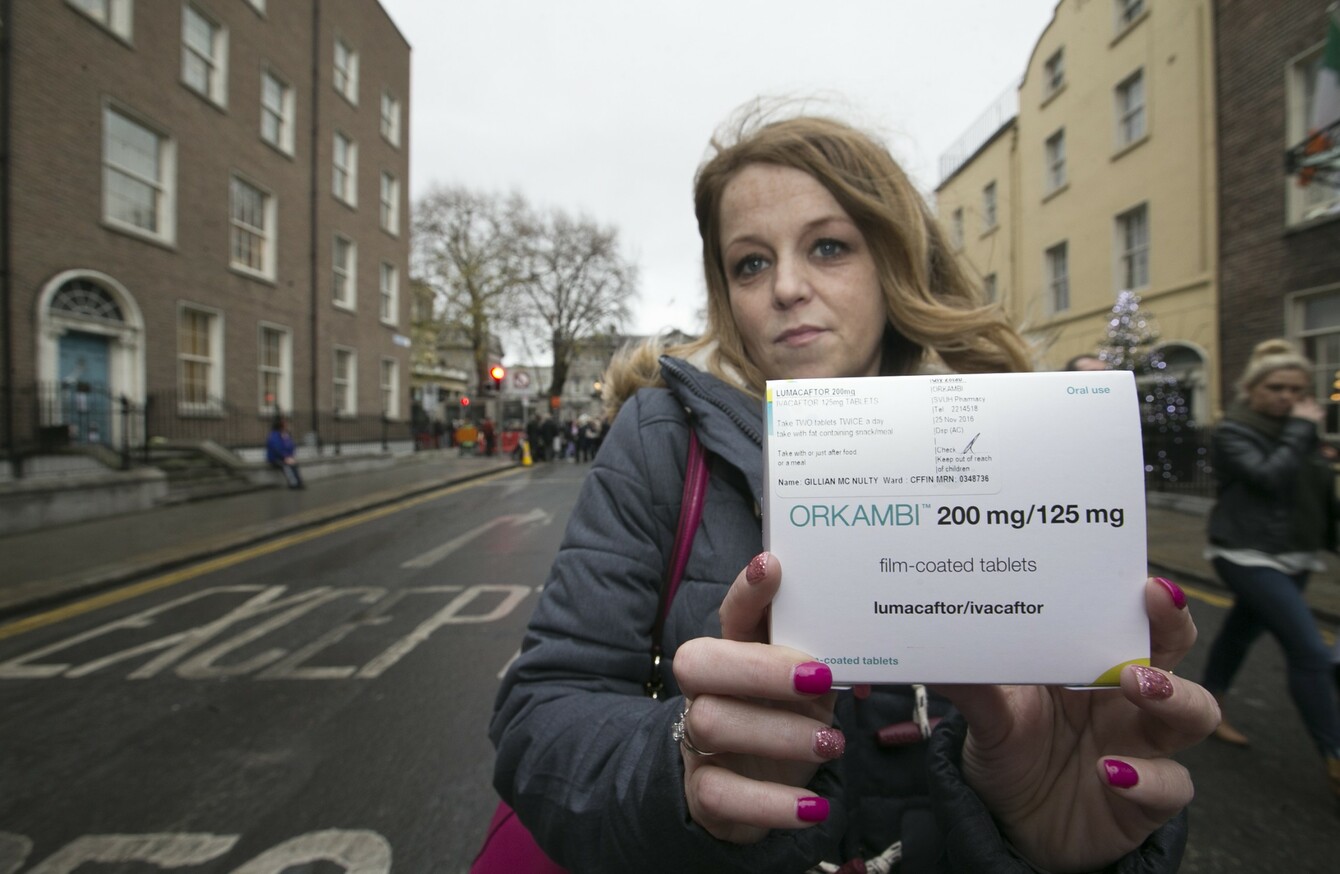 CF campaigner Jillian McNulty outside Leinster House
Image: Sam Boal//RollingNews.ie
CF campaigner Jillian McNulty outside Leinster House
Image: Sam Boal//RollingNews.ie
Updated 6.30pm
HEALTH MINISTER SIMON Harris has welcomed the decision by Vertex Pharmaceuticals to re-engage with the HSE on the cost of cystic fibrosis drug Orkambi.
Harris is meeting health ministers from a number of countries in Lisbon today.
Speaking from there, Harris said: "I have always said that Vertex need to re-engage in a meaningful way with the HSE that addresses the core issue of price and affordability.
"In that context the company must return to the table with a significantly better offer. This has not happened to date and I again call on the company to re-engage in a meaningful way.
"However, I was pleased to learn that Vertex has responded to the HSE today with a view to re-engage in negotiations with them on Orkambi.
In a meeting with some of my EU counterparts, I raised this issue of the unacceptably high price Vertex has put on this drug, making it inaccessible not just for Ireland's CF patients but for other patients around Europe. I intend to continue to intensify my engagement with colleagues in Europe and indeed other countries on this issue.
"I want to see CF patients receive access to the best treatments possible. That remains my priority."
The drug has dramatically improved the condition of some people with CF. It costs about €159,000 per patient per year.
'A more realistic price'
The HSE also welcomed today's announcement, saying it wants negotiations to "recommence immediately".
The organisation called on Vertex to set out "a more realistic price which is both reasonable and affordable for Irish patients".
"In the interests of transparency, the HSE calls once more on Vertex to make it clear to the Irish public the price it intends to charge for this medicine and to stop hiding behind commercial confidentiality clauses," a statement said.
Protest
Earlier, hundreds of people attended a protest outside Leinster House calling for action on the drug.
The protest was organised by Jillian McNulty, a Longford woman who suffers from cystic fibrosis.
A minute's silence was held to remember those who have died from CF, and people were invited to hold purple balloons and purple roses to show their solidarity for those with the condition.
A statement from those protesting said: "Letters appealing to the Taoiseach, Minister for Health and opposition party leaders will be handed over by representatives of the cystic fibrosis community urging a speedy conclusion to negotiations with the makers of the therapy, Vertex Pharmaceuticals."
The Orkambi controversy gained momentum last month, after it was reported that the HSE's drugs committee would recommend against funding the medication.
Earlier this year, the National Centre for Pharmacoeconomics (NCPE) assessed the drug and didn't deem it cost-effective, at a cost of around €390 million over five years.
Leaders' Questions
During Leaders' Questions today, Taoiseach Enda Kenny said that Vertex Pharmaceuticals was "using cystic fibrosis patients" and that they should get back to intensive discussions with the HSE.
Sinn Féin leader Gerry Adams said Kenny made "an extraordinary allegation" around the company Vertex "ripping off the taxpayer" and asked him if all avenues around getting the drug have been explored.
With reporting by Seán Murray