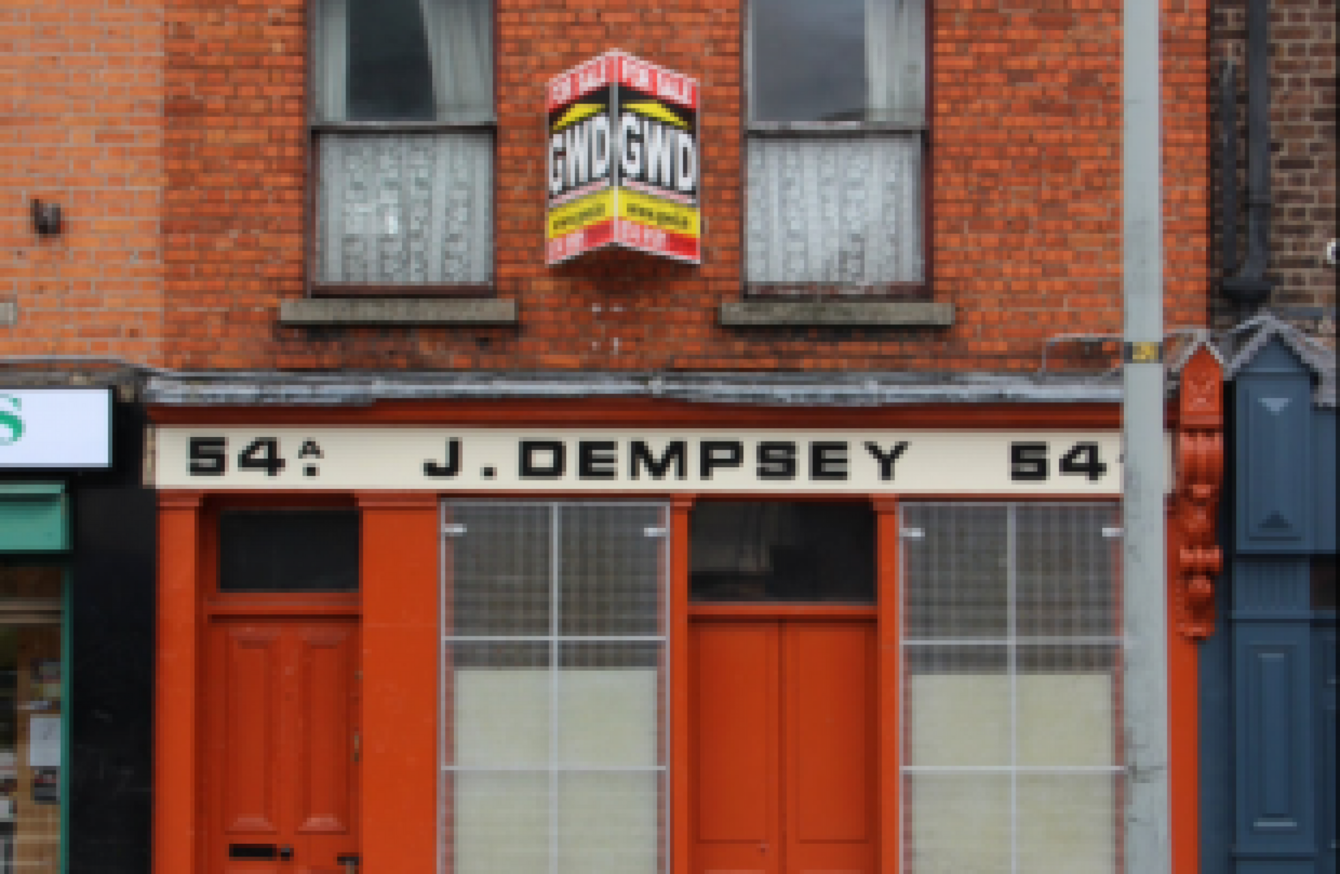 The building was described as "stuck in time" and "as rare as hen's teeth".
Image: Dublin Civic Trust
The building was described as "stuck in time" and "as rare as hen's teeth".
Image: Dublin Civic Trust
THE OWNER OF several heritage pubs in Cork city has said that he would have "cut off his arm" for a building with the interior of J Dempsey's.
Not only that, but passionate pub owner Benny McCabe has said that he will attempt to recreate the interior of the pub – based on the images taken of the century-old shop a year before it was demolished by its owners.
"I've never seen that kind of style around," he said. "What a crime."
J Dempsey, situated on Dorset Street in Dublin, had been earmarked for conservation by the National Inventory of Architectural Heritage (NIAH) because of its unique historical importance.
But the building was demolished recently by its owners, who most likely had no idea of its historical importance, as there is no statutory obligation on the NIAH to do so.
McCabe called this demolition "a crime" and said that he couldn't understand the reasoning behind the demolition, given the great condition the building was in.
McCabe is the owner of several heritage pubs in Cork City, as well as a member of the Cork Heritage Pubs organisation.
He is the owner of Arthur Mayne's wine bar, which was a pharmacy from the late-19th century.
"We owned a pub on Crane Lane and were looking to expand. Our landlord Jim Byrne owned the building next door – Arthur Mayne's Pharmacy so we went to have a look at it."
It was like a living museum – it had been there since the 1870s and hadn't been touched. We thought it was so important to remain true to the heritage of the place.
There were some alterations they had to make to the interior:
"We had to take a couple of steps out and put a ramp in, and were worried it might ruin the aesthetic, but these are small compromises we had to make."
He says that even if there is a lot of work to be done with an old building, that there are ways around it; "Dismantle the interior, do whatever to the structure, and put everything back again.
#Open journalism No news is bad news Support The Journal

Your contributions will help us continue to deliver the stories that are important to you

Support us now
"I'd love to have that counter in my house!"
Acquiring old buildings
He says that the process of acquiring the old buildings in Cork is "simple and straightforward" and that there is a lot of goodwill towards the process.
"The recovery hasn't reached Cork the way it has Dublin, there's a boom there at the moment and people are overworked – something probably fell through the cracks. But one day they'll wake up and realise what they've lost.
Old retail fades into memory, we'll miss having something so perfectly preserved and original. It's all going to become generic.
Although McCabe can't disclose the exact location of the pub which will replicate the interior of J Dempsey's, there is one obvious name choice being floated:
"My mother's maiden name is Dempsey," he says. "She'd go nuts if I named it after her."