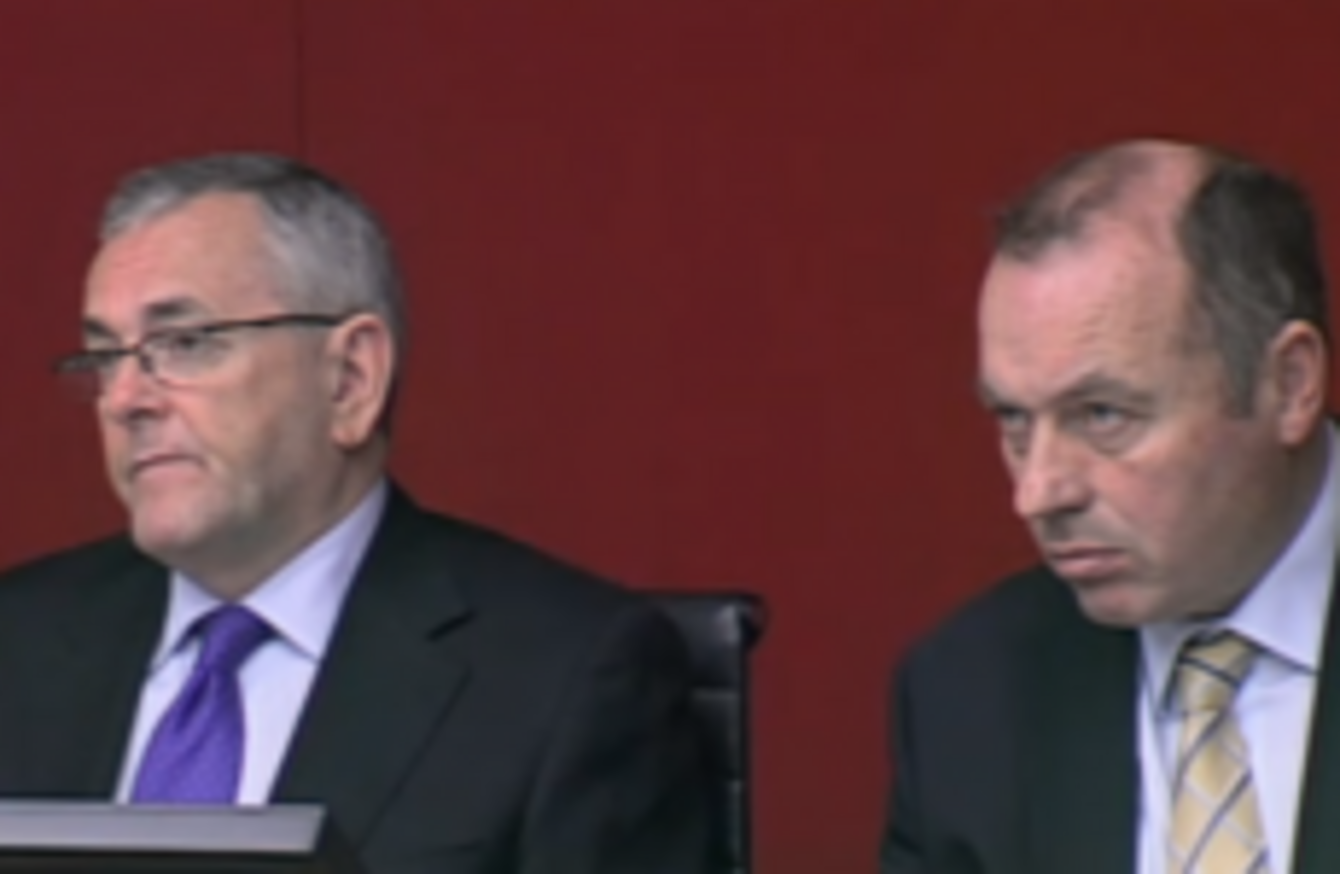 PAC chair John McGuinness and the committee's clerk, Ted McEnery.
Image: Screengrab via Oireachtas TV
PAC chair John McGuinness and the committee's clerk, Ted McEnery.
Image: Screengrab via Oireachtas TV
THE PUBLIC ACCOUNTS Committee (PAC) has been asked to investigate how political parties spend money they receive from the State.
Reform Alliance TD Lucinda Creighton has written to PAC chairman John McGuinness to ask that the secretaries general of each publicly-funded political party be brought before the Dáil's public spending watchdog to account for how they spend some €12 million they receive from the State every year.
Creighton's request comes on foot of her complaints about parties continuing to receive funding for TDs and Senators whom they have expelled, as happened to her and other members of the nascent Reform Alliance last July after they voted against abortion legislation.
She has previously said that Fine Gael and Labour are receiving "almost €600,000 in top-ups" under the party leaders' allowance system for TDs and Senators who are outside the parliamentary ranks.
Under the current party leader's allowance system, Fine Gael receives around €2.7 million per year, with €1.8 million for Labour, €1.7 million for Fianna Fáil, and €1 million for Sinn Féin.
This is in addition to the nearly €5.5 million that is divided among the parties based on the share of vote they got at the last general election. Any party that receives under two per cent of the vote loses all public funding as happened to the Green Party in 2011.
In her letter to McGuinness, Creighton writes: "Political parties, other than the Labour party, do not publish their audited accounts for public scrutiny.
"The Public Accounts Committee should seek to obtain and scrutinise these accounts on behalf of taxpayers, in order to establish how parties are spending taxpayer's monies."
The Dublin South-East TD writes that in the case of parties receiving money "in the names of those expelled" that the PAC ought to investigate what these monies are being spent on.
#Open journalism No news is bad news Support The Journal

Your contributions will help us continue to deliver the stories that are important to you

Support us now
At this morning's meeting of the Public Accounts Committee, the Comptroller and Auditor General (C&AG) Seamus McCarthy, informed TDs that he cannot audit individual political parties – only the block of money that they receive from the State.
Committee chairman John McGuinness has asked the clerk to prepare a report on the matter for members and Creighton said she has been led to believe that once this report is received the PAC will pursue the matter.
Here is the letter Creighton wrote to McGuinness in full:
Dear Deputy McGuinness,

I am writing to you to formally request that the Public Accounts Committee inquire into the expenditure of taxpayer's monies on the operation of political parties in the State. I furthermore request that the committee hold public hearings involving the Secretaries General and senior executives of all publicly funded political parties.

I make this request on a number of bases:

- Political parties are up to 80% tax payer funded. In recent weeks your committee has successfully investigated how taxpayers' monies are being spent by publicly funded charities. It is appropriate that this scrutiny is not limited to the charity sector and is extended to entities with similar funding models – i.e. political parties

- Political parties, other than the Labour party, do not publish their audited accounts for public scrutiny. The Public Accounts Committee should seek to obtain and scrutinise these accounts on behalf of taxpayers, in order to establish how parties are spending taxpayer's monies

- It can be gleaned from the Labour party's published accounts that the average payment for salary and pension per employees have increased in the past few years. At a time of stringent fiscal adjustment, involving pay cuts across the public and private sectors, Irish taxpayers are entitled to know whether political parties have simultaneously been increasing the pay cheques of their own employees and what other perks might apply to senior staff members.

- Parties which expel Oireachtas members for voting against the party whip, continue to receive substantial State funding in the names of those expelled Deputies and Senators. This amounts to public funding of over €300,000 per annum for political parties to spend on support for members who are no longer in their ranks. The PAC ought to investigate what these monies are being spent on.

I trust that you will agree that the €12 million euro paid by the State to political parties every year should be subject to full and open scrutiny. Irish taxpayers are entitled to understand how their hard earned taxes are being spent.

I look forward to hearing from you,

Kind Regards,

Lucinda Creighton