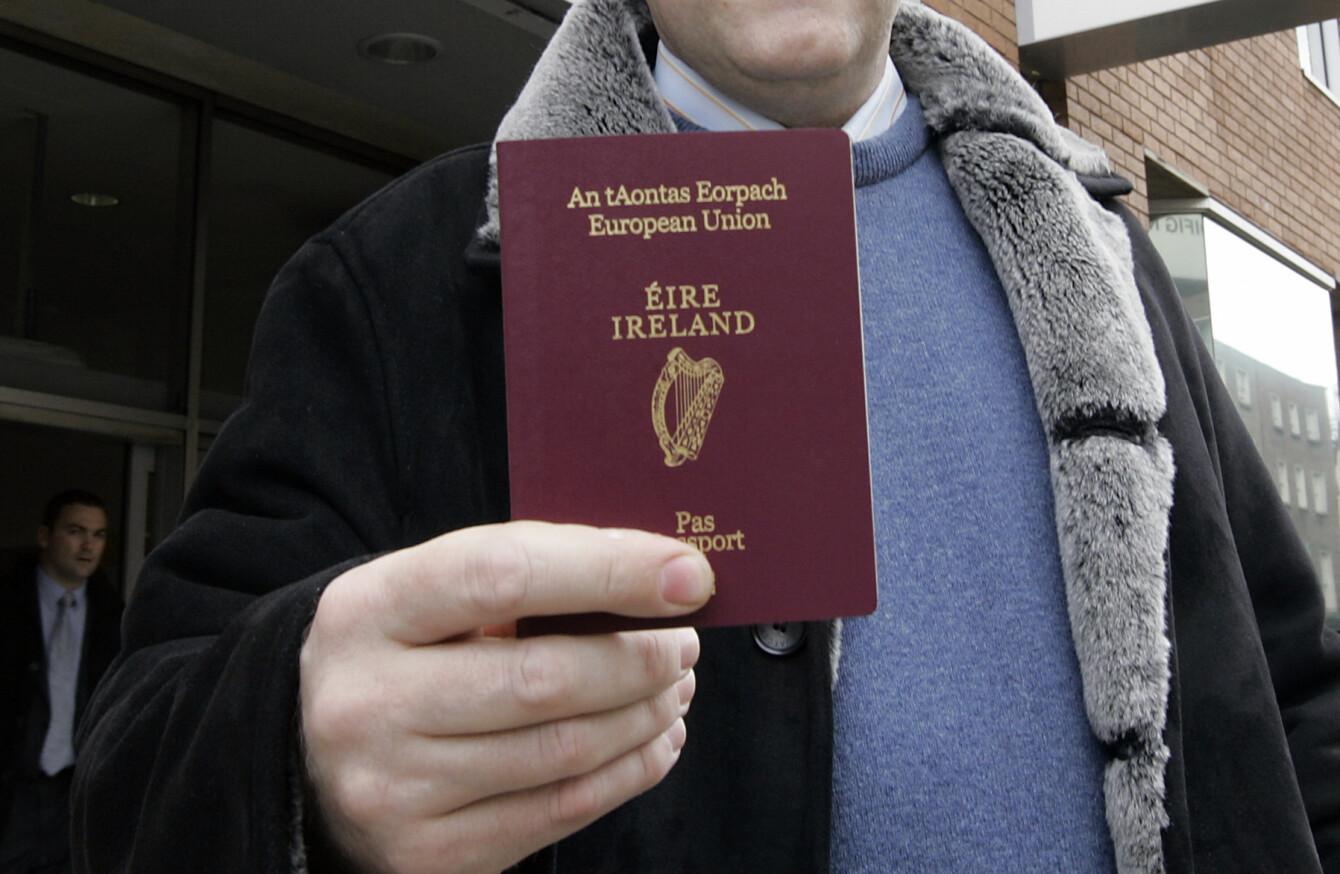 Image: Mark Stedman/RollingNews.ie
Image: Mark Stedman/RollingNews.ie
IN THE FIRST six months of this year, there were 23 data breaches in the Passport Office, the majority of which involved sending a person's passports to the wrong address.
The content of complaints made to the office in these instances, released to TheJournal.ie through a Freedom of Information request, highlight customers' frustration and also the difficulties many have trying to communicate with the office to get answers about their applications. 
One parent, in an email to the Passport Office, expressed concern that their child's passport had been sent to the wrong address:
My son's passport deemed to be dispatched on 5/4/18 however when I tracked it on An Post it's said to be delivered to LOUGHREA!! Not our address. What to do??
In another complaint, the customer wrote that their passport never arrived and they wanted their money back.
"Apparently the item was lost in the mail. It is not my responsibility to chase the parcel carriers for this refund (as I did not send the package) or have to constantly email in order to recover the money that should have been repaid a long time ago.
"I am very unhappy with the way this matter has been dealt with and expect a full refund."
One customer complained about the loss of their passport card:
I have paid for my Passport Card and never received it. I'm not sure how in an era of identity theft that it is appropriate to send such things to a physical address without end-to-end tracking.
Apparently An Post had a tracking number (which has not been shared with me) and they claimed that the [redacted] did not scan it – how do they know this?
I find this all very opaque and unfair. It is glibly stated that I can apply for another one online – well €35 is a lot of money where I come from. I wish I had received what I paid for in the first place if a proper courier mechanism was in place.
The Passport Office said mitigating actions taken by the passport service include reporting all lost passports to Interpol for stop-listing, issuing gratis replacement passports to affected parties and the rollout of GDPR training to all passport staff.
'I got no responses'
Several complaints related to poor communication from the office when people were seeking updates on their passports and delays in processing:
"I keep calling and emailing and cannot get through," one said. 
Another wrote they had paid extra for Passport Express and they were struggling to get answers about the delay:
"The online tracking system stated the expected issue date was 30 April 2018. We fly on Friday, the 11th May 2018, over seven weeks from first application. I have emailed four times, tweeted three times to which I got no responses. I spent two hours on an online chat system to see my number in the queue go up instead of down.
I am utterly unsatisfied with the service I am being provided. It is now two days until our first family holiday and we still have no passport for our daughter. I informed your customer service that I am willing to collect the passport but in order to do this I need to organise childcare. This whole incident has caused me a huge amount of stress. This is not a service, it's a disgrace.
One customer went as far as listing each attempt they had made to try to get a response – and the number of times they had done each:
I am writing to you to complain having already taken the following actions to seek a response:

Passport tracker (on a daily basis)

Tweets x 2

Live web chat x 2

Emails x 3

Phone calls x circa 50
They said they had not received any reply and demanded information about their application for their children's passports. These applications were also made through Passport Express.
"They were posted on 19 July and received by the passport office on the 20th. The passport tracker service claims that they are being processed and aim to be issued on 15 May (even though that was three weeks ago).
"I sent my application in good time for our holiday at the start of July but now fear they will not be ready on time and if this is the case I need to be made aware of this.
I understand that there are delays at this time of year, however it is completely unacceptable to ignore your customers. I await your response and am also going to complain about your service to the ombudsman as I have paid for goods and services, have not received them and have been offered no correspondence or explanation.
The Passport Office has previously said that there has been added pressure on staff due to the increase in applications ahead of Brexit. In 2017, one fifth of the 779,000 passports issued were to Irish citizens in Northern Ireland and Britain.
In June, it said the number of applications received in the first four months of the year was up by 10% on the same period in 2017. The Department of Foreign Affairs said this has been caused by several factors including a trend towards early renewal of passports, a growth in outbound travel, and a growing population.
Additional permanent and temporary staff were taken on during the peak season to deal with the backlog.
Last week the department said the online passport application service will be extended to children by the end of this year. Next year, it plans to work on a method for those applying for a passport for the first time to do so online.
'A simple mistake'
Although most of the complaints related to delays, poor communication or the loss of a passport, there were other smaller issues raised.
One customer said they received a call from a member of staff, telling them they had signed one of the sections with the wrong name – presumably that of their spouse.
"She coldly told me I must do everything again, which is extremely time consuming, stressful not to mention more costs involved. She wouldn't even send me back the photos. I know nothing will be done about this, but I feel it only right to let you know how cold your staff is behaving towards people who make a simple mistake."
Another complained that a staff member in the passport office was "ignorant and did not help one bit".
And one applicant took issue with the condition of their marriage certificate when it was returned to them, though they noted that their passport was received "in good time". 
"The marriage certificate was posted in a do not bend envelope in pristine conditions. When I opened what was returned made me cry to see how such a precious document had been handled, not only folded but also quite scrunched up in parts where it had been mishandled.
Given that I had sent it in a suitable envelope within the passport express envelope, I expected it to be returned in the same envelope and in as good condition that it was sent. I think it's appalling how well looked after personal documents are at the passport office and consider it highly irresponsible that persons employed at the passport office would treat documents sent to them in this way. I would like a replacement document given the state it has been returned in.
The Passport Office told TheJournal.ie that it is important to note that the contents of the complaints "provide the perspectives of the complainants". 
"In all cases, these complaints have been assessed and replied to stating the department's perspective. In addition, the Passport Office's policy is to issue a substantive reply within 20 working days of receipt of a complaint.
"In most cases the replies are issued within 10 working days. The total number of passport applications received from 1 January to 2 July 2018 was 530,019."