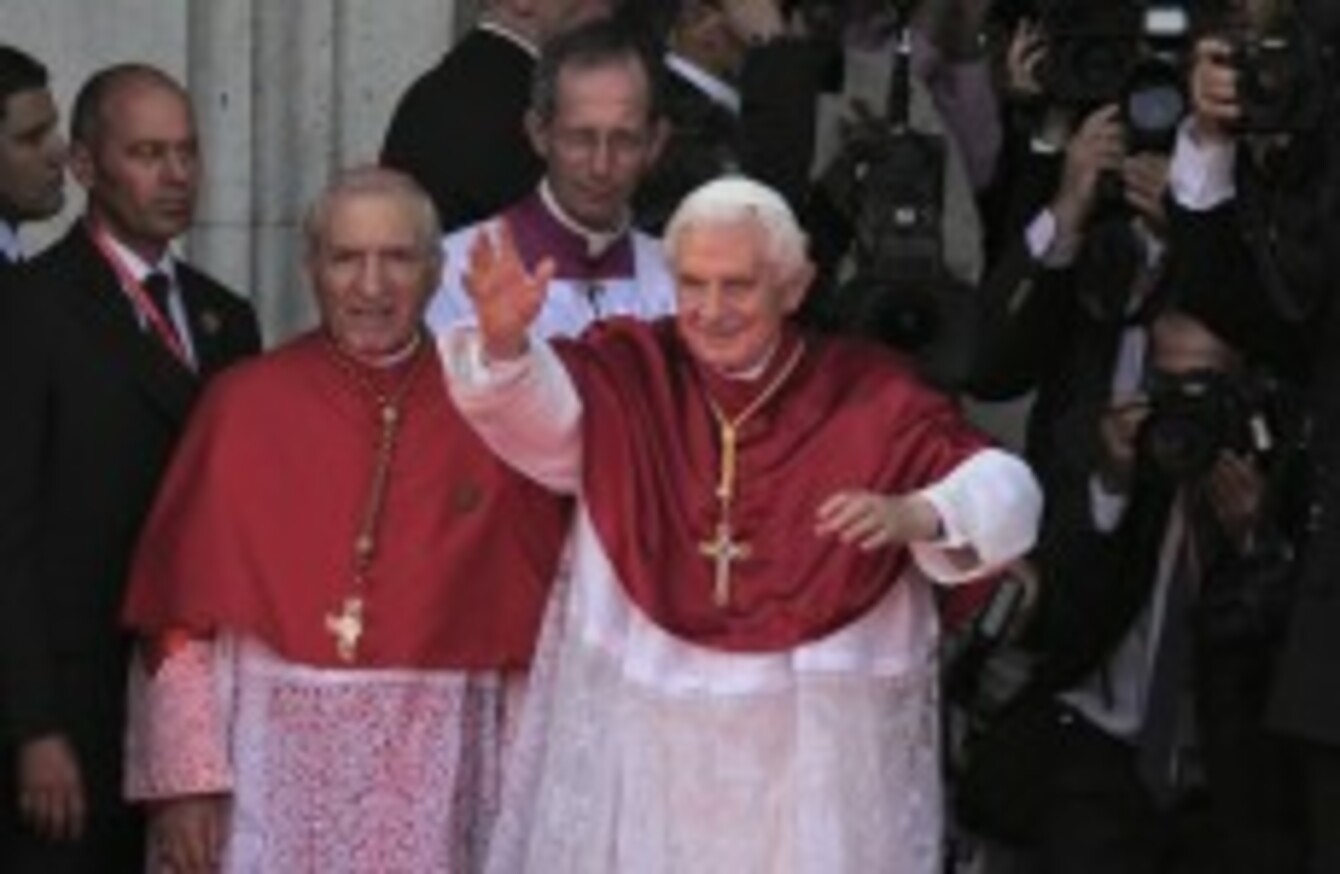 Pope Benedict XVI at Madrid's Almudena Cathedral today to celebrate the Catholic Church's World Youth Day
Image: AP Photo/Alvaro Barrientos
Pope Benedict XVI at Madrid's Almudena Cathedral today to celebrate the Catholic Church's World Youth Day
Image: AP Photo/Alvaro Barrientos
POPE BENEDICT XVI is to confer one of the Catholic Church's highest honors on an influential 16th-century Spanish saint, making a surprise announcement during a Mass at the church's world youth festival.
Benedict drew sustained applause from the seminarians, priests, bishops and cardinals gathered in Madrid's main cathedral when he announced that he would "soon" declare St John of Avila a doctor of the church. Such a title is reserved for those churchmen and women whose writings have greatly served the universal church.
There are currently 33 such doctors, including St Augustine, St Francis de Sales and St Teresa of Avila. Pope John Paul II added St Therese of Lisieux to the list in 1997, the last time one was proclaimed.
St John of Avila, who lived from 1500-1569, is the patron saint of Spain's diocesan clergy and was considered one of the greatest preachers of his time. In announcing his decision, Benedict appeared to be giving the priesthood — tarnished by the clerical sex abuse scandal — a model of holiness, intellectual rigor and piety.
Benedict said:
In making this announcement here, I would hope that the word and the example of this outstanding pastor will enlighten all priests and those who look forward to the day of their priestly ordination.
He made the announcement during a Mass for thousands of seminarians gathered in Madrid for World Youth Day. He urged them to be sure of their vocation and be "completely determined" to exercise it. Benedict began the day by hearing the confessions of four young pilgrims.
Later Saturday, Benedict is to preside over a vigil service with the estimated 500,000 young people who have gathered in Madrid for the weeklong religious festival that culminates tomorrow with a final Mass on an airport field. It isn't clear if media estimates that 1 million people might attend will bear out. Organisers noted today that during previous such festivals the number of participants nearly tripled as the final Mass approached.
Under a hot sun, thousands of pilgrims began heading to the Cuatro Vientos airfield for the evening vigil. Many plan to spend the night there to secure a spot for Mass Sunday morning. Organizers urged them to keep cool and rehydrate amid temperatures hovering around 36 degrees celsius.
Overnight, riot police once again clashed with protesters opposed to the pope's visit, charging several groups that had been trying to reach the Puerta del Sol square late Friday.
Several hundred protesters had gathered outside the Atocha train station aiming to march toward Sol but were stopped before they reached their destination by police blocking the route.
#Open journalism No news is bad news Support The Journal

Your contributions will help us continue to deliver the stories that are important to you

Support us now
St John of Avila, a mystic born to a wealthy family who gave up his money once he became a priest, is one of the patron saints declared for World Youth Day. He is known for his theology of the priesthood and is particularly revered in Spain and Latin America, said the Rev Antonio Pelayo, a Spanish priest who attended today's Mass.
Pelayo said:
He lived during a difficult period in the church's history when the clergy was very relaxed and somewhat dissolute, something that pained him a lot. St John of Avila developed a theology for the priesthood which enabled the church to grasp and refine an important element of popular religiousness.
This is the scene in Madrid today (All pictures Press Association):
World Youth Day, Madrid, Spain

World Youth Day, Madrid, Spain

World Youth Day, Madrid, Spain

World Youth Day, Madrid, Spain

World Youth Day, Madrid, Spain

World Youth Day, Madrid, Spain

World Youth Day, Madrid, Spain

World Youth Day, Madrid, Spain

World Youth Day, Madrid, Spain

Detained demonstrators are searched by a police officer, right, after clashes at the sol square in Madrid, Spain, last night.