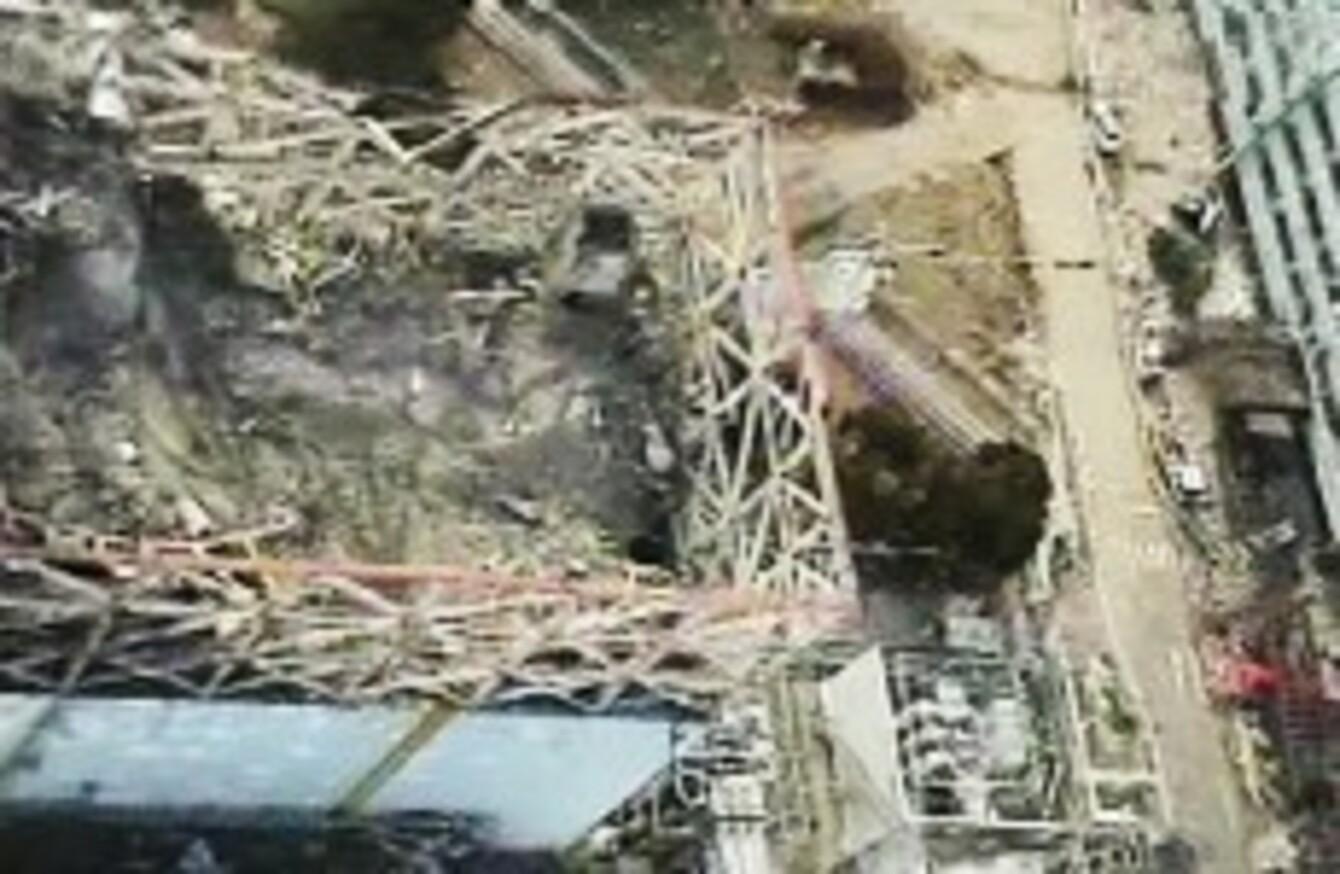 A photo of the devastation at Fukushima taken last month.
Image: TEPCO/Kyodo/AP
A photo of the devastation at Fukushima taken last month.
Image: TEPCO/Kyodo/AP
THERMAL POWER PLANTS near to the stricken Fukushima nuclear power plant are to be restarted this summer to avoid power shortages during the peak season for demand, officials said on Friday.
The Tokyo Electric Power Company (TEPCO) said that the number 2 and number 4 units at the Hirono thermal plant, 20 kilometres south of Fukushima, will be restarted as will a 1,000 megawatt coal fired plant at Hitachinaka, north of Tokyo, Reuters reports.
The move comes in a bid to meet peak power demand of 55,000 megawatts this summer with TEPCO saying it should be able to supply 55,200 megawatts of power by the end of July.
The announcement came as Japanese officials admitted that one of the reactors at the crippled Fukushima Daiichi plant suffered a meltdown.
The plant has been in crisis since it was badly damaged by the 11 March earthquake and tsunami that devastated much of the north-east coast of Japan, killing tens of thousands of people.
Officials from TEPCO described a pool of molten fuel at the bottom of containment vessel in the number 1 reactor that they entered for the first time at the end of last week. The top five feet of the core's 13 foot long fuel rods were exposed to air and melted down, reports The Telegraph.
If a hole has been burnt through the bottom of the containment vessel then a possible leak of radioactive fuel cannot be ruled out. Greenpeace has warned that the situation could escalate rapidly if the lava melts through the vessel.
Seaweed collected from the coast near the nuclear plant was shown to have elevated levels of radiation as the scale of the spread of water-borne radiation becomes apparent, Reuters reports.
Elsewhere today, Japan's government agreed on a plan to ensure that the massive costs of compensating people affected by the crisis can be met by TEPCO.
The scheme involves establishing a fund financed by both public money and contributions from utilities that will provide financial support to TEPCO which expects to face a deluge of damage claims in the wake of the worst nuclear accident since Chernobyl in 1986.
The government will fund the new compensation scheme with special bonds, though it did not say the amount it expects to issue, it said in a statement.
The plan must still be made into a bill and be approved by parliament before taking effect.
- additional reporting from AP