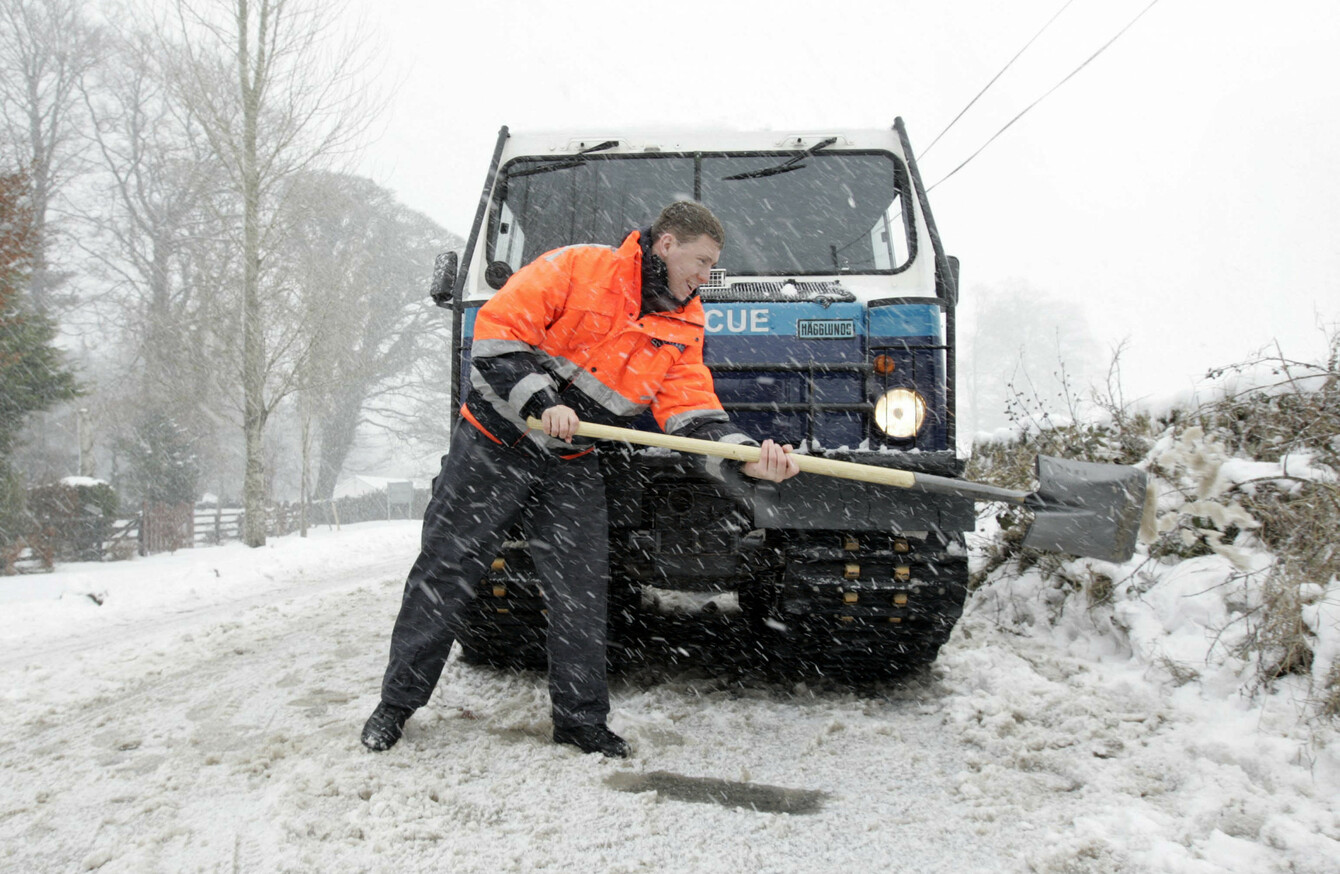 2010: Dublin Civil Defence snow rescue gets to work.
2010: Dublin Civil Defence snow rescue gets to work.
WHETHER THERE'S SNOW on the ground where you are located or not, you'll be gearing yourself up for a day of cold weather today.
You may end up having to deal with anything from flurries of snow to a power cut, so here are our tips on how to cope.
Driving
If you have to get into your car for any sort of journey over the next few days, you might encounter snow and ice.
That means using a whole new set of skills when you're behind the wheel.
Here's everything you need to know about what you can do to prepare and what to do when driving.
Clothes
What to wear when it's cold?
Source: Mountain Warehouse/YouTube
As Rei Co-Op outlines in this handy layering guide (which ostensibly is for people who are outdoors for a trek, but really works for us here too), you need to think of layering in this way:
Base layer – such as thermal underwear, a sporty base layer (which you can get in running or outdoor shops) or even a form-fitting, cotton top. If you're out and about, you might want to wear a proper base layer made of sweat-wicking material. But if you just want to keep warm, a thermal top or cotton top will do.
Middle layer – this insulates you, keeping your body heat close to your skin instead of letting it escape. Think thicker tops, or a snug jumper or hoodie. Feel free to put another bottom layer on if you're particularly cold. It's better to have to strip off layers than to just put a big jumper on over a short-sleeved t-shirt.
Outer layer – your 'shell' which protects you from the elements. So if you're heading out, that means a warm and hopefully waterproof jacket. Also: gloves, a hat, and suitable boots and socks.
If you're going to be out in the snow for a longer time, or for an activity, there are some handy tips here.
The bottom line? Think layers, use what you have in your wardrobe, and don't be tempted to go outside in cold temperatures without your gloves or hat.
House
There is a risk of the electricity going out today – not on a huge scale, but enough that you might end up suffering a power outage.
ESB Networks says that heavy snow and ice can cause power lines to sag and potentially break, though this isn't very common. If you do see a broken power line, stay well clear.
The types of winds due with Storm Emma aren't particularly out of the ordinary compared to what we get in the winter, but the bigger issue may be that if there is heavy snow, repair crews may take longer to get to power lines in order to fix them.
Source: ESB Networks/YouTube
ESB Networks is reminding customers to be prepared:
Have plenty of food and water available
Have torches with spare batteries available
Make sure your phone is charged and, if possible, have a phone charger at hand for your car
Please check that elderly or vulnerable relatives and neighbours are prepared to be without electricity
If you have electric gates, please check you know how to work them manually.
And in the case of a power cut:
Never approach broken lines or damaged poles, and keep children and animals away – report damage to ESB Networks at 1850 372 999 and listen to recorded messages carefully
Turn off electric cookers, ovens, irons, etc. if electricity supply is lost
Leave a light switched on so you know when power has been restored
Take extra care if using candles, oil lamps or other naked flames
Test smoke alarms with fresh batteries
Ensure adequate ventilation if using gas heaters.
If you want to check for fault and repair updates, you can do so on the ESB Power Check website or its PowerCheck app. If your fault isn't logged, go to this link - or call 1850 372 999. You can also follow @ESBNetworks on Twitter.
Should you keep your taps dripping to make sure the pipes don't freeze?
According to Richard Burke of the Heating and Plumbing Association of Ireland, leaving a water tap running to prevent pipes from bursting is a myth.
"I wouldn't recommend it because it could have a knock-on effect with freezing. It's a myth to leave the tap running, it can cause problems elsewhere," Burke told us.
He said that if the water is left running continuously it risks freezing the drain as it's leaving the sink. "It can block up the drain and the sink will fill up and overflow, I've seen it happen on a few occasions." Read his tips on what you should do here.
Here's Irish Water's advice.
Meanwhile, here are the Red Cross's tips for staying safe before and during a winter storm.
Medicines
Here's a pharmacist on why you should make sure you have a supply of essential medicines in your home before the storm hits.
Daragh Connolly, President of the IPU, said people may be unable to get prescriptions in the coming days and should "ensure they have enough of their essential medication to last them until the beginning of next week".
He also urged members of the public to check that older family members and neighbours have all their required medications and, if not, to contact the person's pharmacy.
Food
If there's one takeaway from this storm, it's that Irish people really love bread. We are so afraid of running out of this treasured tasty foodstuff that we've ransacked supermarket shelves.
But there are other comfort food options around. A weather event like this is a good time to use up pasta, rice, lentils and spices. Your freezer is another source of meals.
But what other foods should you stock up on?
Non-perishable goods (eg tinned chickpeas, tinned beans, crackers)
Food that doesn't require refrigeration
Food that will last in cool temperatures (eg some solid butters)
Food that doesn't have to be cooked (eg vegetables you can eat raw, such as carrots; fruit; bagged popcorn; butter; some cheeses; nuts; crackers; granola; dried fruit)
Biscuits. Sure look.
Pets
If you're worried about your dog or cat – or gerbil – during the big freeze, here are some tips from the ISPCA:
Pet Mania also advises:
If you don't have a shed to move your pet's kennel into, then consider housing them indoors to ensure they are kept safe from the cold temperatures. This is particularly true for cats. You can also use extra bedding for insulation, such as straw and hay in their sleeping areas.
Wrap up canine friends with dog coats for extra warmth.
Make sure they have plenty of fresh water and food – pets might also need a little extra food as they will be burning energy to stay warm. Keep a check to ensure that water supplies do not freeze over.
If your pet is feeding outside, use plastic bowls instead of metal to prevent their tongues getting stuck if it is too cold.
Similarly to humans, dogs and cats can get frostbite. Pay extra attention to any signs of discolouration, pain or unusual blisters on their ears and paws.
Finally, don't forget about your garden birds who would appreciate some high fat foods like peanuts to boost their energy reserves.
Here's more on keeping your pet safe.
Neighbours
The cold weather is bad no matter what age you are – but it's particularly difficult if you have limited mobility or are elderly.
Justin Moran of Age Action has urged neighbours of older people to check in on them. You know what to do – that friendly knock on the door might be of huge benefit to someone.
Final tips
Stay safe. Don't go investigating mountains or check out your local pier in a snowstorm.
Carry a phone with you when you go outside – put it in a resealable small plastic bag or pouch if you're worried it'll get wet.
Speaking of phones, have your devices charged and any back-up battery packs charged too.
Don't leave candles unattended.
Eat those emergency chocolate biscuits.