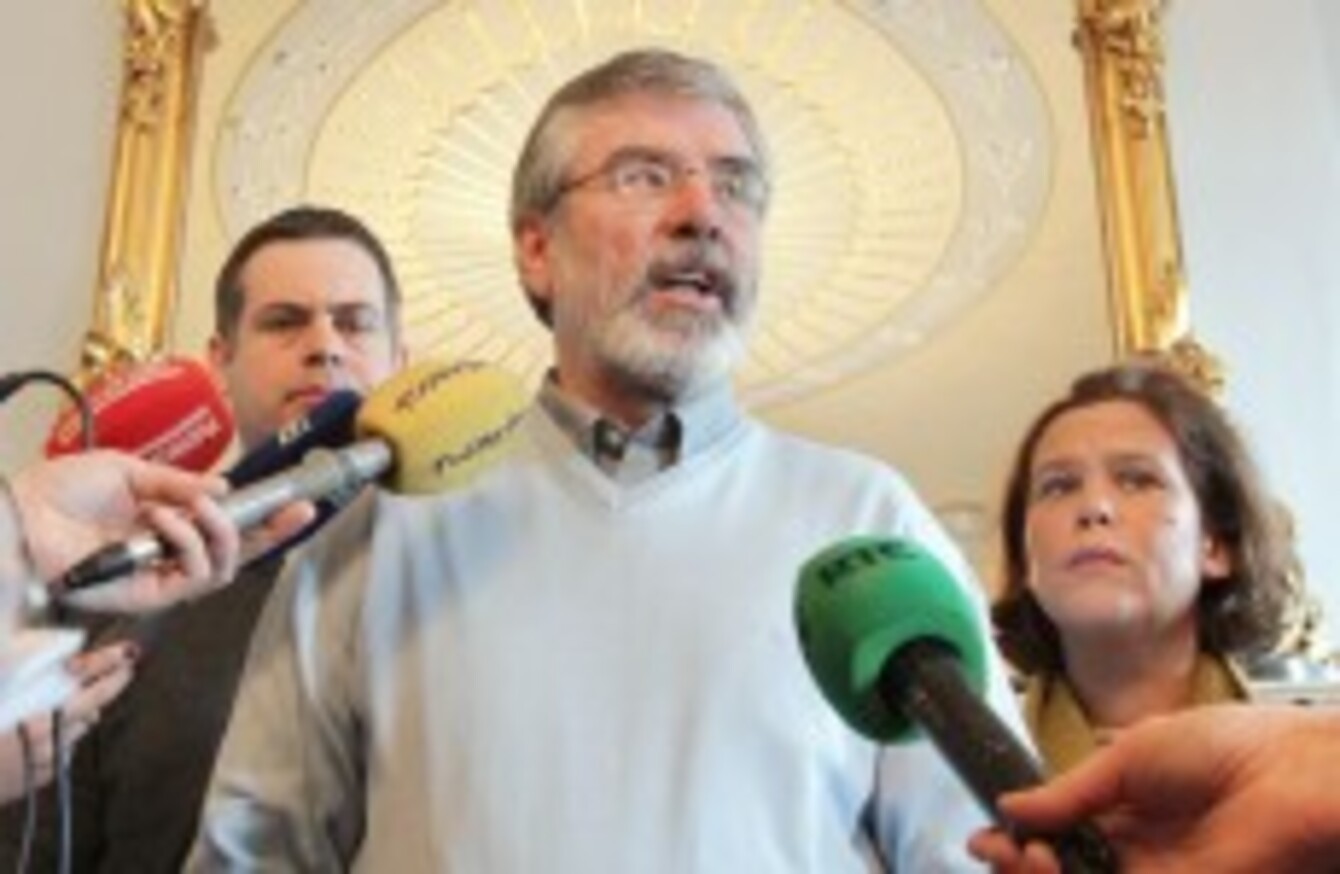 Sinn Féin's Pearse Doherty, Gerry Adams and Mary Lou McDonald
Image: Photocall Ireland
Sinn Féin's Pearse Doherty, Gerry Adams and Mary Lou McDonald
Image: Photocall Ireland
SINN FÉIN HAS demanded to be included in RTÉ's Prime Time debate on the Seanad referendum tonight.
The party's deputy leader Mary Lou McDonald claims Sinn Féin has been the most active party proposing a Yes vote in Friday's referendum and has accused RTÉ of political bias in excluding it from the two-man debate in front of a live audience.
Fine Gael's Richard Bruton will be up against Fianna Fáil leader Micheál Martin but McDonald wants her party to be there as well.
She said in a statement: "We have a very clear position, campaigning for a yes vote which is distinct and separate from that of the government, yet RTÉ has chosen to exclude us from the most significant debate in this referendum campaign.
McDonald said that with the Taoiseach Enda Kenny refusing to take part in the debate it is the responsibility of the State broadcaster to ensure a "representative" discussion.
"Given the fact that he refused the opportunity, I believe that RTÉ has a responsibility to ensure that the debate is representative and fully inclusive of the yes and no arguments," she added.
Meanwhile, Fianna Fáil's director of elections, Niall Collins, has hit out at Fine Gael for its "play acting" over the Taoiseach's refusal to take part in the Prime Time debate.
He said the decision to confirm Richard Bruton's participation came "at the eleventh hour".
"It is very frustrating that Fine Gael has spent the last week play acting instead of taking seriously the need for an open and honest public debate on the future of the Seanad," Collin said today.
"This is the behaviour of a party that thinks it has this referendum in the bag and doesn't want to upset the result by being confronted with the truth in open debate. It's an insult to voters."
Collins said he hoped Fine Gael will put aside "negative campaigning and personal attacks" and engage with "the substance of the issue" in tonight's debate.
The Prime Time debate is on RTÉ One Television from 9.35pm tonight