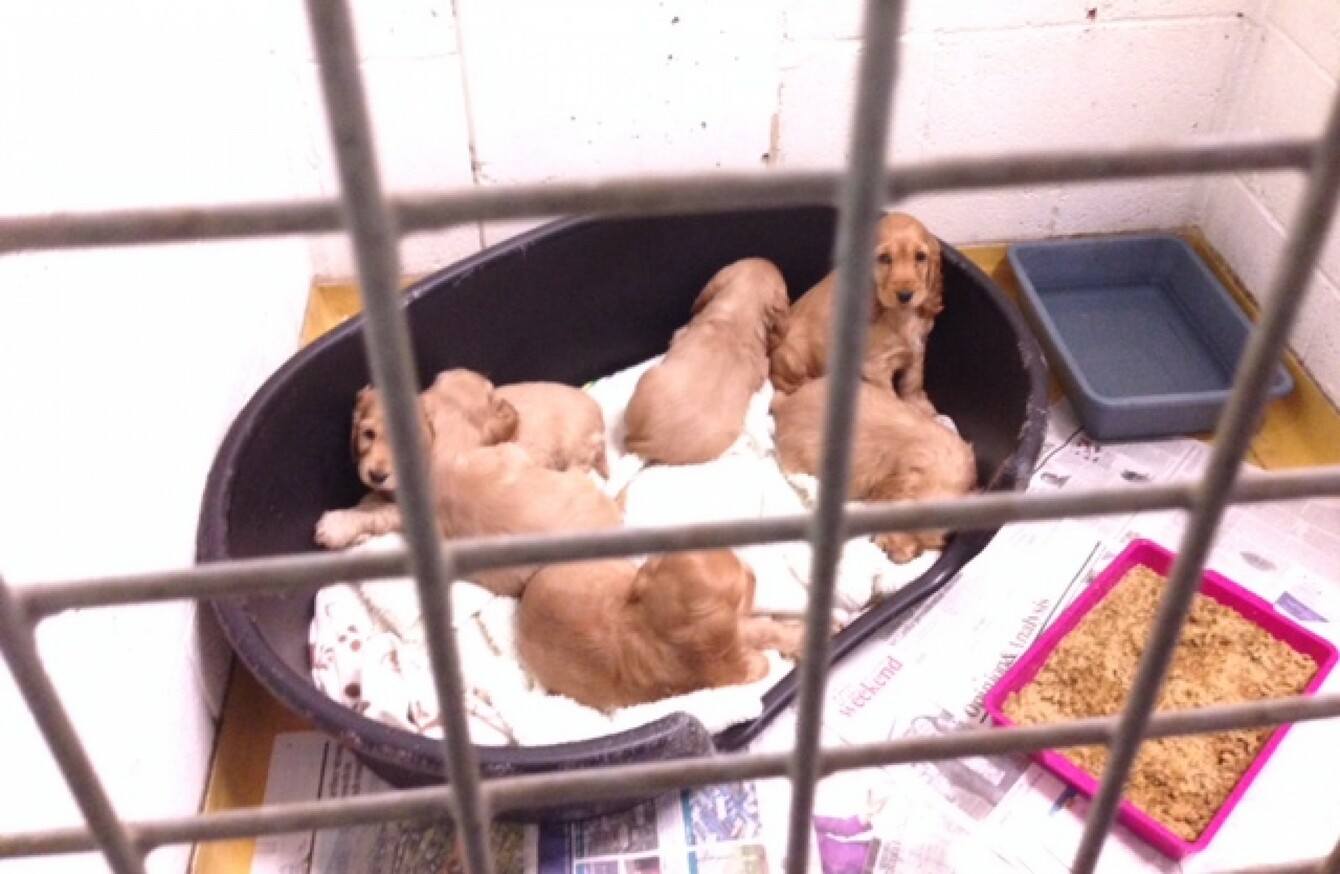 Image: DSPCA
Image: DSPCA
A MAN HAS been convicted for smuggling 88 pups through Dublin Port without the proper papers, in the first conviction of its kind under new legislation.
Joseph O'Reilly of Bailiborough, Co Cavan, pleaded guilty at Virginia District Court last Tuesday to one offence relating to the illegal export of puppies.
The pups were among a huge group of 116 seized at Dublin Port in February of last year, in a joint operation by inspectors from the DSPCA, Customs officers, and gardaí.
Gillian Bird of the DSPCA told TheJournal.ie they were happy with the conviction.
"We're delighted, as it's the first of its kind," she said.
"And some might give out and say it should be a prison sentence, but it's a really good result for the first conviction – he pleaded guilty.
And if he re-offends the sentence will be much, much higher, so it's a good lesson, a good starting point.
Two of the pups were lost to sickness, but the DSPCA were able to rehome the rest, having been assigned ownership by O'Reilly within weeks of the seizure.
Pugs, West Highland Terriers, cocker spaniels, shih tzus, labradoodles and beagles were among the breeds being transported.
All of the puppies were aged between four and eight weeks. While 116 dogs were found initially, they were discovered in two batches, with this case dealing with the larger of the two.
Fine and costs
None of the puppies seized had a pet passport, which is required under law to show the animal has been vaccinated, microchipped, wormed and seen by a vet.
The accused pleaded guilty, and a fine and costs of €4,000 were imposed.
This case is the first of its kind under the Animal Health and Welfare Act 2013 brought in by Simon Coveney, then Minister for Agriculture.
It came into effect in March 2014.
In a statement, the DSPCA said: "[We] congratulate the Department of Agriculture, Food and the Marine on the successful prosecution…
The conviction sets the ground for further prosecutions and sentences for people who flout the laws surrounding the transport and export of puppies from Ireland into Britain.
Legislation
The 2013 Act requires exported dogs to have a pet passport signed by a veterinary surgeon, plus appropriate vaccinations, including one for rabies – effectively limiting exports to puppies over 15 weeks of age.
Puppies must also be microchipped and registered with an approved database, and a health check must be undertaken prior to their departure, to confirm their fitness to travel.
In addition, all vehicles used for the transportation of dogs and puppies must be approved and licensed by the Department of Agriculture.
Penalties for the illegal export of puppies include fines of up to €250,000 and/or a five-year custodial sentence.
The DSPCA said they believe that a large amount of puppies continue to be exported illegally from the Republic.
They have urged anyone with information about illegal exports to email cruelty@dspca.ie, or to fill in their online confidential cruelty report form.