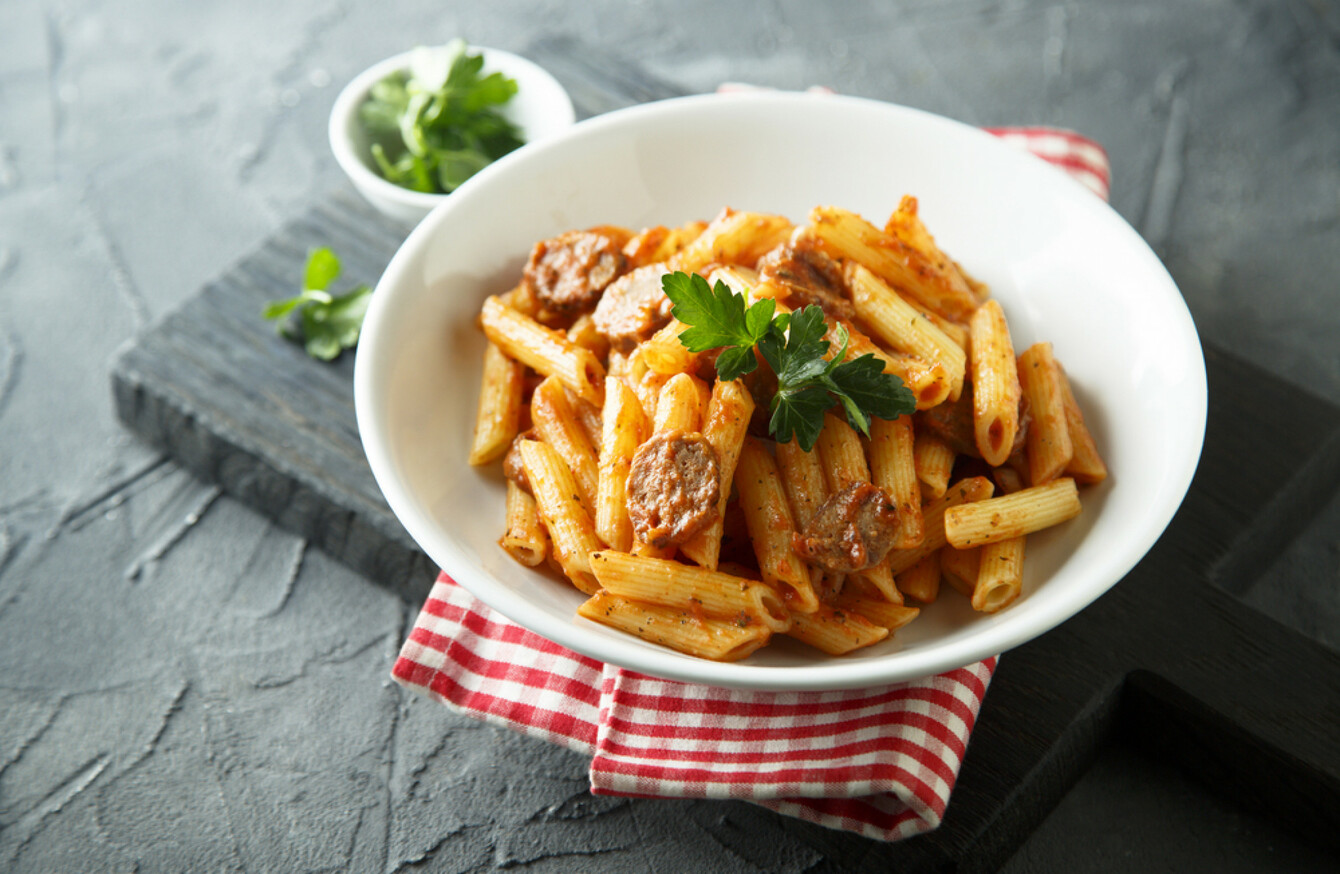 Image: Shutterstock/MariaKovaleva
Image: Shutterstock/MariaKovaleva
EVERY HOME COOK has their own kitchen hacks, cheats and traditions, and we want to know yours.
Each week as part of our Kitchen Secrets series, we'll be asking readers to share their cooking tips and go-to-dishes. From the secret to quick-and-easy dinners, to the best way to scramble an egg, we'll have a new question every seven days.
This week, we're asking…
What are your go-to pasta sauce combos?
As usual, our home cooks had lots to say. If you'd like to join, drop us a mail on food@thejournal.ie!
Chilli and chorizo:
I reach for a few store cupboard essentials, chilli oil: garlic, Parmesan, onions and chorizo.
Lightly fry off the onions, garlic and chorizo, boil the pasta to taste, drain, dress with chilli oil, mix in chorizo mix abs finish off with shaved Parmesan. Yum yum!
- Catherine Hayes
Secret veg pasta sauce:
I make my own pasta sauce, full of vegetables. It's an Annabel Karmel recipe that I originally got from a book of recipes for children, but I've adapted it and "tweaked" with some extra bits. I usually make a big batch at a time; it includes passata, tinned tomatoes, tomato puree, carrots, onions, peppers, mushrooms, courgette, leeks, garlic, celery salt, basil and parsley.
Dice all the veg and chop the herbs (although dried herbs are fine for this too).  Sauté the onions and garlic first, then the carrots for about 5 minutes.  Add the rest of the vegetables for another 5 minutes. Finally add in the tomatoes, herbs, salt and pepper and a spoon of sugar. Cover and simmer for at least 20 minutes.
Once it's all cooked, blend it. You get a beautiful smooth sauce. I add tomato puree to some and use it on a pizza. The sauce itself is gorgeous on some pasta with some grated parmasan. It's also brilliant to use as a base for bolognese. I put portions into silicone bun cases, in a bun tray, and freeze them. Once they're frozen, you can just pop them out of the cases into a bag in the freezer.
Each portion is perfect for one helping over pasta; and it reheats really quickly. Perfect when you want something really lovely in a hurry! Great for kids, they don't realise all the vegetables they're having – and for adults!
- Olly Keegan
Prawn linguine:
My absolutely favourite pasta dish to make, and subsequently eat, is my prawn linguine in a creamy lemon and white wine sauce. Sautée a finely chopped onion and a clove of garlic with a dash of dried oregano and cook until softened, add a glass of crisp white wine and reduce.
While this is happening cook your linguine in a bubbling pot of salted water. Add a carton of double cream to your onion mix and cook on a low heat until thickened. Zest in some lemon, season with salt and black pepper and throw in your prawns until heated through (I use pre-cooked but if using raw then add at an earlier stage and cook until pink).
Add your al dente linguine to your sauce, reserving some of the pasta water to help loosen the sauce and make it deliciously silky. Finally squeeze in the juice of half a lemon, grate over a very generous helping of Parmesan and fresh chopped parsley. Mix until all the flavours are combined and taste to check the seasoning. Serve by the bowlful and enjoy with the rest of your wine. Happy days!
- Donna Connolly
Carbonara and tomato options:
When I cook pasta I have two favourite, very simple sauces – carbonara and tomato. For the tomato sauce, I fry off some onions and garlic, add tinned tomatoes and herbs and sauce is ready to go! You can also add some grated veg like courgette or carrot to bulk it up.  
The other sauce is carbonara: I fry some onion, garlic, sliced mushrooms and lardons and then add cream, black pepper and parmesan.  Simple and tasty!
- Fiona Staunton
And finally, impressive home-made ravioli:
There is nothing more comforting than a big steaming bowl of pasta and even better if the pasta is homemade. My favourite is butternut squash ravioli – perfect pillows of perfection.
Making ravioli is simple and if you've ever made pastry, pasta should hold no fear. It's a mix of 00 flour, eggs, salt and a little olive oil. Roll out your dough (careful not to break it) and hey presto you're the next Jamie Oliver.
For the filling, peel and dice a butternut squash, add a splash of oil and roast for 20 mins. Mash and season with salt and black pepper. Add a knob of butter, 1oz breadcrumbs and 1egg yolk.
Spoon one teaspoon of filling onto your pasta sheet, leaving a gap between each spoonful. Brush water around filling and cover with another sheet of pasta. With cupped hands press generally to seal. Using a sharp knife or cookie cutter press out your ravioli.
Poach in boiling water and you will know they're done when they rise to the surface.  Smother with melted  butter and chopped sage. Delish!
- Angela Nolan